Can someone help identify which juniper this is?
It's being sold at Lowes for $10, and the website suggests
USDA zones 7 - 11:
http://www.costafarms.com/Public/CollectionDetails.aspx?Id=73&cat=Bonsai&col=Bonsai&var=Juniper
or zones 3-10:
http://www.costafarms.com/public/plantlibraryview.aspx?Id=211&Letter=J
My guess is one of the following:
Juniperus sargentii (Chinese Juniper)
Juniperus media (Blaauws Juniper)
Juniperus sabina (Sabina)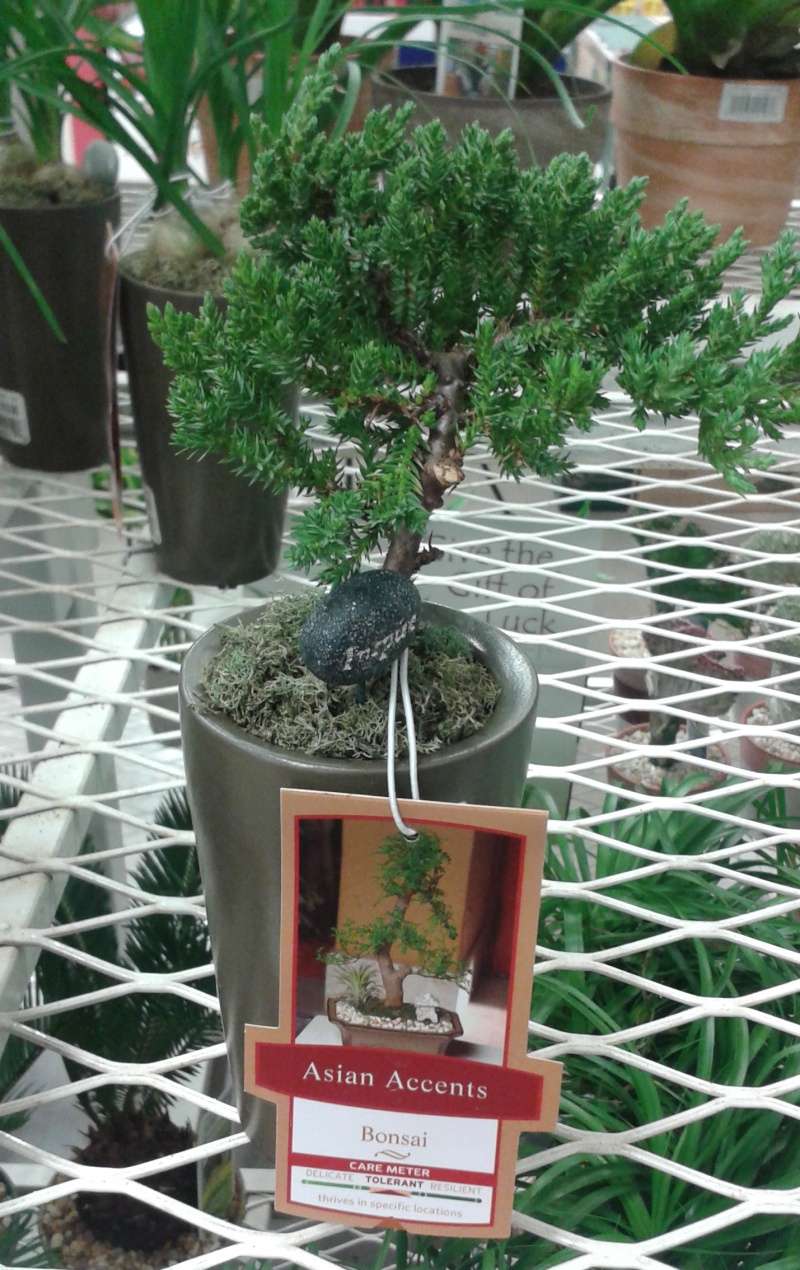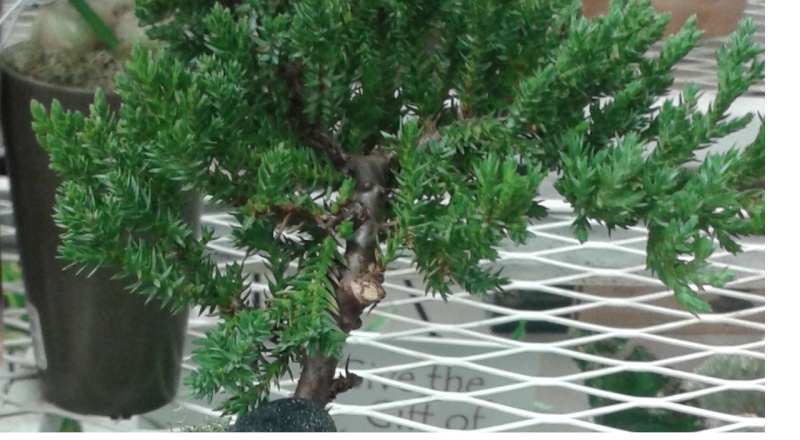 Dan D

Member





Most likely it is J. procumbens 'nana'.

And, there are better ways to get started in bonsai. Many, many of these die soon after being brought home.
_________________
Jim Lewis - lewisjk@windstream.net - Western NC - People, when Columbus discovered this country, it was plumb full of nuts and berries. And I'm right here to tell you the berries are just about all gone. Uncle Dave Macon, old-time country musician

JimLewis

Member





yes, I am new to bonsai, and yes, I should probably hold out until spring and keep studying...

lack of patience is probably not a good thing with this craft, I'll work on that!

Now feeling embarrassed about this after seeing the work you all have posted...just amazing works out there.

I look forward to learning a lot more, including patience.

Dan D

Member





Your best bet is to join a local club. there you will have opportunities to learn, purchase items and enjoy the company of others who also have fallen in love with this art. Here are some contacts, if a link does not work, try another as they will probably be able to guide you. (Lived in Aurora many years ago and traveled throughout -- still miss it.) enjoy
COLORADO - Colorado Springs Pikes Peak Bonsai Society.
Website:
www.phoenixbonsai.com/PikesPeakBonsai.html.
E-mail: rjb (at) phoenixbonsai.com.
COLORADO - Denver website
www.rockymtnbonsai.org
COLORADO - Fort Collins All meetings, workshops and shows are at Fort Collins Nursery, 2121 E. Mulberry in Fort Collins. Contact: Barbara Rich, 970-663-3046.
COLORADO - Grand Jct e-mail:
trehaus@excite.com
Japanese garden at the WCCA in Grand Jct.

DougB

Member





I swore never to buy a Juniperus Kick-the-bucket-us from a Home Depot or Lowe's, but then I saw one with a trunk line I found to be full of potential. I brought it home in the fall, nursed it through a winter in its potting soil, then repotted it into a good medium and got it through another year. It looks healthy and I'm very excited about how it might develop in the coming years.
Moral of the story is, buyer beware but don't count anything out. Besides, a tree for $10-20 that you can practice horticulture on and experiment bonsai art with- there's something to be said for that. Better that than losing a $75 or $100 plant from a bonsai grower through drowning it or overzealous pruning(voice of experience

).

Precarious

Member





First off. Welcome.
Second. Your tree is a juniper procumbens nana or green mound juniper if you prefer.
... for the equivalent cost of that "assembly-line, pre-made" bonsai, one can take a short walk out to the adjacent nursery department at any lowe's and pick up two (maybe even three!) 1-gal size procumbens junipers.  imho, j. procumbens nana 1-gal stock makes great low-cost starting material for practicing the fundamentals of bonsai.



respectfully,
rick

kite-eating bonsai tree

Member






---
Permissions in this forum:
You
cannot
reply to topics in this forum