Hi everyone!  It's been about 10 years since my last post, and it seems my profile has since been deleted so I will start fresh.  (I mostly only lurked on the forums back in those days anyway.)
It's winter here in Kansas and I was just inside working on an elm the other day.  It's a tree that's quite near and dear to me, because it's basically the first tree I was ever able to keep alive and I realized that I have been working on this particular tree for almost 12 years now.  I also remembered back in my early days of attempting bonsai how much time I spent lurking in the forums here and how helpful it was since I had no club to attend or anyone else around here who was really interested like I was.  I would post the occasional "stick in a pot" and ask for advice, but mostly it was just lurking.  It did not take me long of watching the forums to realize the advice for me was the same as who knows how many others - "Chop here and let it grow!"  I also saw a ton of "I wouldn't even bother" responses, which were probably actually the best advice for a lot of inquiries.  Of course this was often a little blunt and discouraging but probably needed to be said most of the time.  At the time I realized that basically all the material I was working with would probably fall in to either of these categories so I decided to lay off the IBC and just focus on trying to keep trees alive.  
Anyway, the elm I referenced above would have definitely fallen into the "don't bother" category.  In fact, it might still to this day to some people.  That's kind of beside the point though, because it was the tree that kept me coming back to bonsai, and this is the forum that kindled my interest when it seemed like I would never be able to actually take part in growing these silly little trees in pots on my own.  The elm is growing in what I guess would be referred to as the "naturalistic style" simply because I knew it would never fit into one of the categories outlined in my bonsai intro books.  I love nature and I love the woods, so I am just trying to model it after a big tree that I might run into in a field or forest here in Kansas.  It still has a ways to go, but I think it is finally starting to come along nicely.  I guess you could say it's a "don't bother" tree that someone actually took the time to bother with.  I'll post a before and after photo below.
After shying away from the forums here around 2004 - 2005, I found a very welcoming club in Kansas City that has been extremely rewarding.  Meeting with people really is the way to learn this stuff.  I learned things in a few months that would have taken a lifetime of trial and error.  In fact I just got to work on one of my own trees with Ben Oki a couple of months ago.  
So I'll go ahead and wrap this up for anyone still reading.  I just wanted to come back to the forum that started it all for me, and say thanks etc.  The only names that stuck in my head from back then were Jim Lewis and Walter Pall, and I'm not even sure how active Mr. Pall was on the forums.  Their strong opinions and straightforward advice really cut to the core of what a lot of people were trying to get at when it came to bonsai advice.  Glancing through the forums just now I recalled several other folks that were active back then and I'm sure extensive contributors, but for some reason those two just stuck out.  
When I get some more pictures together I am looking forward to contributing more and posting more photos of some of the other trees I have picked up over the years, several of which are Kansas natives.  
elm before (2002)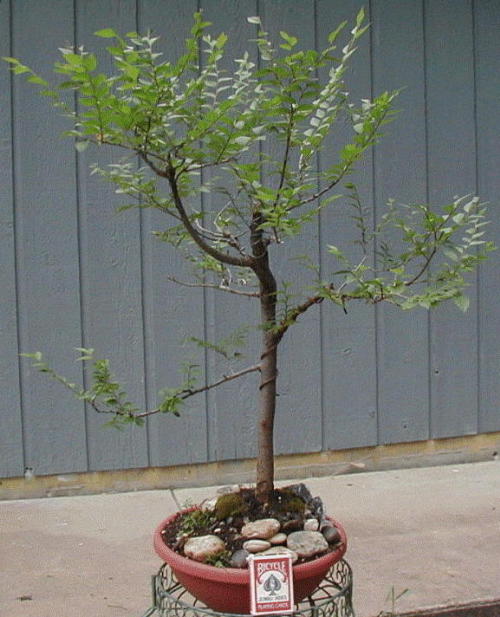 elm after (12/2014)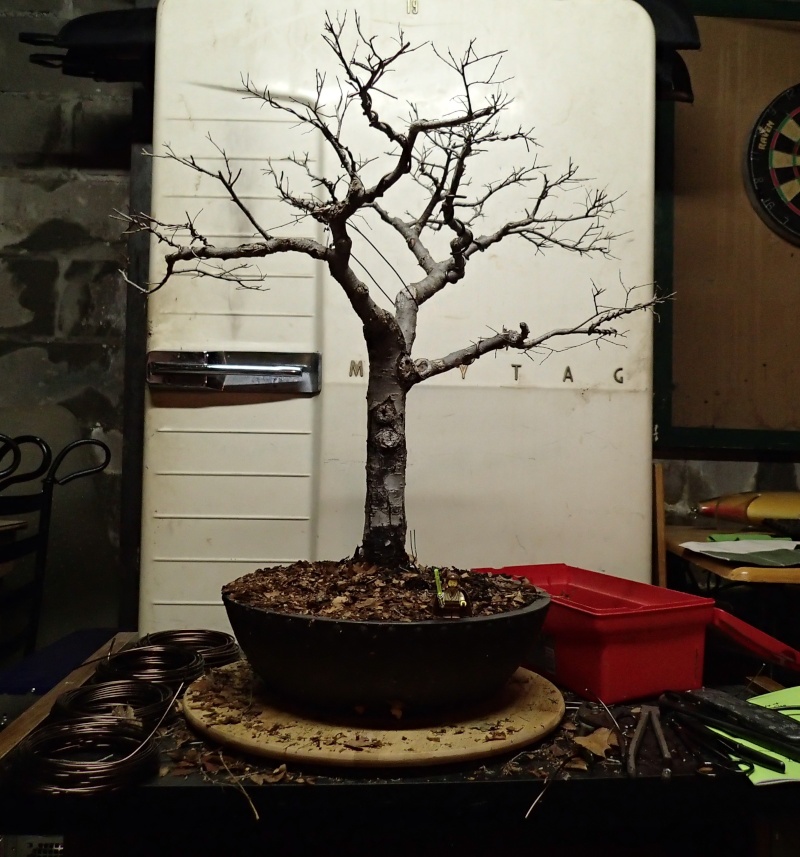 Hi Lee and welcome back

It seems like the tree has progressed since then and in a good direction


Xavier de Lapeyre

Member





Lee.

I can't begin to express the importance of this post to me. I've been waiting for something like this to pop up. If not my own in 12 years!

These Vets always speak of how a tree is not static, but proceed to comment as if, for some reason, ours are.

We can manipulate every aspect of a tree. To me that means everything has potential.

Bonsai, prebonsai, growing from seed,aged yamadori, all these are generally accepted I think because they are established methods.

We must name our method.

The method where one takes any tree, and makes it something wonderful. It is in between growing from seed and pre-bonsai anyway, but it is not accepted because Yamadori must be aged and impressive.

Truth is, it's FREE, minus time. And I'd be damned if that tree couldn't fetch over $500 now.
Maybe it's a Mst North America thing.
Sorry phone acting up.

Maybe it's a Midwest USA North America thing.

That is a tree very dear to me as well.

The only thing more impressive than this progression is that Maytag refrigerator.
Wow is that clean. What year is it?

Sorce

Ps Thank you very much! Tell Toto we are BACK IN KANSAS!
With that off my chest,.....

This tree deserves a wider, more shallow pot. Besides the instant gratification of the expansive KANSAS countryside, The base will probably flare out and become equally impressive as the rest of the tree in short time.

Thanks again. To the emerald city as fast as lighting. ..


Sorce
Very nice progression in 12 years!

Todd Ellis

Member





Well . . . welcome back!

Your tree epitomizes a basic fact about bonsai -- it is a game of patience.
_________________
Jim Lewis - lewisjk@windstream.net - Western NC - People, when Columbus discovered this country, it was plumb full of nuts and berries. And I'm right here to tell you the berries are just about all gone. Uncle Dave Macon, old-time country musician

JimLewis

Member






giga

Member





Thanks everybody!

Like most of my trees, this one has been slightly over potted to encourage more growth and finer development, and to help in the super hot and dry summer months that are frequent around here. One of my next goals in the coming years is to start finding the right pots now that I have some deserving trees.

The freezer actually came with my house. I've always assumed it was just left in the basement because it's so darn big and heavy, and I honestly don't think it would even fit up the stairwell. The mechanical parts are missing from underneath so it doesn't work, but it's good for storage.
WoW I really appreciate a naturalistic tree and this one is a prime example. Its beautiful and well constructed. Thanks for sharing

You sure made a nice tree out of it, well done.
As for the dont bother category, i guess you could call your start tree that, yet you made a nice tree out of it.
Then again, if you spent 12 years on better material it could be showworthy stuff. Depends what you want i guess, both can be equally satisfying i think. And yours came at better price so extra point for that

Grtz,
Tommy

DjTommy

Member






---
Permissions in this forum:
You
cannot
reply to topics in this forum