picked up a 2 inch pot size cutting from Evergreen Gardenworks in June of 2014. It is in an oversized pot to allow room to grow. I like it.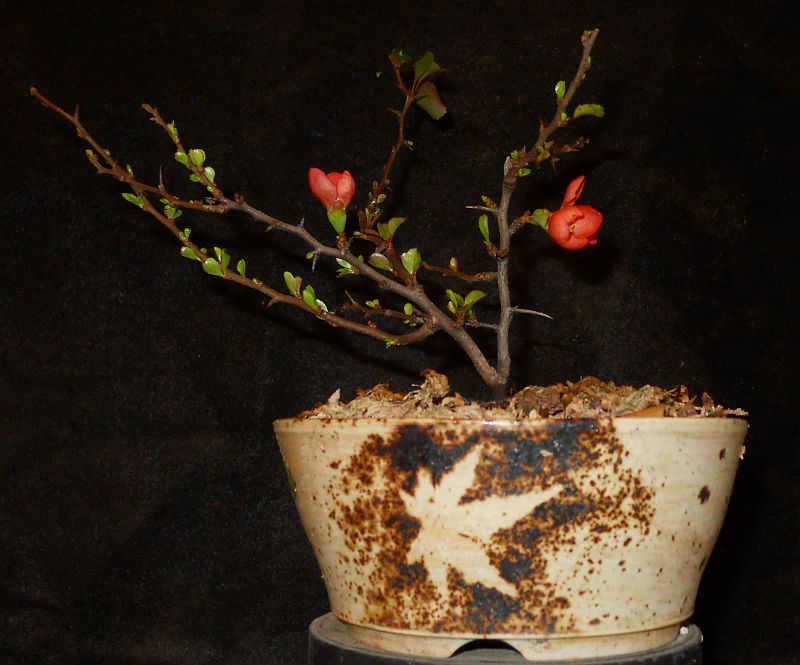 Leo Schordje

Member





I love these sweet cutting bonsai; nice pot!

Todd Ellis

Member





Dear Friend

Its so strange. I rescued a Flowering quince from a garden 3 years ago. I planted it outside my gate. It grew beautifully considering the amount of roots I took of. Well this beginning spring I lifted it and slapped it into a deep bonsai dish. I cut it back and the cuttings I dipped in my own honey (unpasteurised).

Well the cuttings grew and the bonsai which had many many roots died. Figure that out.

Yours is ...... becoming and very pretty.

The pot is stunning, but I will use it for a Kusamono.

Love and Light

Andre Beaurain

Member





Andre please explain dipping a cutting in honey. Bye the way in my earlier days I too was a bee-keeper. Really miss my girls.

DougB

Member





Honey is an Amazing product of Nature....the Egyptians use it for there mummification, well more the propolis, but they used the honey when they operated on someone to sterilize the wound. (They even had taxes on honey) Honey has antibacterial properties as you know, so it keeps fungus bacteria away letting the cutting root. It also helps with the roots production.
Bees not only make honey they make wax, they make Royal jelly, they make propolis which they find on the leave buds of certain trees. This is very strong in antibacterial properties, amazing how trees protect the buds during winter with this scaly covering, and then bees harvest this in spring for maintaining a sterile nest.
I got this advice from an ancient gardener that roots Proteas!! Ever since then I chucked the Rooting powder and now only use honey. It has to be unpasteurized honey which is difficult to find....try health stores. I use my own, We just harvested honey last weekend. 13 litres.....! Last year we harvested almost the same amount...that went into a 20 liter glass bottle with some other stuff (crabapples and water mostly) and after two years well have our own Honey Mead! (thats where the word Honeymoon comes from)
Ill stop now.
Sorry Leo for all this needless information.

Love and Light

Andre Beaurain

Member





No worries Andre, I appreciate the added info. I've heard of the honey trick many years ago, I personally never followed up on it. I may give it a try in the future. Just dip the end of the cutting into some honey, then plant it? Worth a try.

I bought the pot from Dale Cochoy's table at a bonsai show, but I forgot whether he made it or one of his friend's made it. He had pots from at least 3 or 4 artists there in addition to his own, I bought one of his and one of the others. The 'Chojubai' is back in the unheated well house, so it would take effort to dig it out and turn the pot over. I agree the pot is more for a kusamono than a bonsai, I had an orchid in mind for it originally. The 'Chojubai' is definitely too young to be anything other than kusamono right now, in a display that is how I would use it. The goal right now is to grow it out, and continue the ramification and increase the caliper. The autumnal theme of the pot goes well with the fall-winter-early spring blooming habit of Chojubai. At least that was the thought.

Leo Schordje

Member






---
Permissions in this forum:
You
cannot
reply to topics in this forum