Page 3 of 3 •
1, 2, 3

I feel like... guilty somehow... and I apologize if I might have been offensive to anyone while frankly representing my feelings.
Thanks to my friend Khaimraj for his effort to present to you a glimpse of my character....
M. Frary wrote:... ...Most people don't quite get why I do what I do. Look at it this way. If that 200 year old 120 White pine falls on the right set of lines it very well could put out the power to millions of people. No power no lights no water no sewer no computers. And the big one. No way to communicate to defend our nation.
Thank you for your clarification. It made things clear to me because -due to the language barrier???- I have misinterpreted your words to be arrogant. This same procedure is being followed -in its due proportion- to my small country, too.  
@ Kevin : No hard feelings to anyone!  

Thanks again Khaimraj!

my nellie

Member





yes - no hard feelings alexandra !!!
take care and be well !

and good fortune to you as well khai
now, let us all join hands in a rousing rendition of KUMBAYA

www.youtube.com/watch?v=vo9AH4vG2wA
_________________

AAC Original Milwaukee Wi. Chapter - North America
aka beer city snake
link to ARBOR ARTS COLLECTIVE BLOG

kevin stoeveken

Member





Oh good gosh Kevin,
not Kumbya, please never Kumbya
You deserve this -
https://www.youtube.com/watch?v=xd12hR68sWM
Nick's sister Jessie, droves us nuts with it.




Revenge is sweet.
AND one for Alexandra -
https://www.youtube.com/watch?v=bdwFVEMXmJA
Curtesy Nick who is also half espanol.
Laters.
Khai........








Khaimraj Seepersad

Member





Hey M. Frary, would you mind posting a few photographs of your saved 'couple-of-hundreds-of-years-old-trees'?
I'm very curious to see what beauties you save.

Thanks and regards,

Tentakelaertje
thanks khai

but that nana chick is dynamite !

are you familiar with ceu ?
http://www.ceumusic.com/
https://www.youtube.com/watch?v=q_xGWYEA0ss
and as an aside i think that some are misconstruing what mike said...
i could be wrong but when he wrote "a couple hundred year old pines"
i think he meant 200 or so 1 year old pines...
not pines that were a couple hundred years old...
nor a couple pines that were a hundred years old...


but if i am wrong, i too wanna see them !
_________________

AAC Original Milwaukee Wi. Chapter - North America
aka beer city snake
link to ARBOR ARTS COLLECTIVE BLOG

kevin stoeveken

Member





When I say 200 year old white pines I mean full grown ones. The ones with 6 foot bases and are over a hundred feet tall. Giants of the Eastern White pine world. We have a place here called Hartwick pines. They have trees there they say 20 single room cabins could be built from a single tree. Where I work we call big tall trees screamers. Because when you fall out of one you get to scream for a couple seconds before the ground brings you up short.

but of course those are not the ones you are referring to in your collecting...
_________________

AAC Original Milwaukee Wi. Chapter - North America
aka beer city snake
link to ARBOR ARTS COLLECTIVE BLOG

kevin stoeveken

Member





Just dropped into this thread. How can I un-hear that Nuki Song? Yikes.
I have been involved a little with prairie preservation in my neighborhood for over 20 years. There is a wild orchid, Platanthera leucophaea, that once was found in every county of Illinois north of an east-west line passing through Saint Louis, Missouri. Today it is only found in 7 locations, each population has dwindled to less than 100 individuals. The prairie near my house had hundreds of them. Nature photographers from the greater Chicagoland area would flock to this prairie when they were in bloom. Each thought they were being responsibe, only taking photos, leaving nothing behind. Wrong. They left wide circles of compacted soil and crushed grasses and seedling Platanthera around every blooming plant. This year, I saw no blooming Platanthera leucophaea for the second year in a row. The trampling of the soil by the herds of photographers alone was enough to expirate the species from this location. Where ever I have found this orchid the soil was always so soft you could straighten your fingers and push them into the soil past all the knuckles right to the thumb. Very soft, loose soil. The photographers compacted the soil to the point the orchids could no longer survive. THey stepped on the seedlings that would replace the aging plants that were blooming. What is interesting, I would sometimes spend an entire day there. At any given time there would only be one or two people out in the prairie taking photos, but there was a steady stream of the for the entire 2 or 3 weeks they were in bloom. Each day would have 40 or 50 visitors, all walking around and crushing young plants and compacting the soil. It took only 20 years of this to completely eliminate this orchid from the prairie. A few other plants seem to have been sharply reduced also. Its no longer the "pristine" prairie it used to be. And to all the photographers, they thought their actions were harmless.
Truth is, one photographer was indeed relatively harmless, but over the three week bloom period, it wasn't just one, it was hundreds, at 40 or 50 a day. And this went on for year after year, ever since a 1995 Chicago Tribune article "went public" with the location of this prairie and the orchid in it.
Cumulative effects of relatively benign behavior really do add up. Same general thought with collecting. If one is visiting a wildlife refuge, wilderness preserve, national or state park, or monument, or preserve, these places are visited by thousands of people a year, and seemingly minor offenses, like collecting this one seedling, one small tree, these add up. It is really important to think about where you are before collecting.
Now, out west, there are some really big expanses of land, often with very few roads, extremely limited access. Wyoming, Idaho, Montana, Utah, all have very few people in very large states. Huge expanses of public land. National Forests have a harvest schedule, and most if not all of land with a National Forest designation is available for logging grants, and will be logged on a schedule. BLM lands are also intended to be harvested at some point and mineral rights are up for lease too. These areas, which often are not tourist destinations, these areas see very few people. Here, if one gets permission, collecting a few trees really is a minor thing. The western wilderness is incredibly huge, on a scale that many of us from crowded cities can not appreciate.
The species most often collected for bonsai are not the rare species, they are the common ones. Ponderosa pine and Douglas fir are incredibly common through most of the western half of the USA. They are the dominant species in many areas. Junipers of several species are the dominant tree/shrub of the lower elevations. Taking a few trees from these areas really presents no moral hazard. Of course, you need permission. And while a bit complicated to get, it can be gotten.
And then there is private land. If you have permission from the owner, you can take what ever the owner will allow. It is the way USA law works.
East of the Mississippi River, the country is much more crowded, and collecting presents more problems. But it can be done responsibly there too.
There is a sub-set of bonsai hobby growers who also are rare plant nuts. We like having the species that nobody has ever heard of or seen. This group really should not be allowed to collect from the wild, because we could really do damage. There is a sub-species of Pinus resinosa, the American Red Pine, that has red pollen (orange-ish actually) rather than yellow pollen. It is known only from a population of less than 50 trees on a limestone bluff over the Des Plaines River in Illinois. If someone were to get it in their head they had to have one, it would not take much to wide this sub-species out. Fortunately, this sub-species of American Red Pine does not have any traits that make it more desirable for bonsai than the normal form, and for that matter, the normal form is rarely used for bonsai, as in most traits, Pinus sylvestris is a much better choice.
I satisfy my love of rare plants by working with seed, seedlings and vegetatively propagated material. I just picked up a 2 year old cutting of Drimys andina, and I'm loving it. It will be decades before it looks like bonsai, but I can point to it and say - I bet you don't have one, and probably be right. I will also do my best to propagate a few, just to pass around. I'm not a totally insensitive when it comes to this. The plant I have is a cutting of a tree in California, that came from seed imported from Chile. No trees were dug up to get it here. I try to be responsible in my obsession to own rare plants.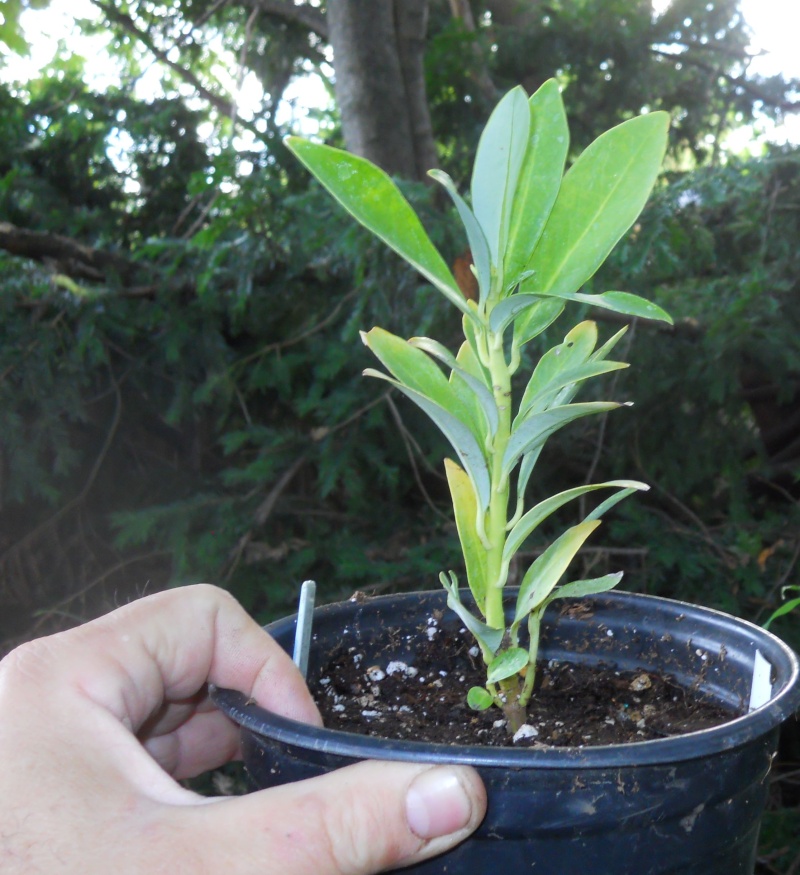 Leo Schordje

Member





Page 3 of 3 •
1, 2, 3

---
Permissions in this forum:
You
cannot
reply to topics in this forum