Many years ago I found a cherry seedling in the forrest...it turned out to be a Prunus avium...a birdcherry with huge leafes

New as I was to bonsai, did I keep it anyway...
The tree was in a big pot for 13 years, repottet every year, grown up, and cut back again and again, to make a nebari and taper...not like I would do it now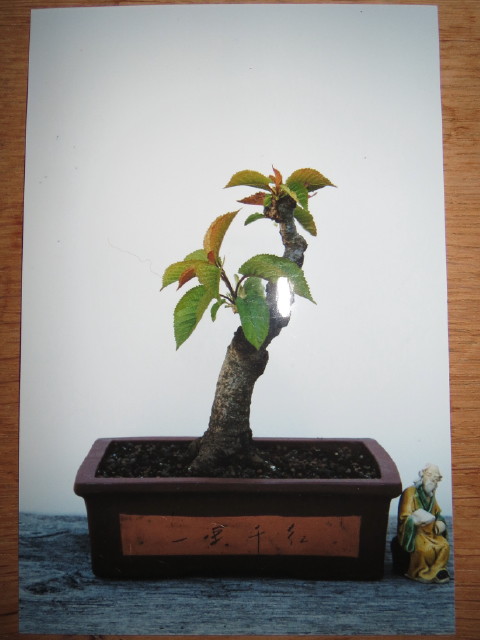 In 2001 it was 13  years old, and pottet in a bonsaipot for the first time
in 2004 it had budded back from the trunk, and given a new branch...I turned the tree, and gave it a tenjin, wanted to make it a shohin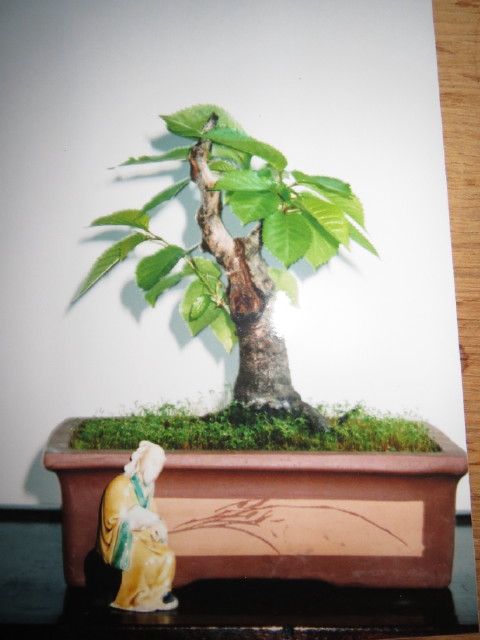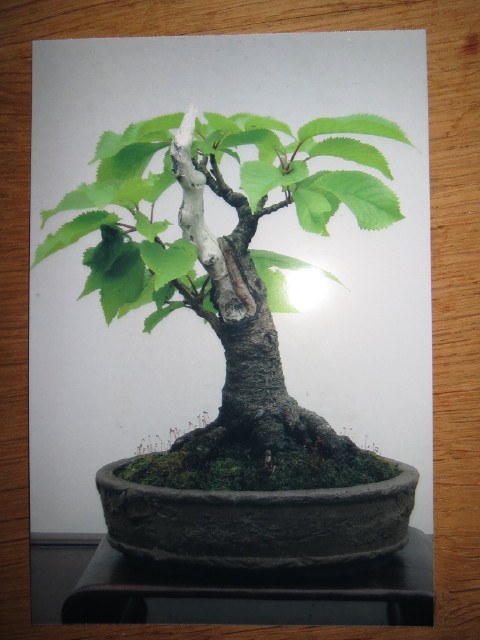 In 2005, it was a OK shohin, but it turned ot to be a battle to keep it like this, as the tree did not like to be cut hard back, and the branches became too fat, and the leafes too big.
The tree ended in a slightly bigger pot for some years, planned to make a bigger tree, having a Japanese Prunus mume with a lot of deadwood in mind.  during the anual repotting in 2013 did I find the bark had become old and interesting.
During the winter 2014 had the callus become owergrown, and was a focalpoint I did not like....I trimmed it back, and placed the tree in a even bigger pot....the 3 small jins on the trunk to the right was branches that died back while being in shohintraining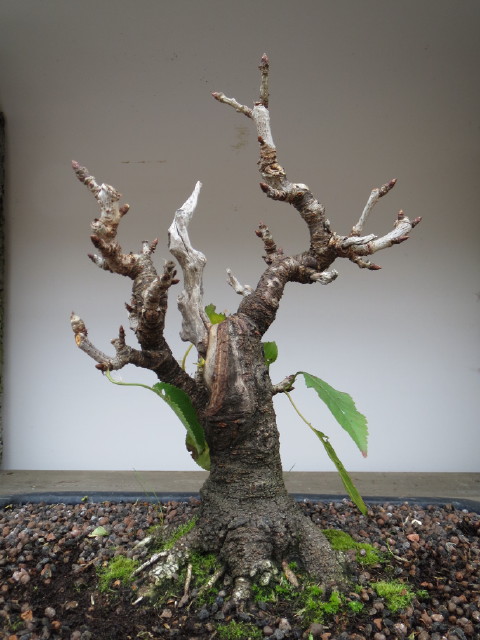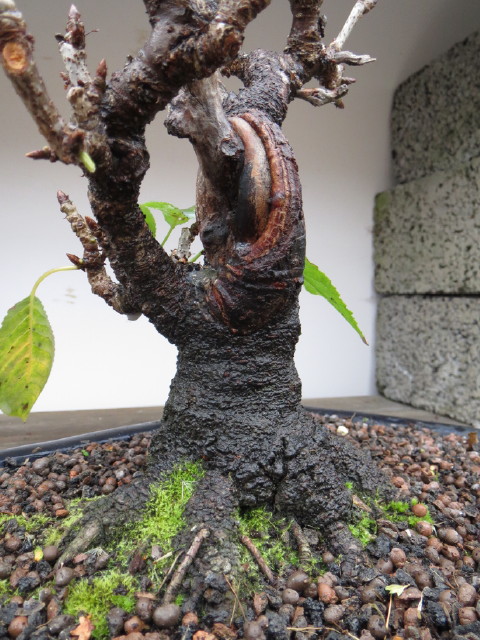 End of 2014 season...the callus grow fast, not realy pretty
So....this was my next step today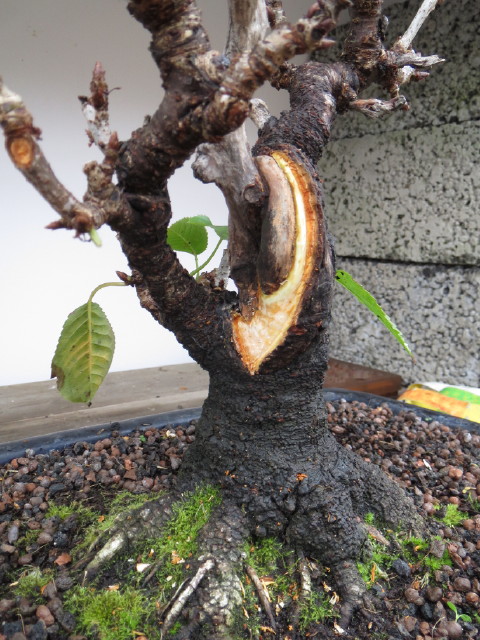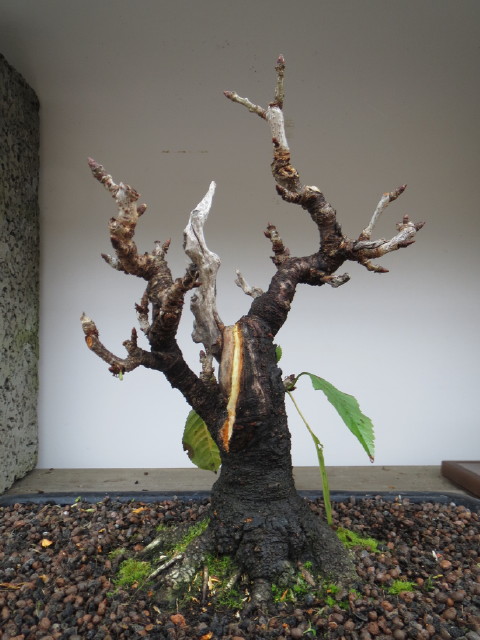 May have to do it every year for a long time, hoping to avoid an upcomming inverted taper.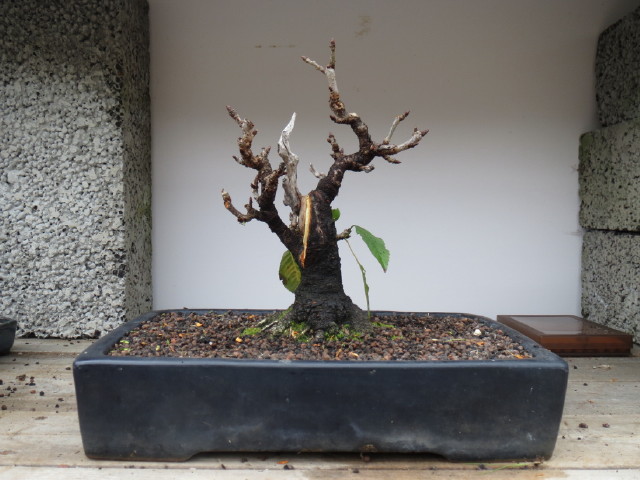 The 25 cm tall tree in its big pot for now  

...hope you like it
Kind regards Yvonne
This is a great example of how patience pays off. Why did you plant it back into a large pot? Are you growing the roots out? The nebari looks quite decent to me.

I am not too crazy about deadwood on deciduous material, but for some reason it works well for prunus species; especially with Prunus mume (Japanese apricot).

juniper07

Member





Hi Juniper07

The nebari is nice big now, but I want the tree much bigger, this is why it is  in the pot now. As you can see, is the new branches quit fat compared to the trunk...it is OK now, but it will change if it contiue its growth in a small pot....I want more trunksice compared to the branches.
I may pot it in a smaller pot during winter, for later moving it to a bigger, like I do with almost all my bonsai...have not decided yet....only...I want the tree much bigger.

It is a tradition to grow the Prunus mume with a lot of deadwood...as far as I know is it the only broadleafed tree in Japan, that is kept this way...What japanese people see/saw in the nature, is how they are making their bonsai...
Because my tree was started up this way, and I find the shape ok, even though it is not a mume, will I continue this way...had it ben a new tree, would I prefer it to become tall and slender, like they grow in Denmark.

Kind regards Yvonne
Great progress in all these years.
The Nebari is very large, I think you did a good job with the branches. good even the shari.
My compliments , Daniel


-Daniel-

Member





The thing I like the most is the nebari. Very nice.

I think you must loose one of the apexes and turn that also in a jin. But that is me.

I dont like the callus that formed, I think you need to carve it a little.

Great progress. Well done.

Love Light and Awakening

Andre Beaurain

Member





Making this tree a bit larger is a good idea i think. The jin right in the middle looks a bit weird to me,
But probably you dont want to get rid of that. I just wonder in a few years how it will grow around it.
I will become very big callus i think. Dont know if that would be nice..maybe it is.

DjTommy

Member





Hi Guys
Thanks for your replies
Yes, bigger is better.....I am also not realy happy about the shape of the callus, but will leave it for now, concentrating of growing the tree bigger...if it is 2 apex, or the beginning of a crown, I dont know, the next couple of years will tell me so, but for now does they both add to the trunksice

...If I let the jin stay, will it with time dissappear in the crown...would you think this is a problem?
Kind regards Yvonne

---
Permissions in this forum:
You
cannot
reply to topics in this forum