I apologize for the blurry photos.. I have a minor disability that limits my fine motor skills like handwriting. Camera work and wiring. Sorry for the nearly redundant photos, but one has the "apex" if you can call it that. And the other my amateur wire work. It has been popping back in all the right places.
Does anyone have a recommendation for removing the algae on the base of the one in the oval? It lost it's perfect first branch during my 3-week long hydroponics experiment/ vacation. Would you believe my friend would refill the reservoir once a week while I was gone? Oh well, at least it survived.

MrFancyPlants

Member





hey hey MFP (dang - i forgetted your name, but i remember that you surf)
re: the algae, i would think a tooth brush, or soft brass wire brush would do the trick...
coupled with a scrubbing agent thats not harmful to the tree (i wont speculate on that part)

btw, if that ficus is as small as it looks, i dig it (from what i can see)
and think it will end up as a nice lil shohin/mame

kevin stoeveken

Member





An old toothbrush dipped in water should take that algae off. Even better is watered down vinegar. Both those are for cuttings, right? I can't remember right now.

KennedyMarx

Member





The 'too little' in the oval is actually the mother plant.. I have 4 cuttings that I am growing out in an anderson with a couple other tropicals, but haven't styled yet. I was thinking of growing at least one up to a house plant size.. those tiny leaves might look pretty cool then.

MrFancyPlants

Member





won't letting it grow out make leaf reduction more difficult ?

(sounds like a dumb question as i typed it)
_________________

AAC Original Milwaukee Wi. Chapter - North America
aka beer city snake
link to ARBOR ARTS COLLECTIVE BLOG

kevin stoeveken

Member





'too little' is a genetic variation of the benjimina, so even growing it out wouldn't make the leaves that much larger. It is a bad picture; just to the right are some regular sized 'Christine' benjimina leaves. It is also a variety, and has closer internodes, but regular leaf size.

MrFancyPlants

Member





Put a drop or two of bleach in a cup of water and brush mixture  on unwanted algae and/or moss.

Hank Miller

Member





Awesome, thanks for the advice. I'll try bleach first and then give the vinegar a shot if that doesn't work(a few days later). I still haven't gotten around to giving them a scrub yet, but I am planning on repotting all of the tropicals before I bring them in for the winter. The repotting will be two fold. To clean up/reposition, as well as to insert rayon mop strands into the pots for my vacation hydroponic setup. Also, at some point this season I used some of my friend's guano based organic fertilizer; that may have contributed to the algae sludge.

MrFancyPlants

Member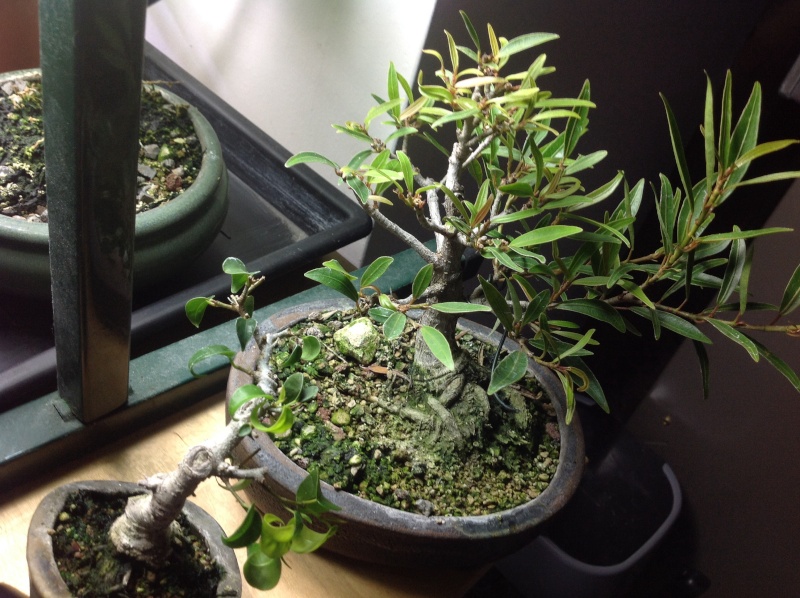 I cleaned off the scum a little bit w vinigar and water, and am real tempted to repot and scrub more soon. The little ones soil is pretty gross looking. And, I wasn't pleased with the crossing root on the willow leaf.  Should it stay or go.

MrFancyPlants

Member





And, I wasn't pleased with the crossing root on the willow leaf. Should it stay or go.
It will leave a large scar. Your best bet probably is to plant the tree a bit deeper.
_________________
Jim Lewis - lewisjk@windstream.net - Western NC - People, when Columbus discovered this country, it was plumb full of nuts and berries. And I'm right here to tell you the berries are just about all gone. Uncle Dave Macon, old-time country musician

JimLewis

Member





Hi
Use detergent powder with water it never fails and wash it off mediatelh with water.. Purely very safe sir and regarding any scar or thinkening of trunk patience will always play vital role pot the whole tree in deeper pot let it grow vigorously...ficus are very versatile and nice to work on..
Regards


ogie

Member





---
Permissions in this forum:
You
cannot
reply to topics in this forum