I've been a big fan of Hinoki since seeing beautiful specimens in Japan. I'm in Auckland, New Zealand, and this Hinoki has been collected from a site in Northland, then put back in ground for a few years. 2012 I dug it up and put it in a growing bag.
Here it is spring 2013: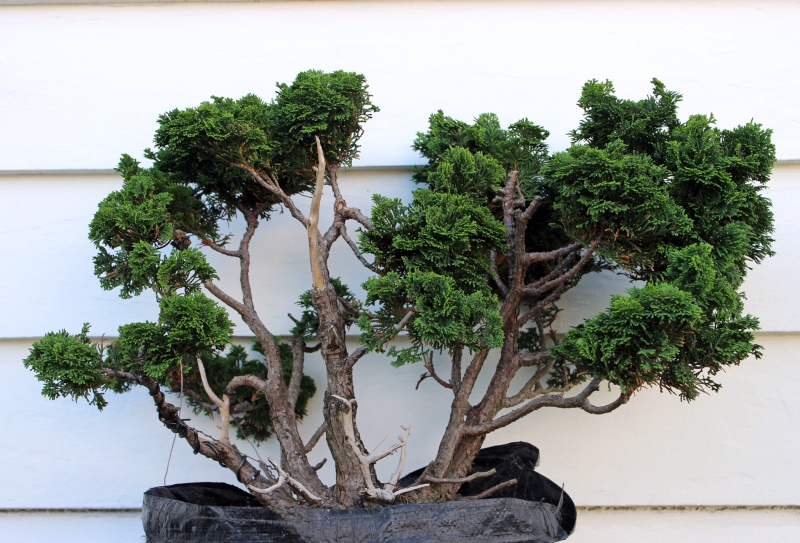 Initially going to be styled as a Raft/Forest, I decided to go in another direction as I already had a few like it. Repotting it this spring (2014), I changed the front and planting angle.
Half way through basic wiring of main branches...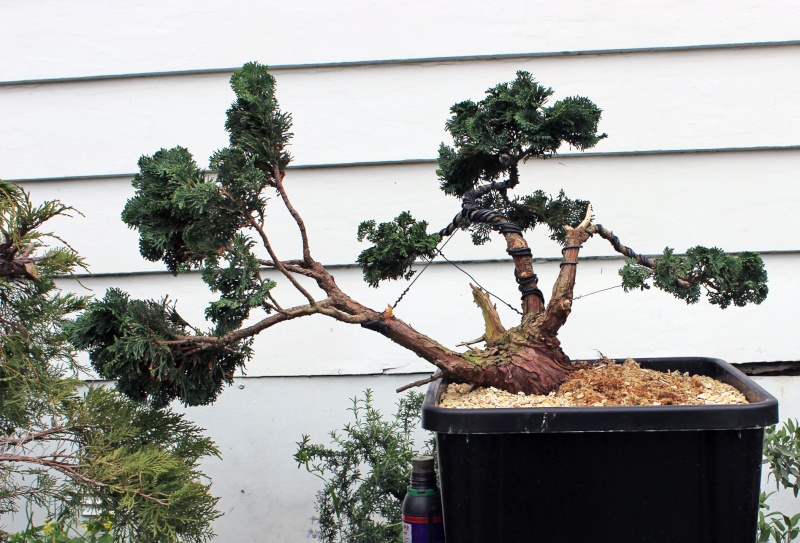 Eventually I'd like to remove the lower left trunk, but didn't want to remove too much foliage in one hit. Detail wiring of pads hopefully this autumn.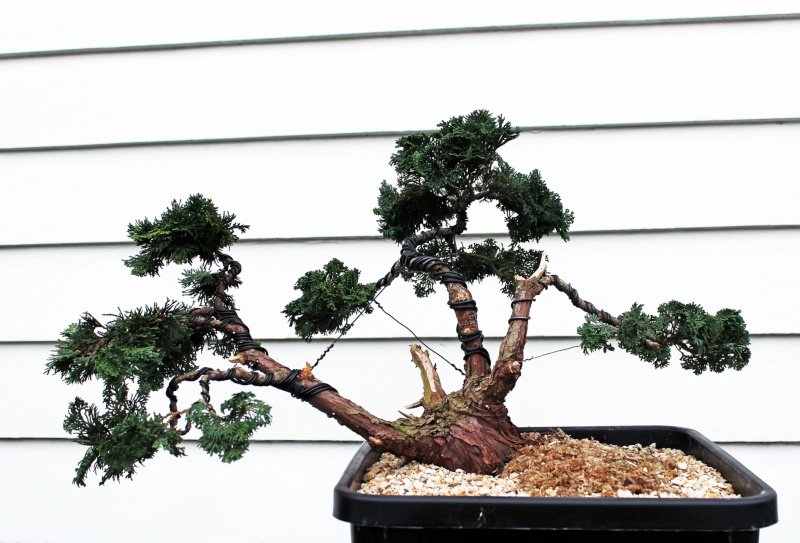 Below is a virtual of where I'd like the tree to be in 3 years or so. Bit of deadwood work to be done. (Might need a few grafts closer in to achieve this depending on growth over the next few years).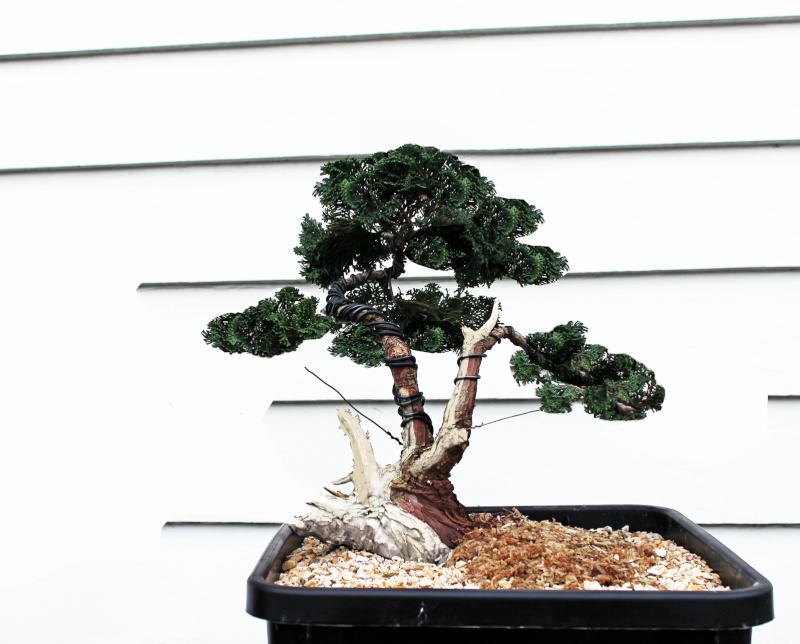 Feedback very welcome! Would love to see some more Hinoki progressions from others too! Thanks, Adrian
I'm not certain that I wouldn't have preferred your first vision for this tree.

But since it is too late for that, Now I wish you hadn't pushed the foliage so far out toward the ends of the branches. I have limited experience with these trees, but what I do have has indicated that backbuding as shown in your virtual, is difficult to say the least.

Good luck. And if you do get the backbudding, please cut back the foliage on the smaller trunk by half, or thin it out.
_________________
Jim Lewis - lewisjk@windstream.net - Western NC - People, when Columbus discovered this country, it was plumb full of nuts and berries. And I'm right here to tell you the berries are just about all gone. Uncle Dave Macon, old-time country musician

JimLewis

Member





JimLewis wrote:I'm not certain that I wouldn't have preferred your first vision for this tree.

But... it is too late for that, ...
I agree. Sadly, I think you missed several better opportunities. I actually wonder why you removed the biggest/main trunk.

Poink88

Member





Hinoki are very unlikely to back bud enough for you, but they're easy to self-graft wherever you need foliage.
Hi guys, I totally agree there were better options for this one. I forgot to mention I was initially going to use all the trunks (including the main one) for a forest/raft, however a severe storm came through and snapped the tops off of 3 of the trunks. This left virtually no foliage left on them, even grafting wouldn't have helped. So this is plan B...

With Hinoki's, back-budding isn't too much of a concern as you can graft foliage close in to the trunk, basically anywhere you'd need it. We do get back-budding throughout the growing season down here but only as far back as the crotches of the existing inner foliage on a branch. Grafting is the way to go as you can choose

Thanks for the feedback Jim and Poink, much appreciated!
Oh sorry missed your message above Colin, but yes we've been getting some good results with grafting, cheers!

---
Permissions in this forum:
You
cannot
reply to topics in this forum