I have struggled with identification of my pachypodium. I bought it years ago, labelled as p. lealii. That I can agree with, but there are variations within this. I have been relying solely on internet searches, and my working conclusion is that it is p. lealii v. saundersii, because this variation has been described as having glossy leaves, whereas the others have leaves which are more 'fuzzy'.
1. Can anyone verify or refute this? I have attached a picture of questionable quality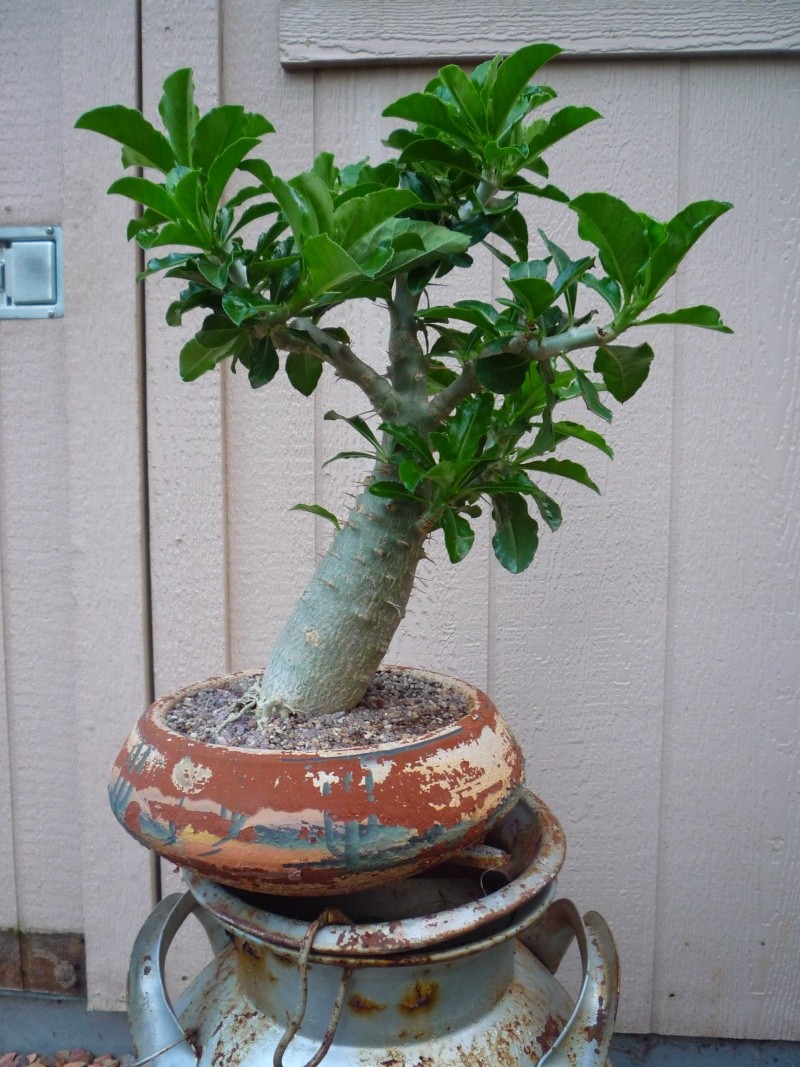 I want to repot it, I think to something a little smaller in order to thicken up the caudex, and certainly to something a little more attractive.
2.What is the best time to repot a pachy? Early, when just beginning to come out of dormancy, in Summer when it is full growth, now just before it begins to rest?
I pot it with a 70% chicken grit to 30% fine pine bark mix. I water it freely in the Summer and fertilize it pretty much like the rest of my bonsai. In the winter I bring it in with my tropicals. I cut way back on fertilizer, and slow the watering- I water when the caudex begins to soften to mild finger pressure. The plant will generally keeps its leaves into January, slowly losing them until bare over about a month's time.
3. In my reading, a heavy medium has been described as an impairment to the type of roots in this plant- can anyone verify or refute this? If I need to use something lighter than chicken grit, I would like to have it on hand ahead of time and my pot shape makes root inspection difficult.
4. Is watering when the caudex begins to lose its firmness a good way to estimate watering need during its rest, or is the plant stressed by waiting that long?
Thanks in advance to any who post answers, and please feel free to request clarifications/further information.
David

Precarious

Member





Hi David ..
Its Saundersii alright check if the flower is white edge with lavender.. To promote caudecius thickening i normally cut the branches during summer and water it aftrr a week to prevent it from roting tru..my medium are coarse and very porous... Riversand mixture with 20% compost...i usually repot during growth season coz we are tropical here... I will post mine on this thread for you to have reference.. Love pachi plants but sometimes they are unruly to care..:-)
Regards

ogie

Member





Thanks Ogie. Regrettably, in the 5 years I've owned it there hasn't been even a hint of a flower bud.

But I still agree with your identification. I have pruned branches every year, but always when it is defoliated and resting. No bad effects noted yet from that. I have read recently that less root space will encourage more caudex in this type of plant, whereas a large rooting space will lead to more branching and foliage. Maybe your way will work as well or better.
David

Precarious

Member





Thought I would make another effort to get outstanding questions answered (above), esp about watering in winter. Anyone?

Precarious

Member





Sorry David...didnt really see this post until you mentioned it now in your Spekboom post.  I wonder why.....emmmm

Your tree is definately not Lealii,  Pachypodium lealii has hairy leaves and  is just as difficult as Pachypodium namaquanum and brevicaule.  All will die a at the drop of a hat.  They are very specialized plants.    You also need a permit to grow namaquanum as it is on the endangered flora list.
So your Kudu lilly (Pachypodium saundersii) is a very reluctant to flower, so dont worry too much about it,  But it forms a caudex very quickly.  
If the stem looses pressure it is not a good thing. Yes the plant is then stressed.   I water mine if they have leaves on, and until they drop, then you stop watering, sometimes this only happens in mid winter.  If it has leaves on, and you stop watering, this is when they become soft.  
Repot in spring just as new growth emerges.  If you damage the roots, dust them with a fungicide, (ground cinnamon will also work)and leave it dry for two days before planting.
They prefer under potting than over potting, too large a pot can become too wet.  They grow naturally, as most Pachypodiums, in very little soil in rock crevices or  even on top of rocks just in a thin layer of organic material.  In summer when it rains the water literaly runs under them like a spring.  But it drains away almost immediately.
Its is very interesting that the whole African continent has only 5 discovered species of Pachypodium.  The "Island" Madagascar has 22...   howz that?  
And the same with the Baobab.  
The African continent has only One species Adansonia digitata.....  The Australian continent has only one species Adansonia gregorii.
Madagascar have SIX!  WTF!  What happenend in Madagascar?  Very soon though, if nothing gets done, Madagascar pachypodiums will be extinct in the wild.  Due to charcoal making.  Everything gets burned to the ground.....  

So keeping Pachypodiums in collections is going to be the only way for the species to survive. Ironic isnt it?
Your choice of pot is not a good idea for any bonsai,  always too difficult to remove.  Always get something with a open mouth.  Use that pot for grasses and accents or kusamono.  Me thinks.
Love Light and Awakening
Andre

Andre Beaurain

Member





Just to show of mine in a Baobab style

:
[url=http://servimg.com/image_preview.php?i=541&u=14873058]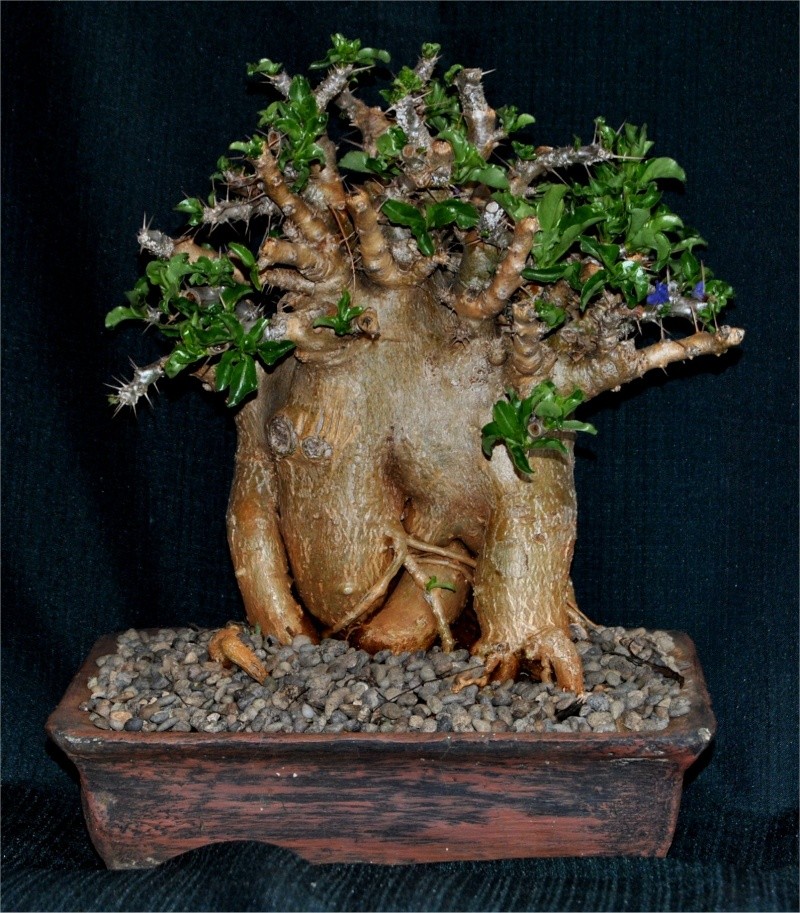 [/url
(This one has not flowered for the last 5 years.)
Lennard

lennard

Member





Andre, thank you for the valuable information. Not too many people growing saundersii in this corner of the world. I'm surprised I haven't killed it already by watering through the winter, though it was only every other week or so. Maybe I have just enough knowledge now to do it in

(I need a mad scientist emoticon). Do you prune branches as it's coming out of dormancy?
I find I must agree on the pot, and have been searching for one with that gives a nod to Africa, but no luck. Just yesterday, I ordered this:
http://www.bonsaitrees.com/detail.php?id=304&catid=5
I think it reflects what I've read about the harsh environment many pachypodium thrive in. It is some smaller than the current pot, so some root pruning may well be in order, so I will keep the cinnamon handy (did I mention mad scientist emoticon?)
So I'm thinking God wanted people to come visit Madagascar after it broke away from Africa, so they got all those cool plants

Lennard, thanks for showing off your pachy.
I'm trying to gauge the size of the plant, 12 inches maybe? And what is the blue coloring on the right? All the (?bark?) on mine is gray, where yours is brown- will mine change as it ages, or is it the amount of sun, or...something else? Sorry for all the questions- I'm starved for knowledge on this plant. I bought it at a nursery when it was the size of my thumb. It was the only one of its kind on the table, and it's the only one I've seen there before or since.

Precarious

Member





Your welcome.. I like your pot that you ordered...

Your tree is stunning Lennard. Nicer that all mine, I never have the guts to trim the branches back.

I guess the blue on your plant is Jacaranda blooms that fell on it....?

Love Light and Awakening
Andre

Andre Beaurain

Member





before getting into bonsai i had one of these that was almost one meter tall with a trunk width somewhere between my calf and thigh... it was hell to repot, so i stuck a sign on it during one of our rummage/jumble/yard/garage/stoop/tag/white elephant sales and ended up selling it to a travelling professional volleyball player... weirdest sale ever for me... i wonder how he got it to where ever he was going

nice pot choice too... i love dasu pots and scored several at the chicago show this year.
_________________

AAC Original Milwaukee Wi. Chapter - North America
aka beer city snake
link to ARBOR ARTS COLLECTIVE BLOG

kevin stoeveken

Member





Haha when I saw travelling I was sure I was going to see carnival or salesman after. Never expected pro vb player

Do you mind my asking what type of soil you used, if you remember? I read that their roots don't like fine, sharp-edged substrate, which my chicken grit obviously would be, but not sure how valid that statement was. Why was yours so difficult to repot?

Precarious

Member





as i recall at that time i was probably using the straight-up cactus blend that comes in a bag...

it was hard to repot because i didnt know about wire or other ways to secure it in the pot,
that, coupled with its size, making it very cucumbersome (and not to mention not wanting to break off the spikes)
_________________

AAC Original Milwaukee Wi. Chapter - North America
aka beer city snake
link to ARBOR ARTS COLLECTIVE BLOG

kevin stoeveken

Member






---
Permissions in this forum:
You
cannot
reply to topics in this forum