I like suiseki and suiseki bonsai, however, suiseki is the work of natural but the suiseki bonsai is the work reflect the fruit of wisdom of people.
In the art circle of Chinese, there is a saying "an excellent art work must come from natural and it should be beyond the natural". Suiseki bonsai is as it.
I hear there are few classic modes to make a fine suiseki below:
1. Vast and farness mode
2. Depth and farness mode
3. Height and farness mode
4. Single scenery mode
The suiseki bonsai is classic vast and farness mode, the topic is "万里江山入画图". In English, it means "thousands of miles of landscape in bonsai", I love the bonsai and its topic very much. You can imagine how large and beautiful landscape it contains, I was attracted and liked it when I saw it at first time, as if I can see a big river is running toward sea.
It is a classic depth and farness suiseki bonsai, you can see some fishing boat are coming back into the depth among the mountains, and there still maybe more scenery there.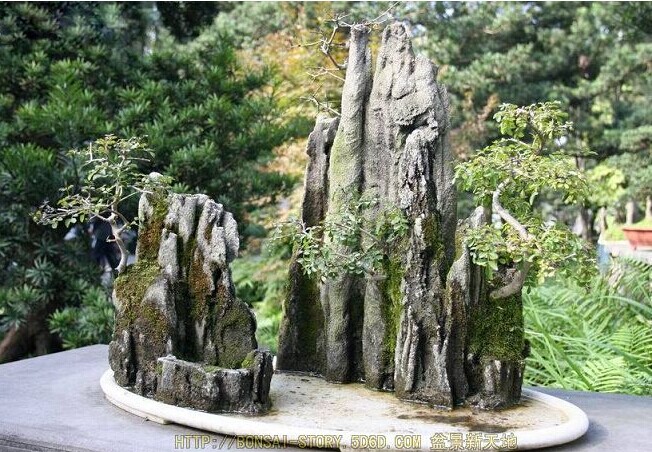 The suiseki bonsai is high and farness mode. A river between two high mountains, you can not only see the height of mountains but also the far landscape.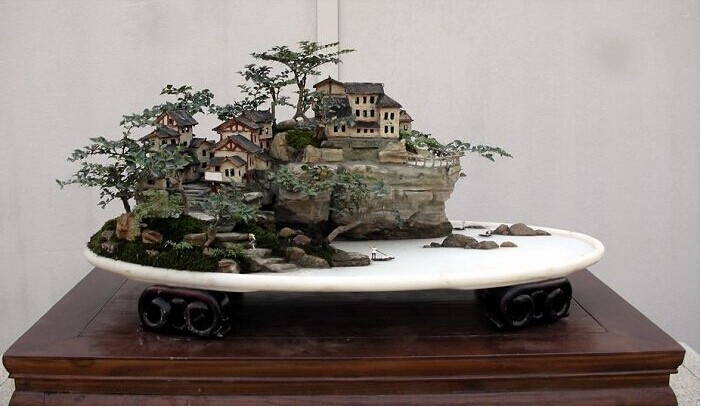 It is a classic single scenery mode suiseki bonsai, I also like it very much. There are few houses on the hill beside the river, how comfortable and agreeable life if you live there.
I also tried to make few suiseki bonsai with Yun Wu mountain stones by myself, but they are unsatisfactory.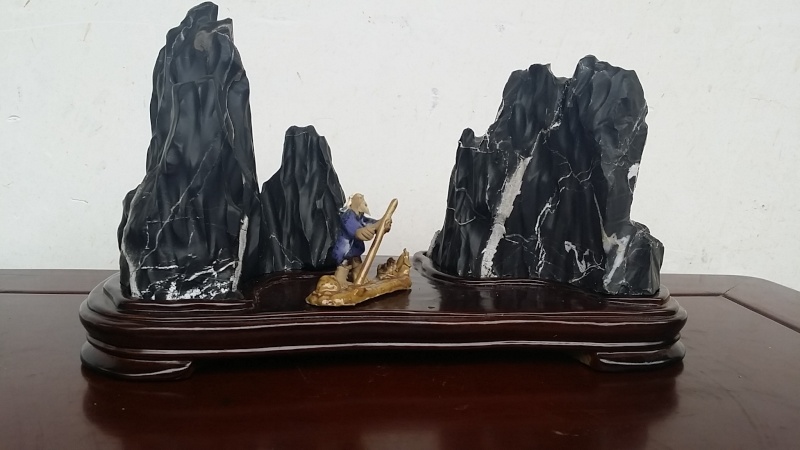 The small boat is too big compare with two Yun Wu stones, but I can not found another smaller boat to match it. The suiseki bonsai had been bought by an American bonsai dealer two months before.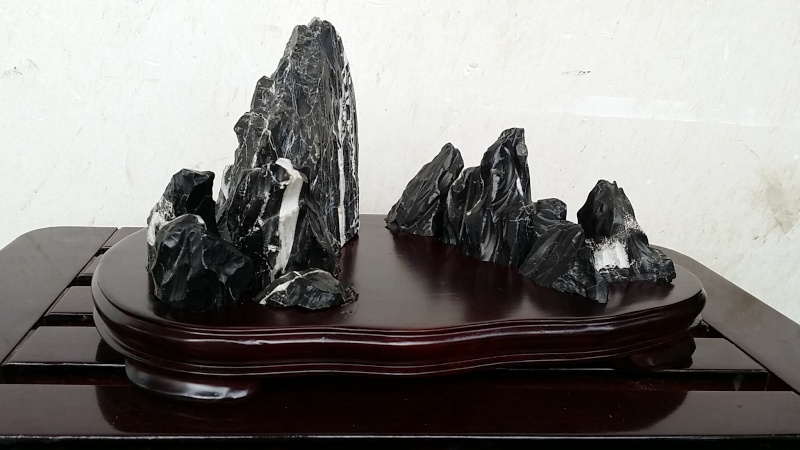 Hope you can also like suiseki bonsai.
Thanks.
riversoul

riversoul

Member





this looks absolutely beautiful...
i would love to see a larger image or some closer detail pictures.
thank you for posting this.
_________________
AAC Original Milwaukee Wi. Chapter - North America
aka beer city snake
http://wiscobonsai.com/

Kevin S - Wisco Bonsai

Member





I really APPRECIATE your posting and sharing....THANK-YOU.....

dick benbow

Member





Hi Riversoul,
I don't think there is such a thing as SUISEKI BONSAI but Suiseki And Bonsai "Yes" your art form representing of your post are called Penjing in my country and also in parlance of other maybe called Tray Landscape. IMHO your other stone display are nice but putting it in your context suiseki bonsai is a bit disarray to people who would like to learn Suiseki and Bonsai individually. I'm not being disrespectfull to you,but just want an honest opinion from others to... I know a lot of us including myself enjoy people like you sharing your skill and talent. But if it creates wrong concept we will defy its true meaning of what is BONSAI AND SUISEKI...

thanks

ogie

Member





thank, ogie you are right.
Infact, there is not " suiseki bonsai" in English, in China, it call" 山水盆景" or "水旱盆景". it is one kind of "penjing", and it made by most stones or suiseki, some of this penjing witout any plant, I don't know how to express in Engosh, so I only call it "suiseki bonsai"
thank you again for your posting to every memer in IBC.

with best regards.

riversoul

riversoul

Member





Hi Riversoul ,
Your chinese when translate directly is "Mountain,Water,Penjing" i hope it helps, thanks for sharing.
Regards  

Last edited by ogie on Wed Aug 06, 2014 4:21 pm; edited 1 time in total (Reason for editing : Add on)

ogie

Member





Thank you for helping IBC Stone Forum members to clearer understanding, Ogie.


Chris Cochrane

Member





Hi Chris ,

 hope I'm helping in my on little way... Riversoull has posted many beautiful stone. Wish all of us can contribute more,regards
Thanks Riversoul and keep posting
Ogie

ogie

Member





Riversoul's description of stones in his region has been extraordinary. I am very grateful for his generosity.

Chris Cochrane

Member






---
Permissions in this forum:
You
cannot
reply to topics in this forum