Hello,
I just wanted to show you my first Juniper tree after its styling.
I bought it last month and it looked like this (I thought that it has an interesting nebari and nice, natural twists and turns):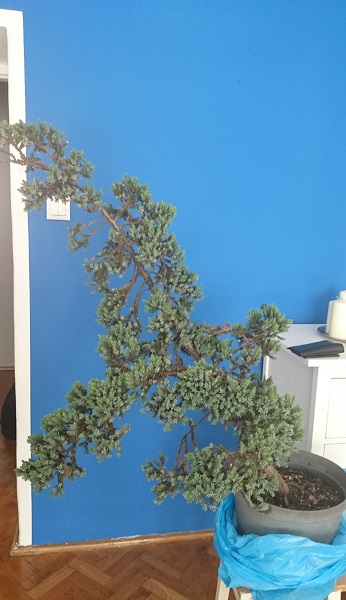 I was aiming at the beginning in literati style but ended up with this (first one is a front view):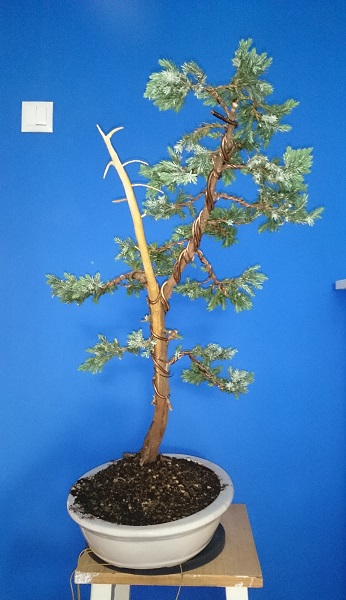 Please keep in mind that this is only training pot and I know that size and color is wrong

Jin will be shorter and I'll try to make it more visible.
The goal is to expand foliage much more to the right or again try to fit in the literati style.
If you see something else that might be interesting feel free to share the vision  

Best regards,
Mike

strooz

Member





Hi strooz,

very nice job, I like what you have done with this tree.
In my opinion the tree would improve if you cut both branches on the right or cut just the first one and try to place the higher one on the back  to make the 3D.

The front is the last picture wright?

Regards
Hi PMNB,
thanks for sharing your point of view. Front is displayed on the first picture (trunk line looks like backslash  

 ). You can see that there are couple of branches in the back including jin, so I'm not worry about 3D.
I think that now branches are too small (or at least ramification is weak) in comparison to trunk...
Trunk line is also natural and I'll see whether it needs bending during next season or not.
But hey, it is just first styling, right? Right?  

Regards,
Mike

strooz

Member





A small follow-up on this plant.
Front was changed, jin was shortened and branches were rewired and repositioned a bit...
Now I'm waiting for bigger foliage pads (and new pot of course

)

strooz

Member





much better... perhaps the top is a bit heavy, but thats only my opinion based on the angle of the first shot...
glad you included the second aerial view... the front view does not reveal how much foliage there really is in this tree !
_________________
AAC Original Milwaukee Wi. Chapter - North America
aka beer city snake
http://wiscobonsai.blogspot.com/

Kevin S - Wisco Bonsai

Member





Nicely done but in my opinion there is a fault. The tree  grows to the right,  to the light source. But the branches grow to the left, away from the light source. If the light source is on the left.  The top of the tree has to point to the left as well, growing to the light.
But that's my opinion,

 i hope you don't feel offended by it.
cheers

Orlando0341

Member






---
Permissions in this forum:
You
cannot
reply to topics in this forum