Hi, this is my first post here, so I'll say a few words about me.
My name is Razvan and I'm from Romania, a country where very few people are doing bonsai.
This is my second year since I started growing different species of trees, so, I'm a beginner.
My question is about an air-layer on a Quince (aprox. 4 years old, 3-4cm diameter). I started it on the 2nd of May.
One month later, roots started to appear through the plastic bag. On the 19th of June I separated it.
(Click on the images to see them in larger size)
Why did the roots grow from those spots instead of growing from the callous tissue ?
This thing also happened to the parent tree, which was airlayered from a bigger quince last summer. It only formed two roots above the callous.
You want the upper half to root. That's where they're supposed to form.
_________________
Jim Lewis - lewisjk@windstream.net - Western NC - People, when Columbus discovered this country, it was plumb full of nuts and berries. And I'm right here to tell you the berries are just about all gone. Uncle Dave Macon, old-time country musician

JimLewis

Member





I'm sorry but you misunderstood my point.
I know they are supposed to form on the upper half of the air-layer, but i also know that roots are more likely to form from the callous tissue (the one above the cut) than directly from the bark.

So I was wondering what could have prevented the roots from emerging  from the callous tissue, and instead, forming directly on the bark above it.

I didn't use rooting hormone.
That is strange. But it may have something to do with the bridge shown in the fourth picture. If you left that on purpose, try making a complete ring next time, instead of leaving a bridge. You don't need the bridge on most broadleaf trees, typically only for conifers. If you didn't leave the bridge on purpose, make sure you scrape the cambium thoroughly next time to remove it all. You can even use rubbing alcohol on a swab to kill the remaining cambial cells. Graham potter did a
very good demonstration on layering
.
Thank you for your response.

No, I did not leave a bridge when I did the air-layer. And I remember scraping the cambium (but it might have happened to miss some of it).
I'm assuming that the bridge is not the cause of this because i think the roots formed before it bridged (otherwise it would not have rooted at all).
I've had a similar thing happen with a bald cypress (taxodium distichum) air layer. Even with Japanese maples, roots don't always emerge (in the imagined/ideal) from the callus. This season I am doing my first quince air layers, so I look forward to seeing if my results are indeed similar to yours.
When I first made air layers on Japanese maples I believed that rooting would most successfully happen if the girdle was just below a node. In other words, I believed that latent/adventitious buds that would normally have become shoots if activated became roots instead - shoot initials become root initials. However I have yet to demonstrate to myself whether this is true or not. I've also made air layers on pines using a wire tourniquet which doesn't make a callus like happens with a girdle. As you can see from the photos below, this layer was distictly below the node (knob whirl). This is enough to discredit my initial notions as a general rule and to demonstrate that the callus, as we call it, is not an essential feature of rooting (in tissue culture the term 'callus' refers to a mass of undifferentiated cells).
So it might be that root initials are indeed (or in some species) more readily made by transformation of sprout initials and that this is why your new roots emerged a surprising distance above the callus.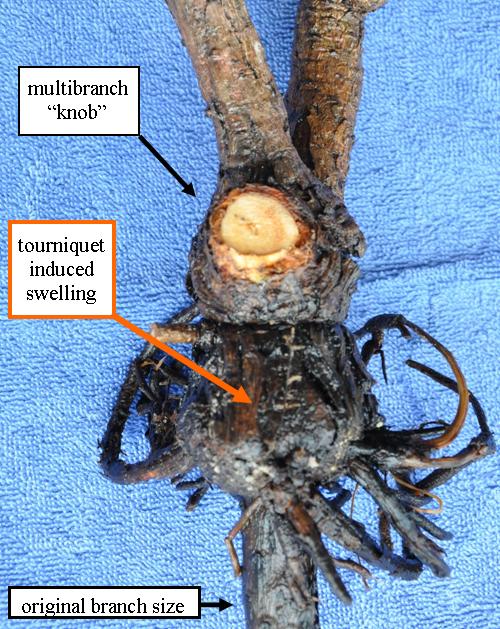 0soyoung

Member





Thank you ! Your conclusion makes sense .
I'm looking forward to seeing your results with the air-layers on quince.
Next season I'll do a few more, and I'll try the tourniquet method too, just to compare the results.
Another thing to add is that roots have formed above the moss too (under the plastic) on both air-layers.
It can be seen in the top of this photo.
And also as you can see in the 5th photo, roots formed under the girdle.
robo. wrote:And also as you can see in the 5th photo, roots formed under the girdle.
WOW! That is the first time I have ever seen that (sure does look like a root instead of an etiolated shoot). That kind of thing never happens with most other temperate trees. Makes me think that it must be related to quince's tendency to sucker (there are a number of tropicals that when planted upside down will grow shoots from what was roots and roots from old shoots). In trees like Japanese maples, polar auxin transport is very strongly fixed - you won't get any growth, let alone roots in the internodes between it and the first folated/branched node below the girdle.
I've never air-layered an azalea because, among other things, they ground layer so (too?) easily - all one has to do is shallowly bury a stem and keep the soil damp. However, it might be interesting to air layer a bigger azalea stem and see if one gets furry little roots on both sides of the girdle. It may make a difference whether the stem is vertical or horizontally postioned (i.e., horizontal stem air layer develops roots on both sides of the girdle and vertical doesn't, maybe).
BTW, loosely speaking, the stricture method adds a season to the air-layer rooting time.

0soyoung

Member





I imagine that the tourniquet method would take more time (I've never tried it myself).
But, given the fact that on these two air-layers the roots formed like this, maybe they'll not take longer and possibly the position will be better, close to the wire.
Regarding that root which appeared under the girdle, there's something I've missed. It is right beside a branch that I've cut when separating the layer, you can see in the photos.

---
Permissions in this forum:
You
cannot
reply to topics in this forum