our previous planning meetings were held in the dead of winter at local watering holes; sipping ciders, belgians, and red wines, while hashing out ideas, eliminating rules, and writing manifestos (figuratively speaking  

  )
we then held our first actual working get-together at my house in late april 2014...
steve c at work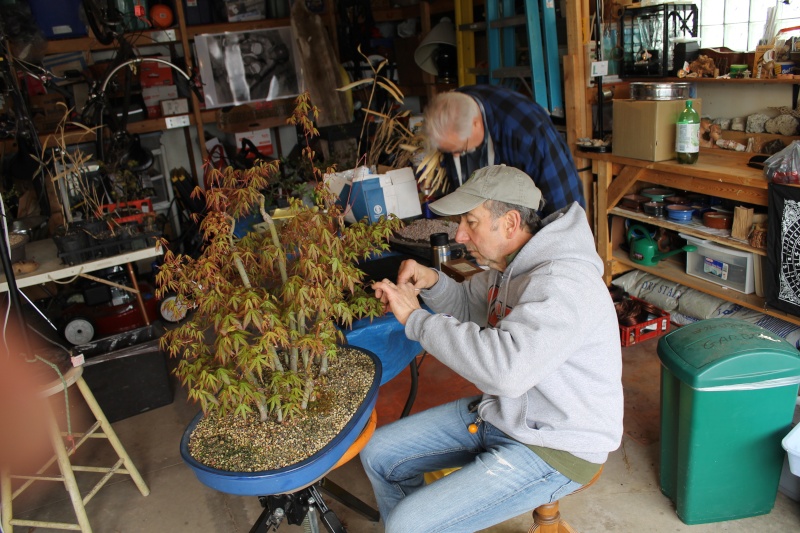 chris (gums) contemplating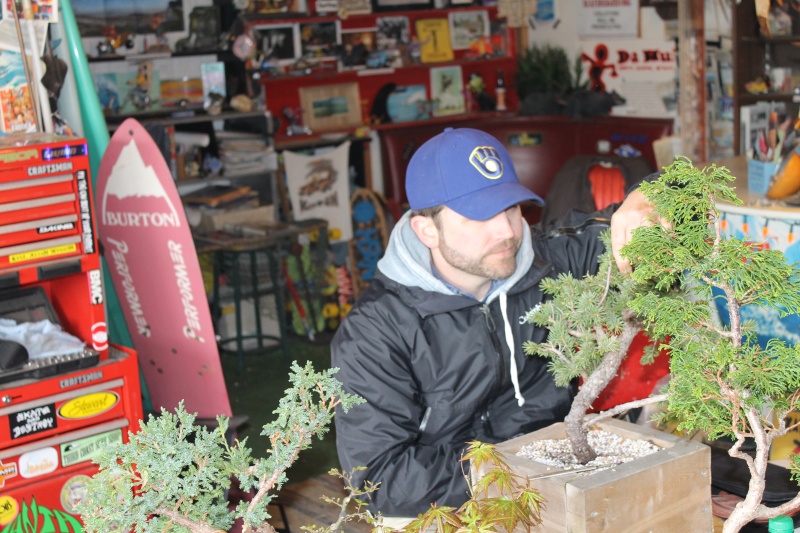 leo "the mad horti-CULT-urist" working on his bamboo tray-scape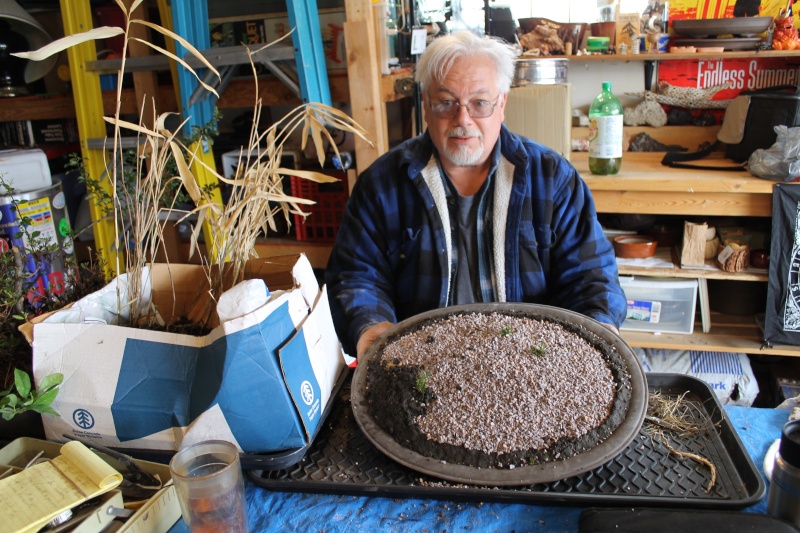 and steve c helping me with my large elm collected early spring 2013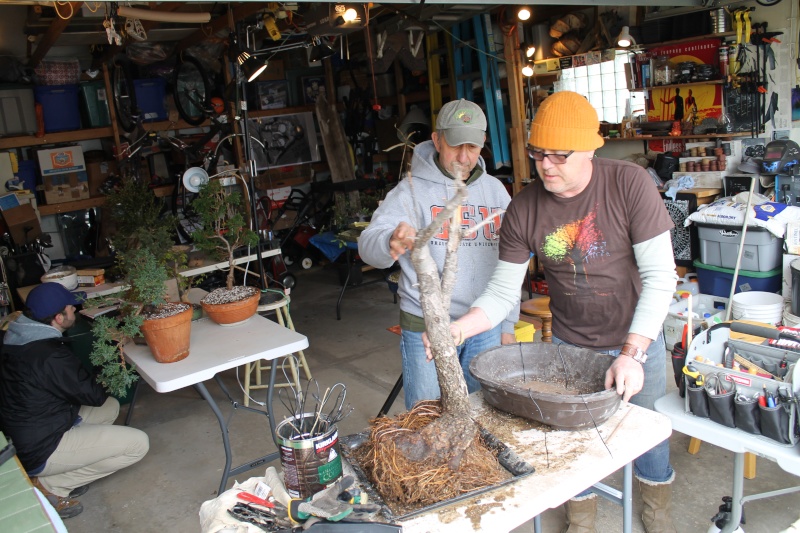 all pics by brian s (the chopper)
not pictured: tedd, alan, brian, mike
it would be good to see the others add to this thread to show the current status of what they were working on that day...
(but for some thats like pulling teeth  


  )
i have to add that, as a novice of only 3-4 years, i am truly lucky to have such a great group to work with !
i think i have pics from our 2nd meeting in may...
_________________

AAC Original Milwaukee Wi. Chapter - North America
aka beer city snake
link to ARBOR ARTS COLLECTIVE BLOG

kevin stoeveken

Member





LOL - I look insane in my picture. So much bonsai going on, it blew my hair back, and all over.

We have had 3 gatherings, once a month, and I can not speak highly enough about the guys of this group. We  have no designated teacher, we have all levels of experience in the group, and between the collective, the depth of knowledge is incredible. 4 or 5 of the group have studied bonsai with various teachers for over 20 years each. I ask, and I get answers. The others are fairly new to the hobby, and their fresh approach, without bias of "received knowledge" is really helpful. It is good to have someone say "why do it that way".  I want to try a technique new to me, someone else will have done it, and offer advise. It is great. For all you learning bonsai, if at all possible, join or create a study group. You don't have to know the other members all that well, its a great way to make new friends too. Always helpful, if you can, try to have a study group member who's son owns a California winery, really makes for delightful beverages at the meeting.

Here is a picture of my Waka Ebisu Satsuki azalea that I worked on at our 3rd meeting, June 21, 2014. It is a whip, maybe 4 years old, and I decided I already have 'clump style, multi-trunk' satsuki, so I wanted to do a more Mieka style Satsuki - I might have mis-spelled the term for training for flower presentation. So to get a taller azalea, I removed the basal branches. Eventually I'll devote a thread to this tree.
Before
After
the flowers
and here is a June 4 picture of the bamboo in the oval tray that I was planting in the picture of me. I am using the culm sheath removal technique outlined in John Naka's book Bonsai Techniques II, and it works. Look how short the internodes are. The smaller culm was not treated, and it has longer internodes than the taller culm. I'll eventually post more on this in another thread.

Leo Schordje

Member





Leo Schordje wrote:LOL - I look insane in my picture.
looks can sometimes be deceiving...
notice that i said "sometimes"  

i'll dig around a put up something about that big ass elm i was working on...
and maybe a couple pics from sunday's gathering.
_________________

AAC Original Milwaukee Wi. Chapter - North America
aka beer city snake
link to ARBOR ARTS COLLECTIVE BLOG

kevin stoeveken

Member






---
Permissions in this forum:
You
cannot
reply to topics in this forum