So this one started as a cookie cutter, mass produced broom stick (The tree on the right). It was a gift for my girlfriend and she preferred this look instead of some of the ideas I had for it. So I at least re-potted it into some modern substrate and wired it to the broom style.
We left on a trip and her folks forget to water it, many of the branches then died back but as is known, retusa's are tough and a good tree for beginners so it survived in the end. Throughout the summer it began to slide onto it's side and with only two living branches/twigs it looked pathetic.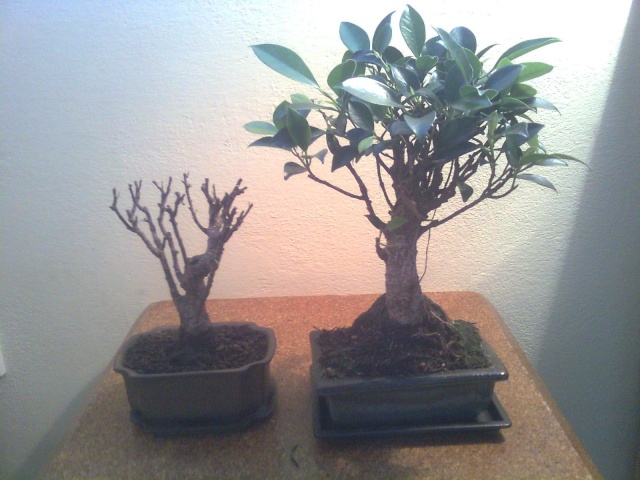 It was allowed to grow unchecked through the summer. In March 2012 I decided to do some work on it to try and give it some dignity back.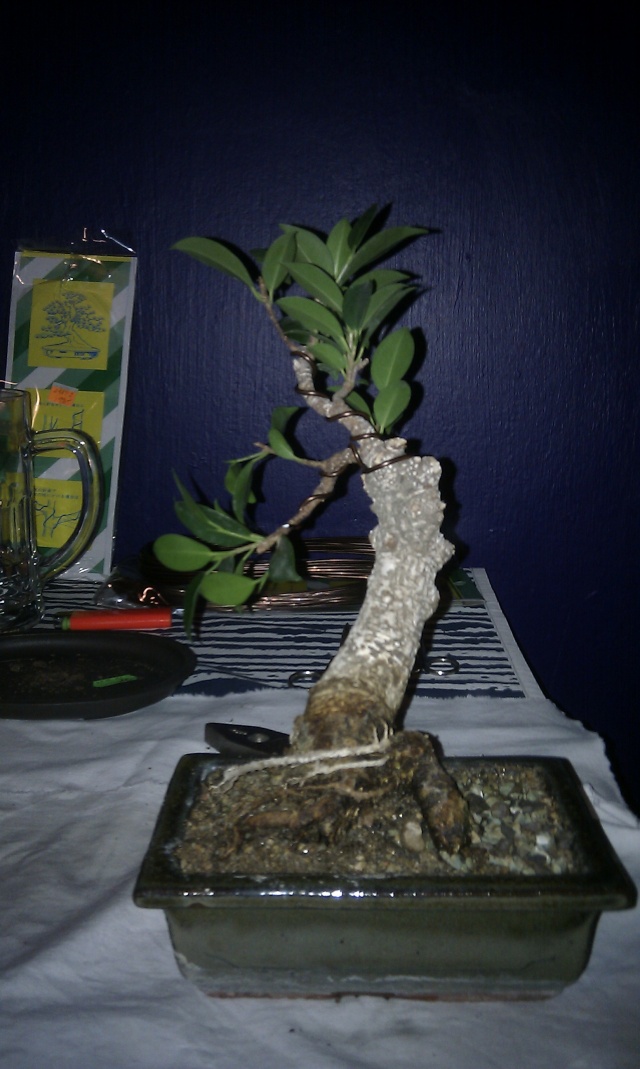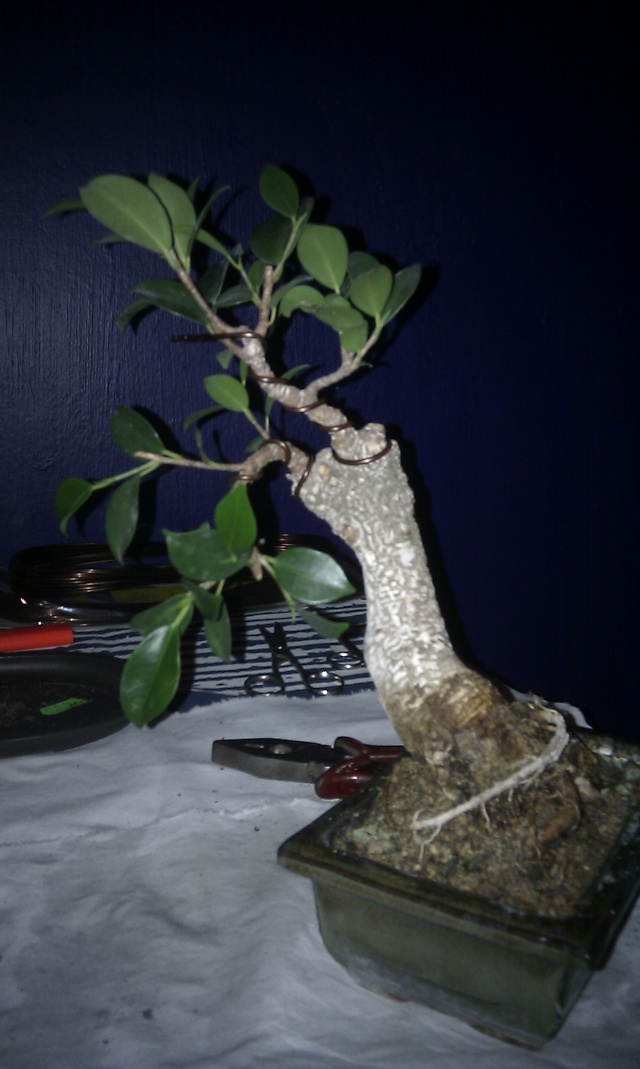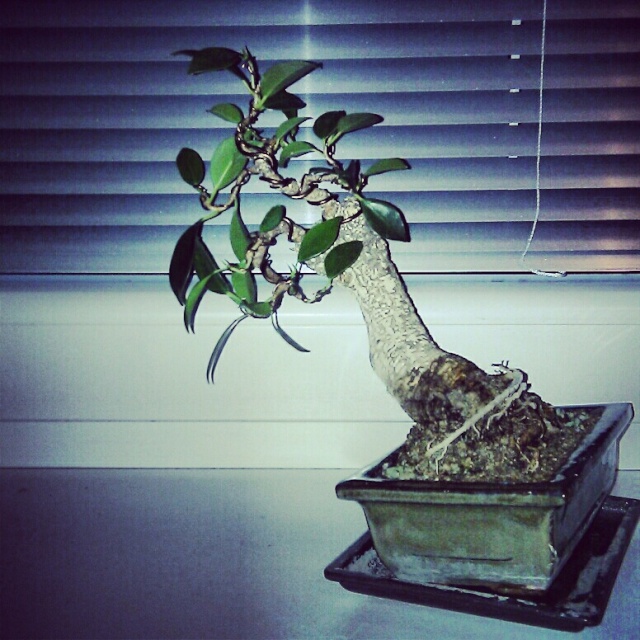 This wire then stayed on as long as possible and it grew freely until July 2013. Something was still really wrong with this tree though. It was the reverse taper where the original leader was chopped off, and all the new growth came out around the wound thus causing swelling here. The only thing to do then was to somehow split the trunk into two, get rid of some of that reverse taper and instead make it look like a twin trunk. In July 2013 I proceeded to carve/split it up and restyle it.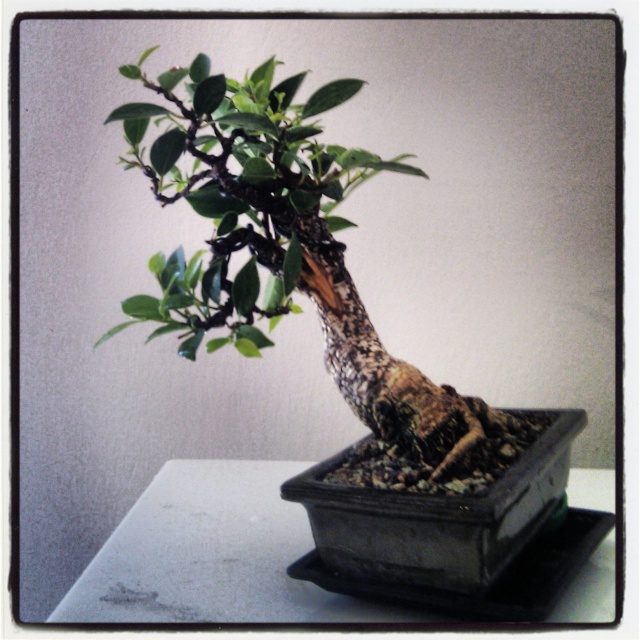 It was really healthy so a month later I decided to re-pot it into a new pot with the new front and into a pot that I think suited it better. Something between a masculine and feminine look for this tree.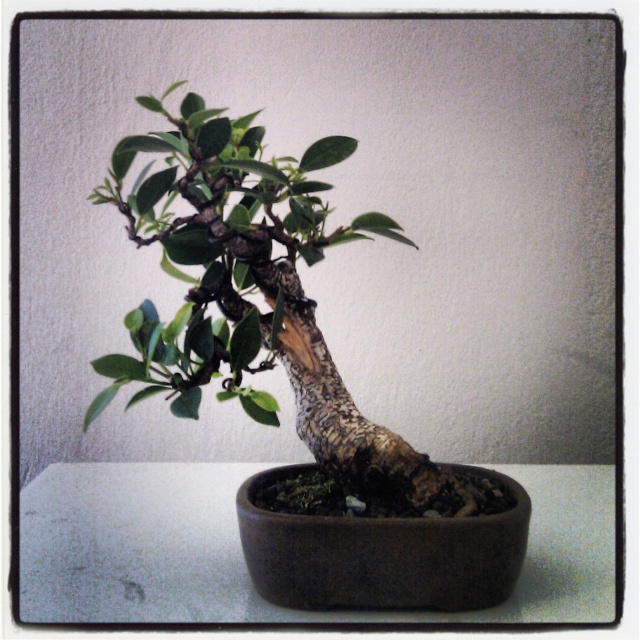 It grew freely until recently, about 14 days ago, I gave it a new styling and used some of the newly acquired growth to give this still 2 dimensional tree some depth and more mass on the right side. It looks too triangular and 'pine-bonsai' like, but I will continue to add mass to the right side and create more ramification to give it a rounder crown. I think it's headed in the right direction and I am happy with how it looks now compared to what it was two years ago. This tree won't ever really look like standard spread out ficus that is common. I think I am okay with this tree breaking the rules a bit for it's species because it is really strange material.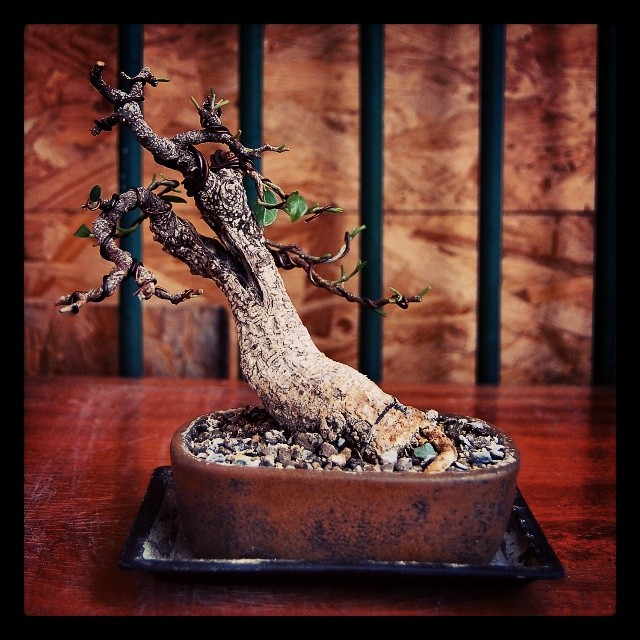 I would appreciate any comments and suggestions. Thanks for looking.

Thomas Urban

Member





So it's been almost a year, so I thought I would post a little update as to how it looks now.
comments and tough love are welcome as always.
Thanks!

Thomas Urban

Member





Really nice job on some suspect material. Well done!


LanceMac10

Member





yeah... i was gonna say thats a nice glass of lemonade you made there !
(and i actually came on here today to pose a question that you might be able to address re: ficus wound healing... see separate thread)
_________________

AAC Original Milwaukee Wi. Chapter - North America
By the way, the name is Kevin
link to ARBOR ARTS COLLECTIVE BLOG

beer city snake

Member





Thanks Lance!
and Kevin, my secret is, I did nothing... I actually don't cover up any wounds on any species, except I put a bit of sap-like sealant on conifers just so they don't sap all over themselves. Trees have been around hundreds of thousands of years before us and dealt with things falling on them all the time and are better at taking care of themselves than we are. I believe as long as your tree is in modern substrate, gets sun and water everyday along with fertilizer and is healthy, it doesn't need much else.
That's just what I did. Im sure the torching the wood method is great and I've done that to deciduous trees and conifers but I think conifers need the lime-sulfur on occasion to keep the dead wood features. Deciduous should look dark and rotten and should be brushed with some metallic brush occasionally to make the rot look natural.
I hope this helps

Thanks!

Thomas Urban

Member





---
Permissions in this forum:
You
cannot
reply to topics in this forum