i have a pitanga (eugenia uniflora - surinam cherry) and after losing most of its leaves in fall, it got a new flush of leaves a few months ago (toward end of winter here - tree kept indoors in winter w/ LOTS of southern sun)... however, the leaves are very pale yellow, but it also made a lot of flowers and is otherwise very vigorous and healthy...

i have been trying a couple things (chelated iron, etc) to correct the leaf color, but was wondering if i defoliate it, if this species will create another flush of leaves this spring/summer ?

i'm hoping the new flush will reflect the corrective measures i have been taking...

(i have only had it since last summer, so not enough years to know it well.)

thanks
kevin
_________________

AAC Original Milwaukee Wi. Chapter - North America
aka beer city snake
link to ARBOR ARTS COLLECTIVE BLOG

kevin stoeveken

Member





In general for most tropical species, defoliating is usually done only when the tree is in active growth. Defoliation is a stress for a tree. A tree that is not healthy will be set back by defoliation.

In Wisconsin, your tree should be growing actively now, in general the season up here to do this sort of treatment would start late May, and should not be done after middle of August. (unless you have a warm greenhouse waiting for it when the cold hits).

If the tree otherwise looks healthy and in active growth, go ahead and defoliate. If new growth is sparse, if the tree looks stressed, (for example off color of leaves) defoliation might not be a good idea.

Consider repotting, the off color may be nutrient or root health related. Eugenia in general like a mildly acidic soil, some are not very tolerant of alkaline soils. Use a media suitable for azalea. Wisconsin tap water is moderately alkaline, try putting it outside so it gets the occasional flushing with rain water, or try watering with RO, DI or distilled water that has a mildly acidic reaction. These might help green up your tree. Old leaves may never regain color, but you will have fixed the problem when new leaves start coming out with a nice normal green color.

Once you have normal colored new leaves, then I would say the tree is healthy enough to consider defoliation. My attention to this tree would be first to check out the root health and the potting mix.

Leo Schordje

Member





thanks leo... i was going to bring it to the last meeeting, but i had a far bigger fish to fry...
the tree is super actively growing and is even continuing to flower...
the only odd thing is the leaf color... the iron didnt do it, so i think i might go with a maybe 80% - 90% defoliation
along with actually checking the PH (i have not yet begun to do that on any of my trees, but i reckon its about time)
and then correcting from there...
any other thoughts are still welcome !
couple pics
leaf color: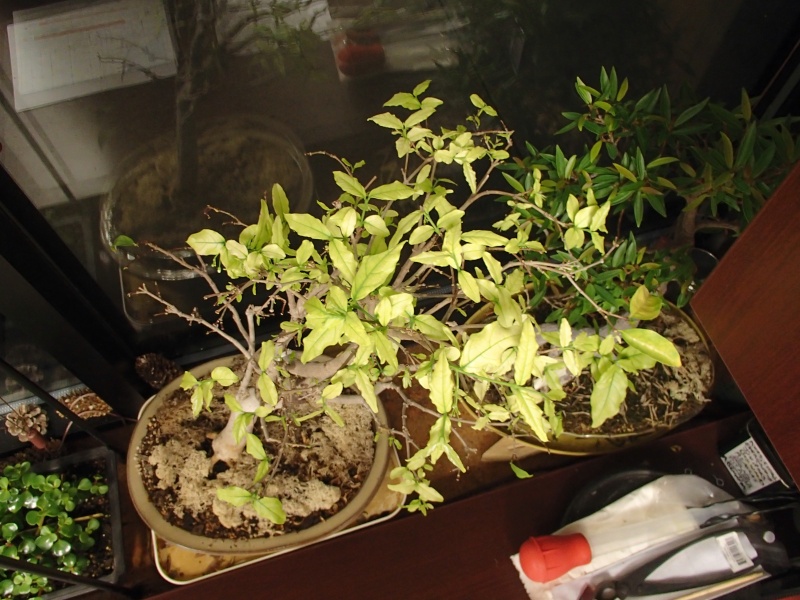 flowering vigor:
(it has been making A LOT of these)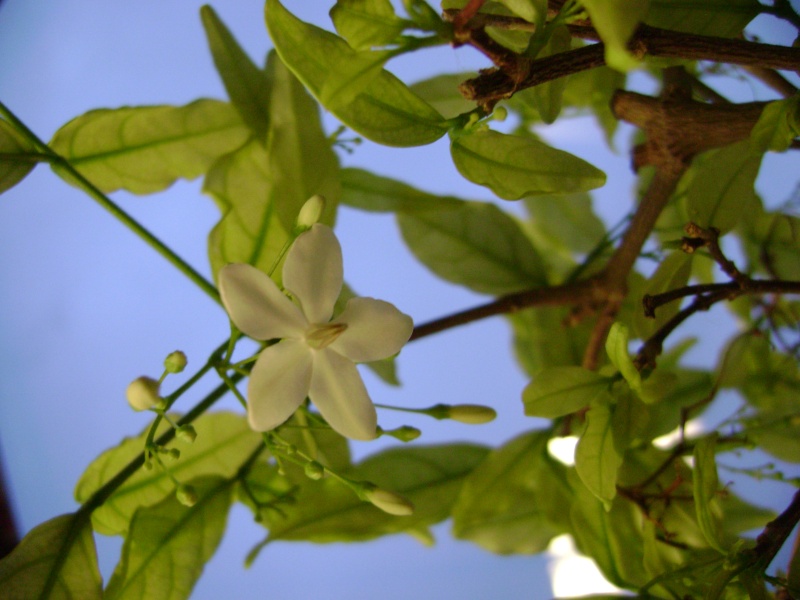 _________________

AAC Original Milwaukee Wi. Chapter - North America
aka beer city snake
link to ARBOR ARTS COLLECTIVE BLOG

kevin stoeveken

Member





Hi Kevin,

Base on your picture I believe that your tree is a Wrightia Religiosa not a pitanga.

jonjon

Member





well, i will be damned !!!
i will look into that...
(btw - i was lucky enough to visit wigerts when i last visited my mum in ft myers)
anyways, the folks i bought it from said they were told it was a surinam cherry...  

and now that i think about it, the unbelievably gorgeous, room-filling, scent of the flowers was jasmine-y-ish...
thanks very much !!!!!!!!!!!!!
kevin
_________________

AAC Original Milwaukee Wi. Chapter - North America
aka beer city snake
link to ARBOR ARTS COLLECTIVE BLOG

kevin stoeveken

Member





well i can certainly see where the mis-identification came from...

oh yeah, and DYNAMITE slab !!!

thanks !
kevin

kevin stoeveken

Member






---
Permissions in this forum:
You
cannot
reply to topics in this forum