Hi all,
Few days ago I found this nice tree in the forest so I dugged it and brought it home.  As of this morning she is still healthy and not showing any signs of weakness.  Hope she stays like this.  
I have three questions, I will be grateful if I can get some help:
    1. Is this a Hawthorn?
    2. Any advice on how to keep the tree alive and healthy?  lots of water? feed (what kind)? etc...
    3. I plan not to touch it for few month, after that I can think of styling.  is right or can I do that after a month or so?   
here are some pics of the tree:
Pic of the trunk.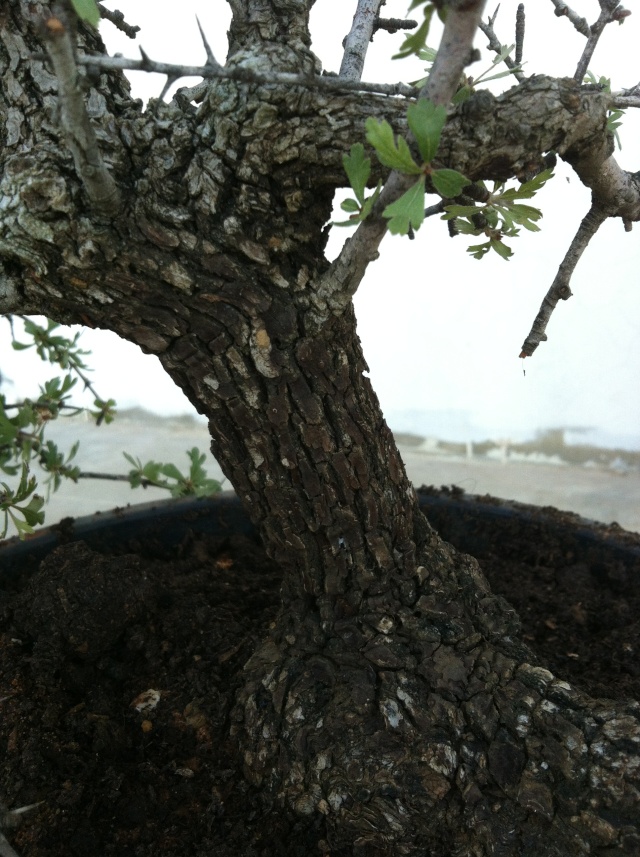 The Berry, some are red.
one side of the tree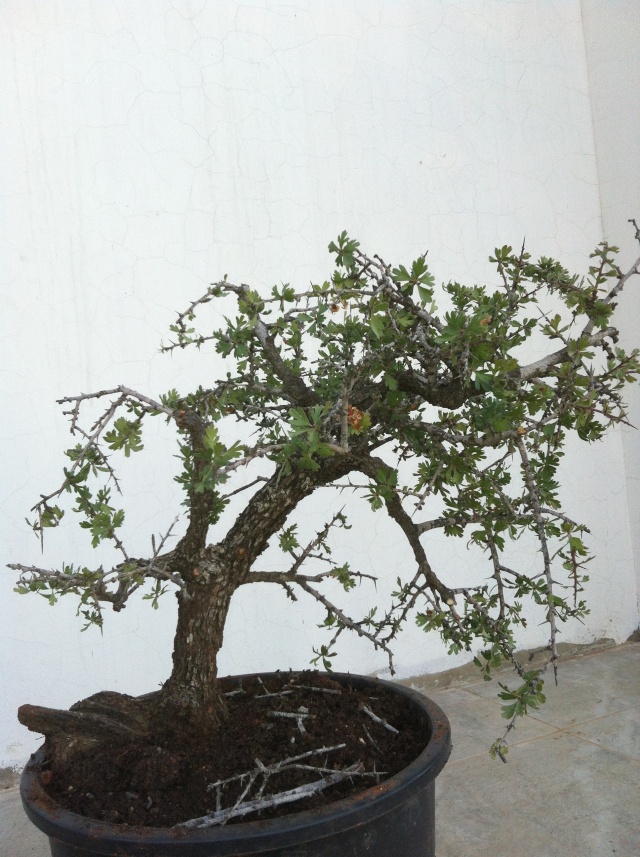 the other side

Tarek (from Lebanon)

Member





It might be Crataegus monogyna which grows in your area. It has red fruit. I assume it has spines.

It might also be C. azarolus var. azarolus, which has orange fruit.

Whichever it might be, it is a fine tree; I do hope it survives being dug. I would not do anything more on this until very later summer or early fall. Give it LOTS f time to establish itself.
_________________
Jim Lewis - lewisjk@windstream.net - Western NC - People, when Columbus discovered this country, it was plumb full of nuts and berries. And I'm right here to tell you the berries are just about all gone. Uncle Dave Macon, old-time country musician

JimLewis

Member





Thanks Jim,
what do you mean by "Spines"? if you mean thorns then yes it has lots of those.
I will do as you suggested, I will keep it untouched till end of summer.  
I have found four other beautiful trees of the same kind in the same area, so if this one survive I will go and dig them.  
here is a pic for one of them.  still in the wild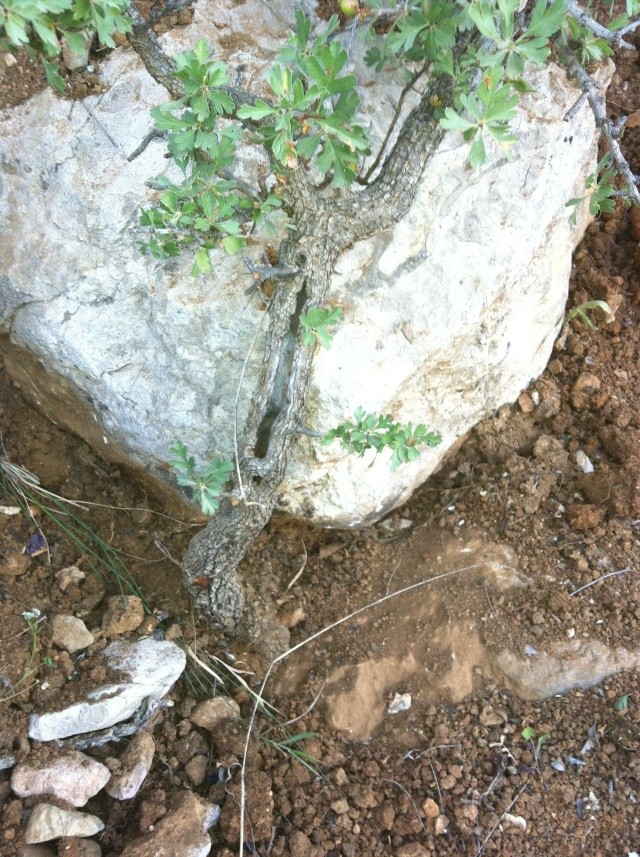 Tarek (from Lebanon)

Member





Hi Tarek

It does look like a very nice hawthorn to me...but I fear it could very well die, as the time for digging is too late in your area...I would have waited untill next spring.
Good luck with it, hope it survives...take VERY good care of it now, it is a good tree for bonsai.

kind regards Yvonne

Thanks Yvonne,
So you think that the tree is a "Hawthorn". Jim mentioned two types of trees that I googled and they both seem to be same family of Hawthorn.

The tree was on a rock so I tried to fetched almost all the root ball along with lots of soil, so I do hope she will survive. I am keeping my fingers crossed.

Is it better to collect trees during the end of summer or at this time of the year?

Tarek




Tarek (from Lebanon)

Member





Early spring is best. Keep your tree away from the wind and afternoon sun while it is recovering.
_________________
Jim Lewis - lewisjk@windstream.net - Western NC - People, when Columbus discovered this country, it was plumb full of nuts and berries. And I'm right here to tell you the berries are just about all gone. Uncle Dave Macon, old-time country musician

JimLewis

Member





Nice tree. Do not touch this year, no trimming, pruning, etc.

Best regards,

Augustine

---
Permissions in this forum:
You
cannot
reply to topics in this forum