Lost2301

Member






Lost2301

Member





oddly enough, i like the initial and younger image better !

perhaps this is one of those where less = more ?
_________________
AAC Original Milwaukee Wi. Chapter - North America
aka beer city snake
http://wiscobonsai.blogspot.com/

Kevin S - Wisco Bonsai

Member





you have wired the branches but they seem quite straight? Perhaps more movement will improve the image? Or was that planned?
Thanks for the comments. I think part of the problem is my photo's are not very good. The tree actually looks much better in person. The one branch in the photo is most definitely straight as indicated. I have already corrected that. I don't know why I did not see it before the photo. I had to move the tree into the garage because of a snow storm. Lots of stuff moving into and out of the garage. Branches get moved and bumped and I don't notice them until latter. The tree is still in development. Several of the branches are first year branches that I let grow for girth and then cut them back earlier. Now I will work on ramification of these branches and see if I can get it to start filling in more. My 1st Forsythia has pretty good ramification on it, but it has taken many years to accomplish it. It actually looks good when in leaf and has nice bark. No photo's of it yet.
I have 3 other Forsythia under development. My first tree is coming along rather nice and its time for a pot. It has very small leaves now and is a multi-trunk tree. Its pretty far along in its development. Currently wintering under a bench. Here a couple photo's of my other two trees. They have pages on my blog/website.
Forsythia × intermedia 'Kolgold' MAGICAL GOLD
Forsythia x intermedia 'Spring Glory' - 1st Styling 2017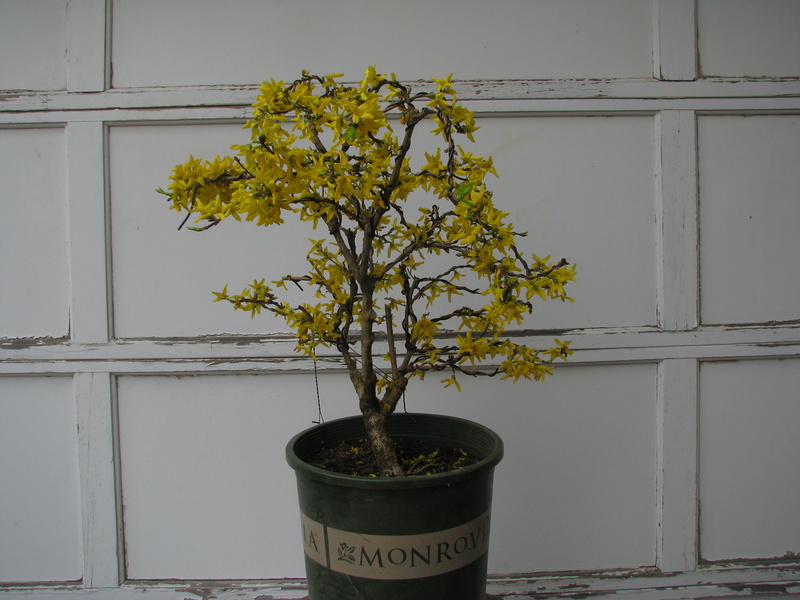 Lost2301

Member





Nice Forsythia Mike.

I don't have any myself but it's something I'd like to change. A dash of yellow would really brighten up the benches at this time of year.

Regards

Richard

Richard S

Member






Lost2301

Member






Lost2301

Member






---
Permissions in this forum:
You
cannot
reply to topics in this forum