Hi people, I've recently dug up this tree. I think it is a viburnum tinus and I need help on how to prune and build foliage clouds. In fact any advice would be greatfully received. I know it's not a common species to use as bonsai but has anyone got one or any advice?

john blanchard

Member





Step 1: put away the scissors and water carefully for the next year or two until there is signs of vigorous growth.

Seriously though, that is nice material, it would be a shame to overwork. You can reduce the leaves and ramification just about anything given enough time as long as you take your time.

MrFancyPlants

Member





Thankyou for the reply, i've left a good rootball with the garden soil intact and surrounded it with a free draining mix of granular fired clay (cat litter) and peat compost. The large leaves have dropped and smaller leaves have sprouted. I've sprayed with a fungicide as there was a problem with the foliage having black parts to it. Good results so far.

john blanchard

Member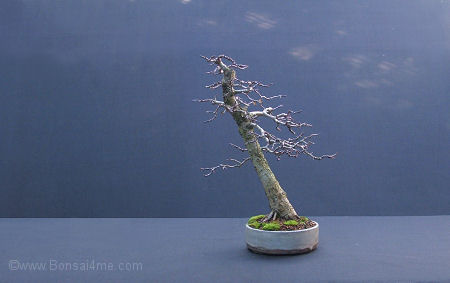 I would recommend this.
slant style.
the lowest branch may be removed now.
Other branches could be introduced/shaped/wired as the
trees makes positive growth/response. 


rolex dragon

Member





HMMM>>>

1. don't do anything until the tree stabilizes.

2. don't take any styling advice until you provide a decent picture so we can really see your tree.

Good luck, I've never seen a tinus like this and I'm looking forward to seeing more of it!

Russell



Russell Coker

Member





Hi, an update on this tree. Still any help with pruning, styling etc. greatly received.
Looking forward to your input.  


john blanchard

Member





We still need better pictures, taken at eye level (like we'd see it a a well-laid-out show) with a plain background (maybe a sheet) behind it. From these pics, I think I'd at least consider chopping the larger trunk just below that huge bulbous lump and making this a much shorter tree (as seen in the second of the last group of three photos).
_________________
Jim Lewis - lewisjk@windstream.net - Western NC - People, when Columbus discovered this country, it was plumb full of nuts and berries. And I'm right here to tell you the berries are just about all gone. Uncle Dave Macon, old-time country musician

JimLewis

Member





---
Permissions in this forum:
You
cannot
reply to topics in this forum