temperate places are under winter's assault.  not much bonsai activity occurring where snow and below freezing weather prevail.  this gives  tropical guys some space to howl- witness jun's recent posts and those from IBCers in south east asia.  adding a few warm weather contributions from kauai.
best wishes,   sam
macy's bougainvillea under construction
[/url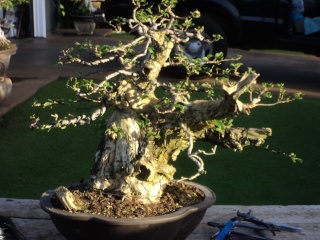 small premna over stone.
just beginning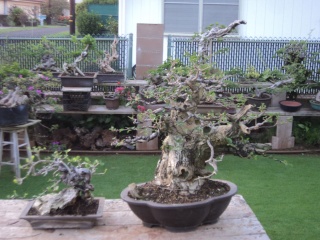 large premna raw material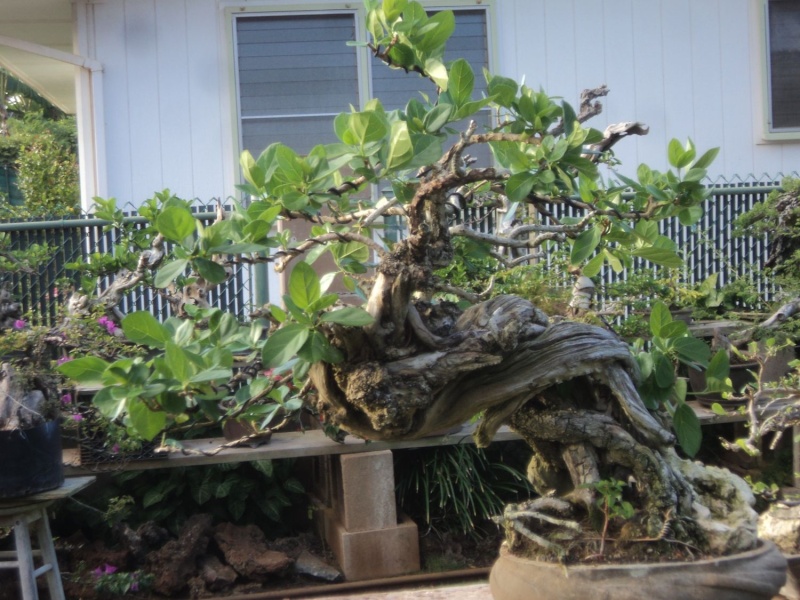 What is the last tree in the photo Sam, the trunks and bark is similar to Phempis but the leaves looks like wild premna.
Love those kind of material.
regards,
jun  

PS. yes its almost summer here and it means more works on trees.
Here you are Sam and L.L.B,
it is still cool on this side, and will be so until probably March's end. Cool as in 69 deg.F in the morning and between 84 to 90 deg.F [ apologies to lazy to change to deg.C ] for a half hour by day.
Thought I would add this small youngster to your masterpieces, Sam.
A serissa cutting.
The rock is handmade pottery, as is the pot. Designed so I can lift the 'mountain' out [ as the mountain is hollow and trim the roots as I see fit.
I am hoping, because the 'mountain' is also glazed with a porous glaze, the moss will cover all over and then be removed for design and hopefully encourage roots from the Serissa to travel down the sides, and evolve into a tree over rock style, lazy man way.
Time will tell.
Later.
Khaimraj [ Aaaaawooooooo ]


Khaimraj Seepersad

Member





sorry I omitted you from the tropical howlers, khaimarj. wasn't intentional.

best wishes, sam
That's probably because Sam, I go up and down the scale with Tropicals, Sub-tropicals and Warm Temperates, AND I have no white wood / driftwood trees, just domes [ like mango trees ] - 



Apologies, I am not an aggressive bonsaist, our island is fertile clays, and healthy trees. 



If you don't mind I will drop off a real tropical later [ forgot that a serissa is Sub-Tropical ]  

Later.
Khaimraj

Khaimraj Seepersad

Member





Here you are Sam,
seagrape from seed and probably close to 20 years old. Sits in my first attempt at a bonsai pot, made in my in first kiln Dad got for me from Paragon, when we lived in Lafayette, Louisiana.
This also a pot that was broken and "glued" back together with a low firing frit [ just in case Dale Cochoy sees this ] I made no attempt to hide the cracks.
I got 45 leaves last year, and removed 12 to put back in the airspaces.
I am trying for 90 leaves this year, if I can figure out how to do it.
I have an ongoing programme with the densification of seagrapes as seen in nature.
Apologies again.
Later.
Khaimraj
She is applying sunblock to her child - 



Khaimraj Seepersad

Member






Khaimraj Seepersad

Member





I never knew it would grow that big and it is a large tree, which makes your bonsai even better. It is quite a challenge to contain trees to that size and you have done that successfully for so long.

cheers,
Adam
Khaimraj,

Forgot to thank you for that picture. I lived on the East coast of Africa for a while and that photo just brought a flood of old memories. Thanks.

Adam

---
Permissions in this forum:
You
cannot
reply to topics in this forum