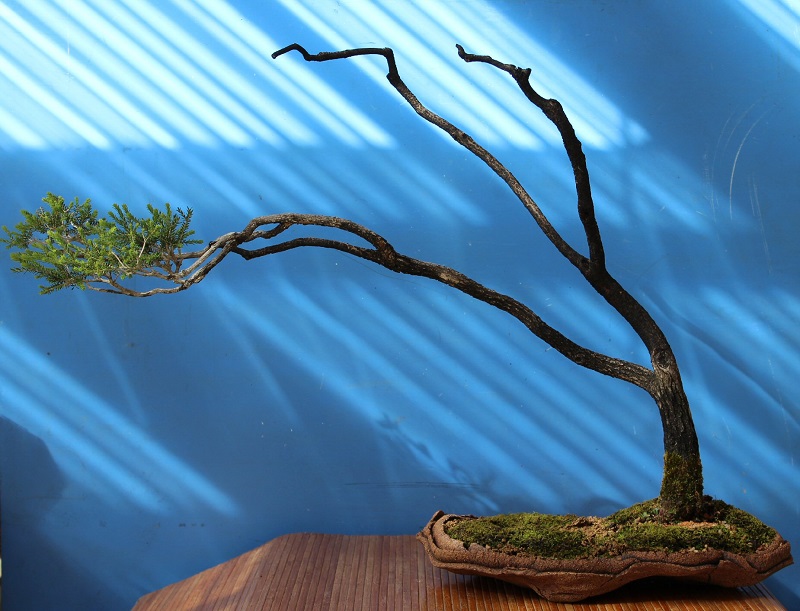 We are often asked here in Australia to create an Australian style. My thoughts are like a lot of other growers, is that if you call it some thing else, then it is something else, and not Bonsai or Penjing. However we can create a scene that is typical of the Australian country side.
I created this scene of the after a fire was swept though by strong wind.
The tree is a native Melaleuca linophylla sbp planted in a Patrick Kennedy pot Australian.
I hope you enjoy it as much as I do.
Regards Darky
Hi Darky
This is a new and refreshing way to show a bonsai from your country...it is a very believeable style...the bushfirestyle.
Love the pot...Thanks for sharing...look forward to see more  

Kind regards Yvonne
I also like this...what about blowing some smoke in the picture... mmmmmm

Love and light

Andre Beaurain

Member





I like it - it tells a story and that is important in my opinion.

I have never subscribed to the notion that we can't create new styles under the banner of bonsai. It's a miniaturised styled tree in a pot/container - therefore it's a bonsai IMHO. If we're going to be stuck with a handful of styles or forms just because they are "historical " or "traditional", then we have a very impoverished hobby, craft, art form or whatever you want to call it.
_________________
"Espouse elucidation"
_____________________________________
my website

fiona

Member





Congratulations, like and support , breaking new ground.,In dry summers we also can suffer forest fires.
Makes one think??

---
Permissions in this forum:
You
cannot
reply to topics in this forum