Hi all,
I would like to show you my first Oak tree which I purchased 1 year ago. this is how it was after i brought it home from the nursery :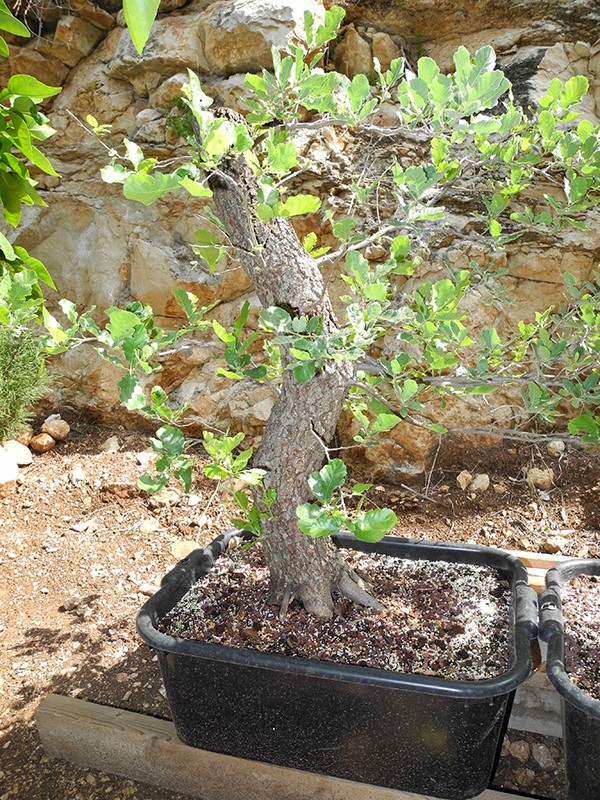 today, first thing on the morning, i started to handle it, as you can see it was too high so i cut it back hard and carved the big stump.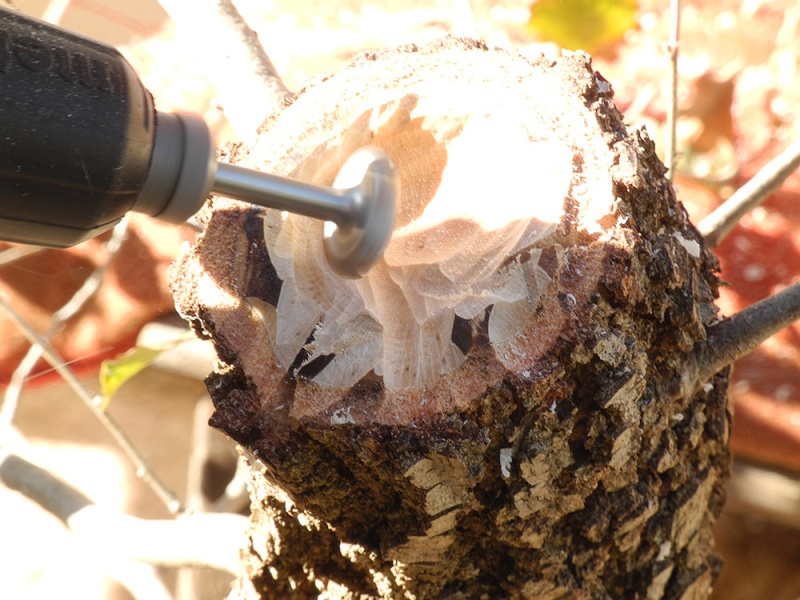 this is how it looks now: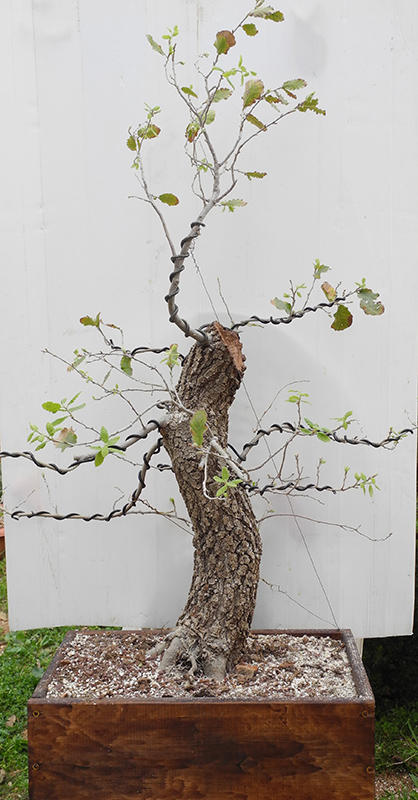 I have other 2 Oaks, more or less like this one, that need attention in these days, but before I'll repeat any mistakes again, I would like
to get any comments or advices from you please.
so any comment would be appreciated.
thx
Efi

efishn

Member





Nice trunk and excellent bark.
What type of Oak is it?
We mostly have English Oak (Quercus Robur) over here in the UK and they tend to have very gnarly contorted branches (compared with a lot of deciduous trees) so I'd be tempted to try and get a bit more movement into yours before they thicken too much. Although I realise this variety might well grow differently.
I'd also be tempted to carve the trunk chop a bit more. I know from my own ham fisted efforts that doing this well is a lot harder that it looks when you see the experts do it but if your going to carve a wound rather than try to heal or hide it you might as well make a feature of it 

 . Would improve the taper too. 
At least that's the excuse I use for butchering my trees!
All in all though looks very good. Keep us posted on the progress.
Regards
Richard

Richard S

Member





Hi Richard and thank you for your replay.
Here in Israel we call it "Tavor Oak" (Quercus ithaburensis). and this variety tend to have "gnarly contorted branches" too.
it is one of the beautiful teers here.
I'll try to give the branches more movement as you suggested. frankly, I thought to carve the trunk chop much more, but i was worried to loss it, as I said this
is my first Oak  

  but I like your idea, I'll try to find some "expert movie" to see how to ....and we'll see.
where can I see your trees ?
Regards
Efi

efishn

Member





Hi Efi
Tavor Oak is a new one on me but it certainly has that classic mature Oak bark. Very nice.
Regarding "expert movies" I'd recommend Graham Potter's videos on YOUTUBE. Just search for KAIZEN Bonsai if your not familiar with them already. He makes carving (and every other aspect of styling) look ridiculously easy.
As for my trees, I have posted two or three on here before but not many as I don't really have anything that you could call finished. They are all very much a work in progress. I am recording some of them as they develop though so hopefully I can post some progressions in the future.
As you were kind enough to ask though here are some of my bigger trees on the bench from the end of last year.
Regards
Richard

Richard S

Member





they are very nice trees, Richard. thank you for sharing.
not only your trees  

  I think 99.99% of all the bonsais are in some stage of development, they never really "finished tree". dealing with bonsai is like a road without end.
I know Graham Potter's videos. but i guess i have to look at them again now.
soon i'll do some work on my another Tavor Oak , I'll post pic's.
enjoyed to "talk" with you.
Regards,
Efi

efishn

Member






---
Permissions in this forum:
You
cannot
reply to topics in this forum