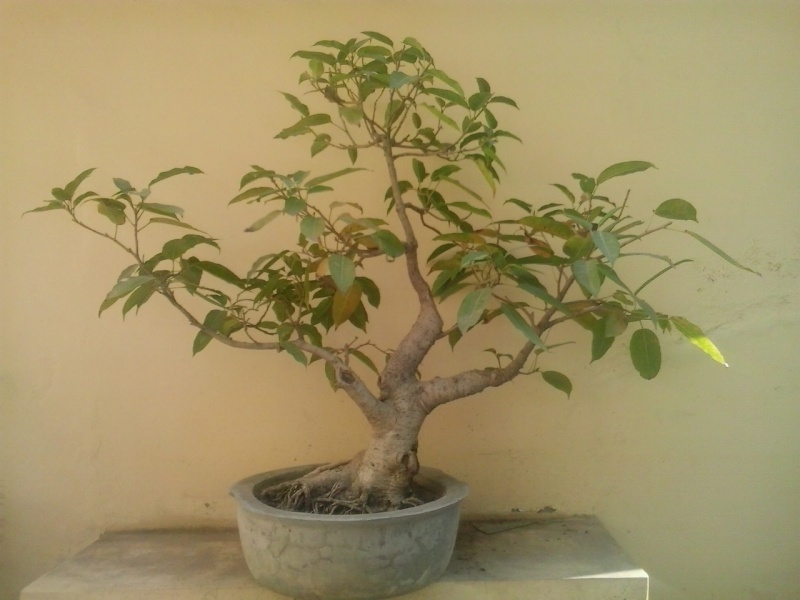 This ficus was dug out demolishing municiple building
It had huge roots in rain water pipe and was a big tree scattered on the old roof.
I noticed and obtained it four years ago.
I cut the roots and the trimmed it from top
And the two side branches.
I let it grow for these years in the pot.
So the question is should i remove the left and
Right branch . As i feel these two branches are of
Same ratio compared to the main trunk.
And grow new branches.
The left branch is a little thin compared to right one
But the right one is tough.
Or let it be and go for a cut and grow method
Do please advice for some different shape
Thanks
Aman

amanluthra688

Member





As it stands now, it may be a bit too balanced and symmetrical. I'd suggest shortening the left-hand branch to UNbalance it a bit and see how you might want to go from there. I would NOT remove either branch.
_________________
Jim Lewis - lewisjk@windstream.net - Western NC - People, when Columbus discovered this country, it was plumb full of nuts and berries. And I'm right here to tell you the berries are just about all gone. Uncle Dave Macon, old-time country musician

JimLewis

Member





Thanks jim
I wanted to know
If the branches thickness
Would be okay compare to
Main trunk
Thanks
Aman


amanluthra688

Member





Aman,

I don't know how dense this tree can get of leaf, but I believe as the trunk increases in size the two lower branches will become a bar branch.
So you may have to remove one eventually.

You may also wish to order your roots, say six or four, allowed to thicken as the tree grows.

Perhaps a much larger pot [ but not deeper ] for growing on and health.
Laters.
Khaimraj

Khaimraj Seepersad

Member





Thanks kaimraj
I was thinking of air lyring both the branches
And then both the branches
Be placed to there respected places vertically and let it be grafted with the main trunk and creat a banyan type.
Would that be okay
As the tree on the wild grows like banyan shape
Hope that may do the job
Thanks
Aman

amanluthra688

Member






Khaimraj Seepersad

Member





Yeah
I posted it at olx
I wanted to see are there any bonsai lo ers in the city. And thought some would contact.and join with him a bonsai club
But to my surprise there no bonsai lovers in jalandhar or say punjab state
Bad idea.
But in the ibc the info. Is correctly posted. Here are all plant experts.
And members can advice best.
Thanks for finding it .
Regards
Aman

So i

amanluthra688

Member






amanluthra688

Member





Aman,

your basic shape is just fine, but you need to develop a healthy crown [ lots of leaves.]
If you are having problems with healthy growth, see the ficus work by Yvonne G. and, or talk to her.
Best of growing.
Later.
Khaimraj

Khaimraj Seepersad

Member





Thanks kaimraj
It begining to warm and my mango tree has also started to sprout. The ficus will shed its leaves in mid march and the new leaves will sprout.
The plant will be filled with new leaves.
Thanks
Aman

amanluthra688

Member






---
Permissions in this forum:
You
cannot
reply to topics in this forum