Hi Folks,
Here is a tree that I'd appreciate some design help with.
It's a Mountain Hemlock (Tsuga mertensiana), collected in 2012.  I do like the trunk damage (shari) as a focal point (side 3) but I'm not sure if I'll keep the smaller two trees (branches from its base) but I can make that decision later.
Here are 4 photos (from each side of grow box).
Thanking you in advance for any assistance you can give me on a future design. It will be in this box for at least this year and maybe go into one of my Roger Snipes round literati pots.
Cheers
Graham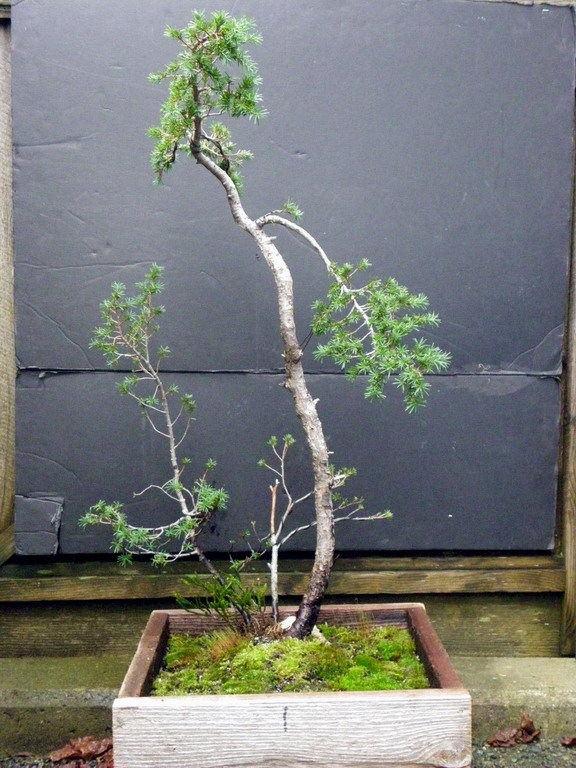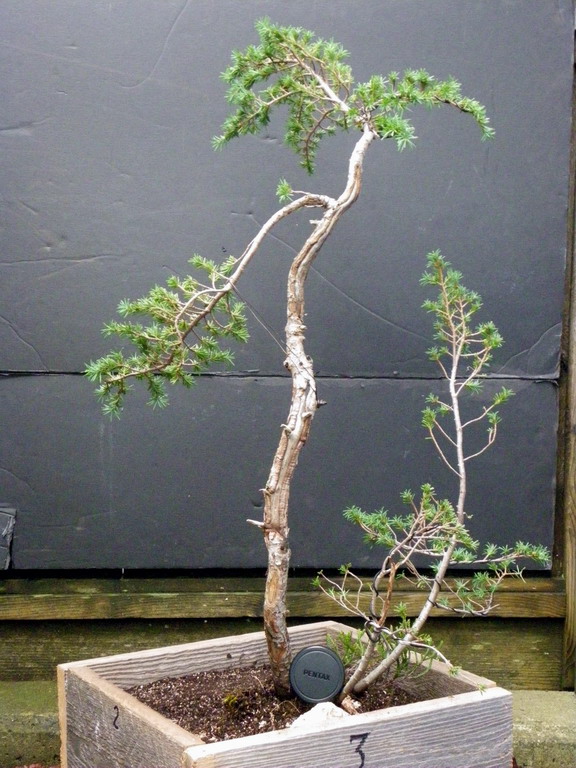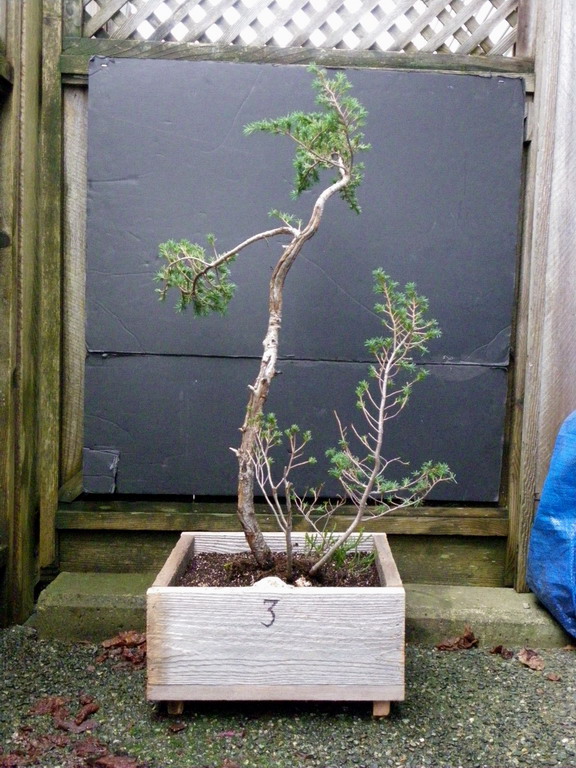 gman

Member





I like pic one better because it presents a better trunk line. Put it in a round pot then you can turn it around when you like and see the cool dead wood Keep the smaller trees if you like but reduce them and have them "swim" away. Go ahead and wire the first branch (I see you have it tied down) to give it movement and get rid of that large arc that it has now. Reduce the foliage also. Start thinking about reducing the upper foliage as well. Good luck. It looks like nice material.

Twisted Trees

Member





Many thanks Twisted, I appreciate your comments.  As I said in the original post I do have a round pot (by Roger Snipes) that would work nicely (come spring 2015 re-potting time).  I do agree with your comments but will probably leave it to grow vigorously this year as I've found that this species can be very sensitive if you try to do too much to them in a short period of time.  Then in the fall I'll attempt the wiring......as this one would probably take easily to some major bending in the main trunk as 'd like to try and get that main branch away from its current outside position.  here is a close up of the shari.....made from Roosevelt Elk as I collected it close to a major migratory trail....in the bottom right you can see some mountain heather that came along with it 

 I believe its the pink colored variety.
Cheers Graham

gman

Member





The shari must definitely be the focus of this tree's story; in the front. Although I like the trunk's orientation in the first photo, you will be able to create a convincing image with the shari exposed in the front. I agree, very nice material  


Todd Ellis

Member





Thanks Todd, I do appreciate your comments, I'll be reviewing as many literati's I can find on the web and be sketching some basic ideas over the year and see what I can come up with.
Cheers Graham

gman

Member





Indeed  

  Dare to be dramatic with the large lowest branch.

Todd Ellis

Member





Over on Bonsainut I got an interesting reply.....On Si's first post he stated "do some wild sketches on paper and see if any cool lines pop out"....
Well I've tried but didn't like anything....(I'm not very good at it either) so time went by and as "they" tell you... "
live with the tree and something may come"....
This week while hand watering....I noticed the late evening shadows and they gave me an idea.....and showed me a potential design .
Time will tell.....I've been known to change directions a few times .
Photos - before (only with some minor wiring from a few weeks ago....when I thought I had a vision lol).....and the new front "the after" tonight (for now).....and a photo of Si's sketch that he offered up in the last few days- an interesting design for sure....maybe not too late to change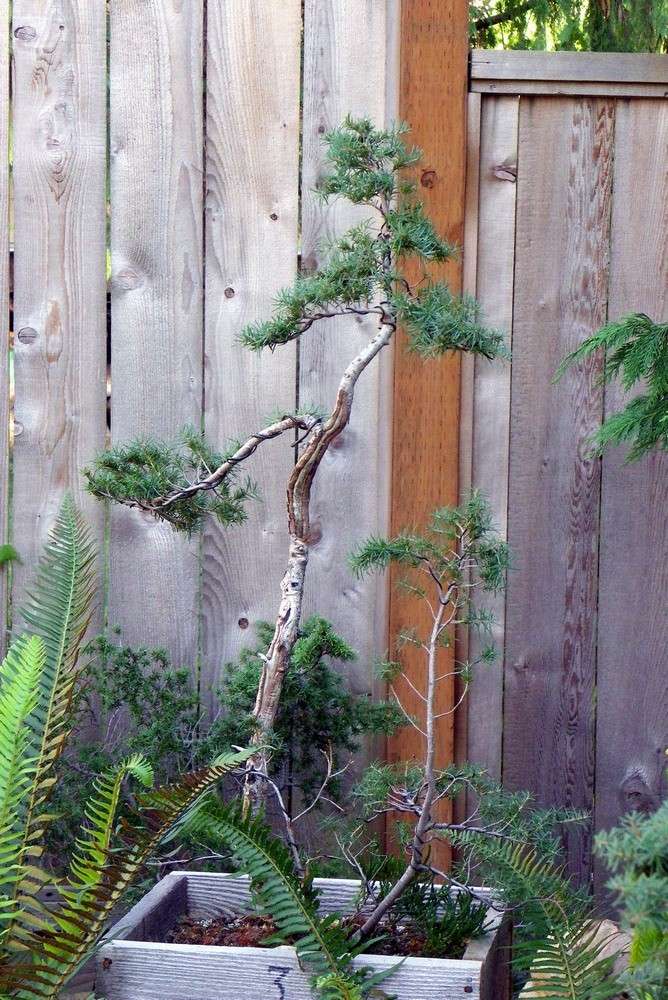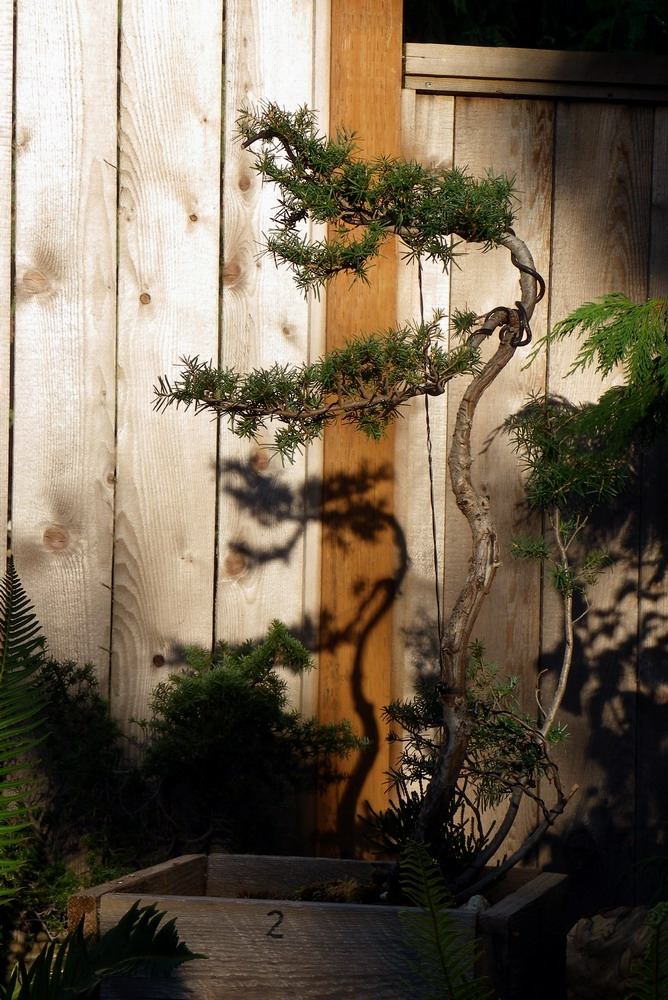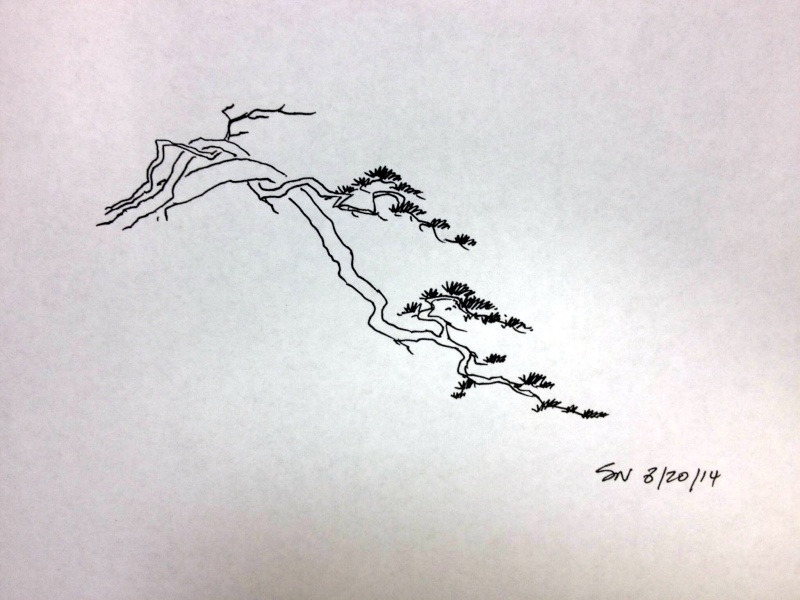 Since the second photo was taken I've added some curves to the other two lower stems - tried to mirror the main stem (they are lower branches and not separate trees.
Thoughts, other design options and comments welcome,
Cheers
Graham

gman

Member





It is coming along nicely. I liked #3 from the first, and your last photograph confirms it!
_________________
Jim Lewis - lewisjk@windstream.net - Western NC - People, when Columbus discovered this country, it was plumb full of nuts and berries. And I'm right here to tell you the berries are just about all gone. Uncle Dave Macon, old-time country musician

JimLewis

Member





The first picture you posted today really grabbed me, the more upright top. The lower second trunk, or branch I think you said it was, seems naturally to be reaching around and up for the sun.

Precarious

Member






---
Permissions in this forum:
You
cannot
reply to topics in this forum