Public Apology
I have been unintentionally sexist with my memories,
my real life experiences and comments as well about this suiseki,
in prior thread, forgive my ignorance and "no wool over your eyes" style.
So to level the playing field! I offer my wife's point of view.
In second picture of this fabulous suiseki she said.
"looks like a male" shoe on the other foot, sexist? or...
stonener
*only human*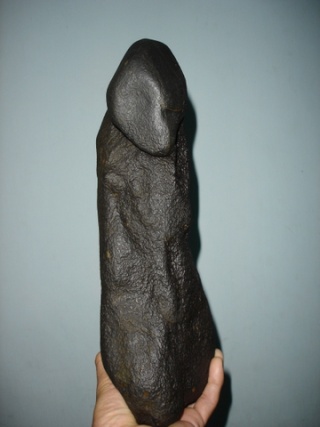 as adults we all see things differently! opened minded
and without malice!
Last edited by stonener on Wed Dec 11, 2013 4:43 pm; edited 2 times in total (Reason for editing : -)
Hi Stonener... Blatant lack of respect for women (or any other group) is offensive with malice... and has no place on IBC.    

Your wife made an observation of a stone-shape with no pejorative comment about "men/males."  Your deleted (by me) comment as well as that of Suiseki Bank were insolent comments directed at an amorphous shape reflecting a woman as a shallow, purchasable sexual object.  It is not funny to Fiona; it is not funny to me.  It is neither clever nor funny... nor acceptable.

Your repeated sexually-charged comments has created unease for others.  Your posting the photo of an Asian woman relieving herself in a field was previously removed.  Your rejection of posts by an IBC administrator hoping to curb your insistence-to-shock came close to your temporary removal from IBC, recently.

You are among stone friends on IBC, Joseph.  It puzzles me that you rationalize your perspective as lacking malice.  Please reconsider.

Chris Cochrane

Member






---
Permissions in this forum:
You
cannot
reply to topics in this forum