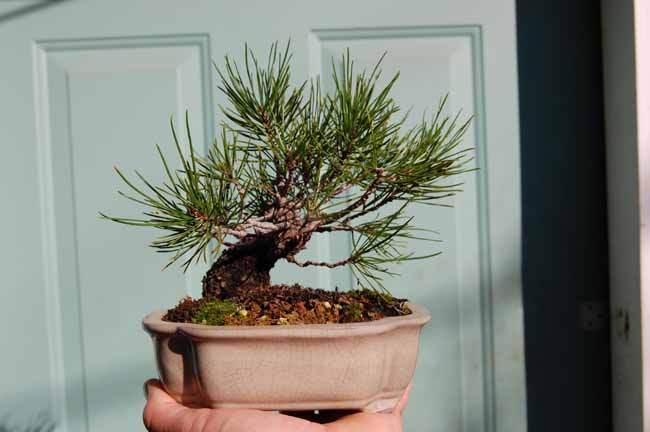 I collected this little pine late last summer and decided yesterday to give it its first wiring. This picture is before I applied any wire to it. I pried this tree from solid rock and put it in the pot you see it in now only because it had enough feeder roots visible for me to feel confident to do so. I have been looking a long time for a tree like this. I had to hike a long way to find it, but it was worth it! It grew very well its first season and the needles stayed short in spite of regular watering and feeding. The only other thing I did to it was to prune a couple of larger branches that weren't important for the design I had in mind. This tree really seemed like something[/i] had been training it all those years. I suspect some rodent is responsible as there are stubs of branches that look as though they had been pruned with concave cutters.
The view for the front is the back of the tree as I had originally perceived it, so, that's new and different. All that was left was to wire it...easier said than done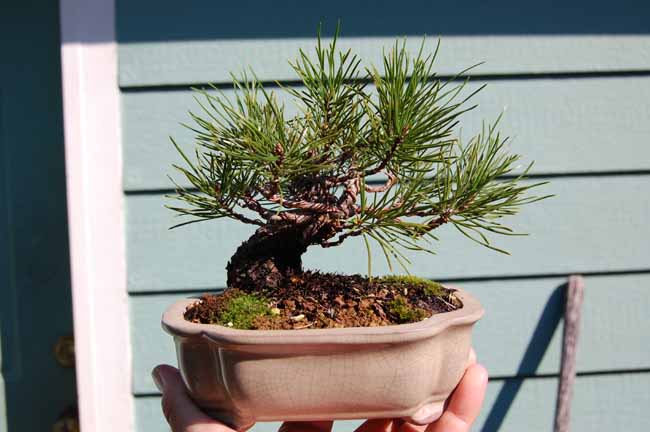 And here it is after its first wiring. Not that much of a change at first glance. The mass of foliage has shifted to the right because that's the way the trunk flows. I'm glad the wire isn't that obvious. It was a difficult exercise in wiring because I had to use just the right gauge of wire for each branch--too lite and it wouldn't hold a position. Too heavy and the bark was easily damaged with fear of losing the branch. Plus, the branches were so short, there was little room to work movement into them--up or down, side to side. It was also difficult to get my fingers in there without damaging the needles. I wound up cutting the wire off a few branches several times before getting it right (to my satisfaction)
And so I wait and see how it pulls through its second insult (the first was collection) The trunk is 1 1/2" diam. and 5" in height. The trunk itself is as wide as the pot at the rim. Hope you like it

very nice mame
you re wiring is perfect
but if it were mine
i ll surely make the tree directly more compacted at the first styling
something maybe like this(i let it in this training pot...)
starting by the lowest branches to the top
but it is only one way to do and not "the" way...
wait for more pro answers
it will be a great tree i think

cram

Member





Cram--thanks for the input. I like your little sketch and certainly something close to it is what I'm eventually aiming for. I also intend to change the position of the tree when I find a new pot for it. I don't know if I can get the needles as short as your sketch, though

There are two problems, many of branches are too long bat too thin as well. I think, you can first focus on backbudding, then live some branches long enough to thicken them. After a while you can cut them short again.
I will post a picture soon about this, but this tree won peoples' choice for best shohin tree at the spring show for the Bonsai Society of Portland at the Japanese Garden there



Here are the pics of the tree as it was in the show this weekend

I'll post a separate topic on other trees in the show.
[img]
http://i62.servimg.co[url=https://servimg.com/image_preview.php?i=18&u=14428371]
m/u/f62/14/42/83/71/spring10.jpg[/img][/url]
Congrats all round Greg on wonderful little find and progress so far!


anttal63

Member





Thank you Tony
Feels great I collected, potted and styled this one all on my own

Congrats!

it's a very nice little tree! Shohins are my favorite.

Pola

Member






---
Permissions in this forum:
You
cannot
reply to topics in this forum