Hey Folks,

I have been asked, to ask this international group, just how do you go about designing a bonsai.

For my part, I just use a variation of how I design a painting.
I do a drawing, plant a seed or grow a cutting, and use the drawing as a flexible, adaptable guiding image.
Anyone want to share?
Thanks.
Khaimraj

Khaimraj Seepersad

Member





Khaimraj Seepersad wrote:

.....just how do you go about designing a bonsai.


I rarely draw the design of what I want the tree to look like.
I use mostly nursery plants or dug material and I am normally lead by the design in the tree already present. If I don't see it in a "raw" tree I would not buy or dig it. (Seeds or cuttings are planted in the garden - no designing on them for a few years!)
On trees that do not "speak" to me regarding it's design I would do something drastic with it like chopping, tilting or even carving - if you don't know what to do with a tree, do something!
Here is an example of how a tree will lead me to its design:
Duranta "Sheena's Gold"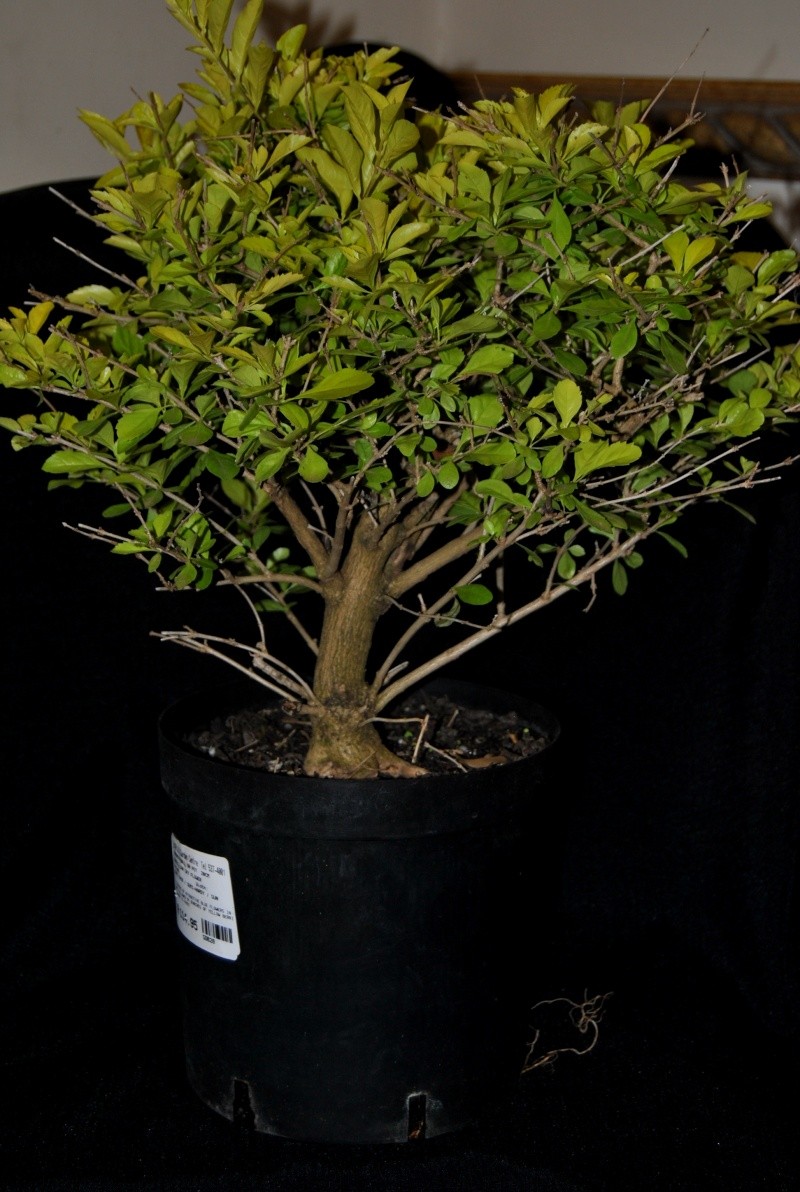 It caught my eye among hundreds of others and it screamed: "Make me a broom!
The picture of how  the broom will look like at the end is in my head now.....and this is how the journey must start to get it there:
If something drastic happens like branches dying the tree will redesign itself- maybe then a hollow trunk or even an informal something.
To answer your question, to me the tree is the designer - I only help to get it there.
Lennard

lennard

Member





Hi K,

in the early years i tried to make or design the bonsai so it needed the material in front of me to be put into my desired predetermined shape. it was a good way to learn and taught technical skills and the ability to replicate. not a bad thing and quite important in the learning curve

that was the first 20 yrs of enjoying the hobby but now i live with the material for many months or even years without drastic styling - then the best possible tree slowly reveals itself and the styling is usually quick, easy and sympathetic with the material. personal taste counts for a lot though - i try to make some trees as classic bonsai, some as unique, some natural. too many up and coming artists are making every tree into the same style

cheers, hope all is good,

marcus

marcus watts

Member





LLB.
1. Learn the basics. Horticulture and Bonsai styles- It will take time, some people get it easily like a year or less, some learn slower like living a lifetime without learning half of it. Without understanding the basics of bonsai it will be difficult to design a bonsai, and we are just talking the simple ones here.  
2. Practice on different type of materials and species available to your area and do it repeatedly. then apply what you have learned in the basics.
3. Read (or watch), Learn, and apply, then repeat many many times.
4. Then you are ready to face in designing a bonsai based on individuality of materials presented to you- Tilt the tree material, turn it around, look for front, hide the ugly part, see what branch to keep and what to cut, and VISUALIZE what you want it to become ...and hopes for the best.
5..... Anyway, If your initial plans failed or after the tree is "finished" there is always a time to read the "Mission of Transformation" a good book to learn and guide in saving failed designs. Seriously, matured bonsai trees are very good to be redesigned into new styles.
regards,
jun

Hmm,
thank you, Lennard, Marcus and of course L.L.B.
I have passed on the responses.
Master Owl, I hope someone comes on with a carelessly -

For my part, I am going to test an idea next year. Can I use only colander techniques to grow a Tamarind, to a 3" trunk, and get the first six branches in proportion, and develop it as an informal in 1 year.
I have taken the design from seed simply because folk are always going on with this - art - thing.
So if I do as a painting, and finish as put togther sculpture, will it stand as art? Then I am going to see about some 3d technology for permanent viewing, as is with an oil painting.
I have become very tired of all the talk and opinions, my next step after the 3d is to talk to the accepted art critics and see if 3d Bonsai will be accepted into Art Museums.
Check you in 15 years or less.
Later.
Khaimraj
*Marcus, I am especially glad to see you still around. In the months to come I want to show you the work we have done on the Fustic.

Khaimraj Seepersad

Member





Appologies Khaimraj, could not resist. I understand you are in fact asking a serious question, and had ment no disrespect, fully intended to respond with my real answer for you when had more time.... and that time is now....
I will really try to comunicate with the plant about it's design, it's being is the one beeing manipulated after all, we must train ourselves to hear what they have to say though. Will follow no "rules", i belong to nature i will follow it's rules. Nothing but truth from the other responders, it is very neat to see how others do, we all have our own versions of the truth (call it opinion or what ever ya want), and we must respect and learn form one another. looking to see what others have to say on the matter, you have presented us with an interesting ponderance Khaimraj, thank you. Best of luck with your Tamarind project as well...




appalachianOwl

Member





too many up and coming artists are making every tree into the same style
I am
so
glad that someone else noticed that. I call those "Glib bonsai."
_________________
Jim Lewis - lewisjk@windstream.net - Western NC - People, when Columbus discovered this country, it was plumb full of nuts and berries. And I'm right here to tell you the berries are just about all gone. Uncle Dave Macon, old-time country musician

JimLewis

Member





Good question K,
I use a couple of different techniques......I've taken to working with collected trees and with many of them I can see their future shape/design before I collect them, the basic form that is. In doing this though I try to unveil what mother nature has created but some designs are more artificial and more artistic as they don't look like any classic design.
Another method I use from time to time is to draw the basic tree from a photograph - blow up a photo of the desired front and then use a light table to copy the basic shape of the tree, branch locations etc and then draw a couple of designs of the future tree.
Look forward to other sharing their design techniques,
Cheers Graham

gman

Member





If it's very expensive I take it to someone who has studied under a master and learn what do do. Very fun and gratifying experience. If it is not very expensive I take what I learned from those awesome experiences and design from collected knowledge.
I first look at the tree and see what are the points of interest. starting from the bottom. Nebari trunk line and flare available branches. I decide which is the most difficult part with problems to change, and try to balance the good and bad points. Then I try to decide on a front or several possible fronts. Then take pictures, making sure the important parts are seen, which means defoliation some time. This is the first step.
This is as far as I will go initially. I have realized that if I rush I always make mistakes, that I regret later.
It will take me month to study the tree...and I dont style until I am inspired and sure of what I am doing.
Next step will be to remove branches that are detrimental to the design. Like several coming from the same spot or level.
Then try to do a virtual...or several of them..look for horticultural information before styling the tree.
I dont always go for radical changes, but consider what I have to work with, and when it comes to trimming I dont take short cuts this days...Trim it to the point where interest is lost...so I dont have to go back and trim again and lose month years of growth.
But basically with design I am trying to come out of the box, and do interesting unusual designs, and already trying to break the rules with some sense.
Greetings darling K.

Neli

Member






---
Permissions in this forum:
You
cannot
reply to topics in this forum