I had the best trip to Jim Smith's bonsai place in Vero Beach, Fl. The place was AMAZING and I left with way more then I expected. I didn't catch the gentleman's name that worked there but, if he frequents this site, I just wanted to say thank you so much! I was on cloud nine all the way home.
He gave me these tiny (mame) tiger bark ficus. I never thought I'd like really small bonsai, but they have captured my interest and it's a good thing as I plan on moving to New York City soon and their small size will make them perfect for apartment living. I went ahead and repotted them. I figured having a month of Florida warmth would let them get established in a new pot before New York indoor living.
I used a sawed off cooking spoon. I thought, way not try something different? and the spoon even has drainage holes

. I am super excited about the future of these tiny guys.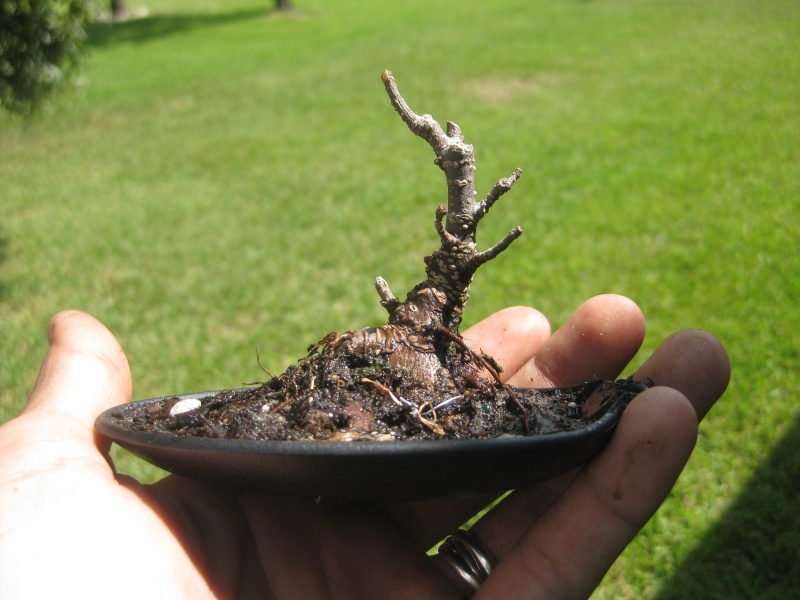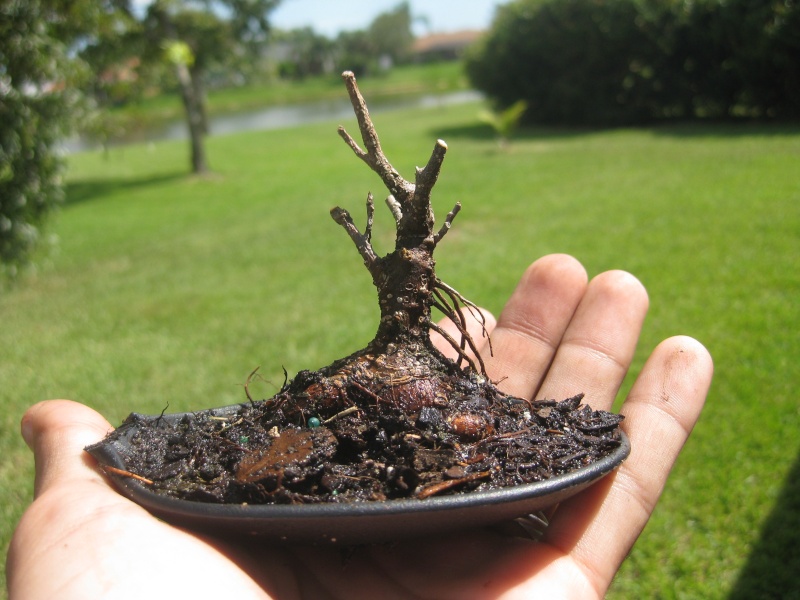 Last edited by ydde72183 on Fri Oct 02, 2009 10:14 pm; edited 1 time in total

ydde72183

Member





I really enjoyed my visit to Jims, quite a few years ago with Billy Rhodes. He's got a really nice setup with great shade areas and some very impressive larger trees and cycads. His personal collection, especially the huge, well styled and old Portulacaria afra were truly inspirational.

_________________
"It is not the strongest of the species that survives, nor the most intelligent. It is the one that is the most adaptable to change." - Charles Darwin.

Kev Bailey

Admin





Very clever w/wooden spoons. I never would have guessed. Great job initial styling. Those Tiger Bark from his nursery reduce very well(size of Too Little or less) if defoliate several times per year like Willow leaf fig. Could get Pink Pixie and mame Portulcar. to take back to N.Y. Enjoy! Dustin Mann
Jim's been an inspiration to me as I've pursued tropicals north of New York City. He always has great material and even better inspiration on hand. No wonder I'm having trouble fitting all of my tropicals under lights this winter...

Mike Pollock

Member





I am also planning a trip to Jim's place in the near future but I will have to leave my wallet at home. Just some advice on this species of ficus. They are very susceptible to root rot so make sure that you plant them in a very well drained soil. You can make your own with a 25% mix of good quality potting soil and 75% inorganics such as turface and lava rock. The spoon thing is neat but trying to maintain the proper soil moisture will be very difficult. The soil that you are currently using seems to be mostly organic and may cause you problems. Remove all but the lowest aerial root on the bottom tree. These aerial roots will quickly thicken and give you some unwanted reverse tapering in this small tree. Please put them in a slightly larger container with the appropriate soil. Good luck

Lazaro Quintino

Member






---
Permissions in this forum:
You
cannot
reply to topics in this forum