PART ONE
: Ink drawing stone?...
I love this combination! and rather than Hi-jack my friend posting.
I will try to tackle two topics, and share what I see and feel by looking at this stone.
IMHO Yellow stone background with black lines can be seen as a caveman drawing.
My Friend Tom told me once that on a visit to China, they saw an old monk,
who was in a river waist deep looking into the water in a very steep ravine.
From a bridge near a temple they were traveling to about seven miles away.
When they got to the Temple the same monk greeted and gifted then a just collected flower stone
And told then he had heard that an American diplomat and his wife would be visiting the Temple.
To see their very special huge antique Chrysanthemum stone that was on display there.
Tom said the stone must have weighted a ton and was the very best river polished natural they had ever seen.
So that story I see in this stone! I can feel the cold river water and the monks determination to find a stone.
repeatedly stooping into the water and heavily almost out of breath gasps for air between try's...

My ink drawing stone comes from the Yangtze River by way of Heven (ystones.com)
stone collected and daiza made by her craftsmen. .4 x 5.5 x 4" about 10 lbs. 
full view, dry stone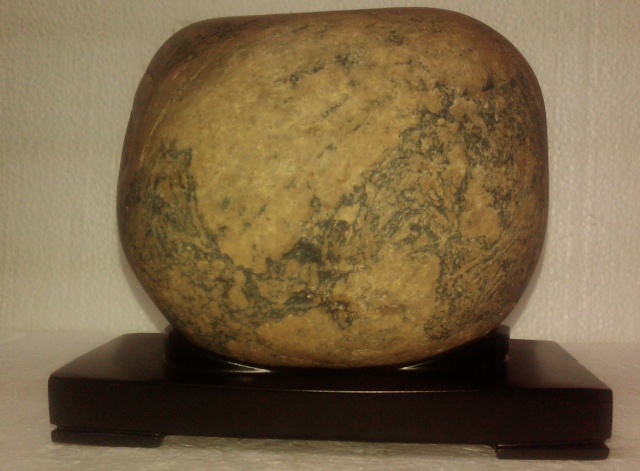 See monk in river up to his chest in water, looking into water with the Temple far behind him to the right.
can you spot the road and bridge traveled? what else can you see?
PART TWO
:
Better or worse seen when oiled? My wife cleans and oils hear face nightly,
and for a picture puts on make up! to be pleasantly seen, best face.
So see same stone with camellia oiled, this stone will not hold wet look otherwise,
and this oil is gone in 24 hrs with nothing left behind. I know only too well this is a can of worms.
A very difficult subject! way too many opinions!, but you be the judge!
Sorry could not get the red out caused by the flash from my cell phone!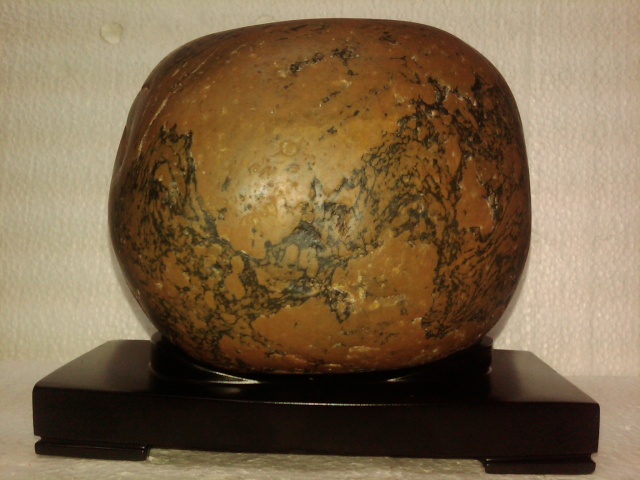 My wife has already made her mind up! and will fight for the her make-up,
will not leave the house and be seen in public without it...

stonener
*picture perfect*
Last edited by Chris Cochrane on Fri Oct 25, 2013 6:50 pm; edited 3 times in total (Reason for editing : replaced original 2nd photo with improved 2nd photo/deleting separate post & typos)
i like the sense of provenance for the stone that you gave with the monk story. And I appreciate the sequence of photos, that present the color, affected by efforts to bring out it's best.

maybe it's the ingrained sense of masculine/feminine (so instilled in bonsai's tree and pot relationships) that has me struggling with the round soft stone shape and color displayed on a sharp cornered, angular daiza. It presents to me a sense of tension.Is this the best way to present the stone or could a daiza that is oval shaped with soft corners continue it's appearance better? black seems so formal to me and yet I see a nice compliment that the color brown would bring. thoughts?

dick benbow

Member





I hear and agree with you Dick!
Idea was a Serving try or a Formal Platform.
Square presentation frame for round object,
opposites balance, yin yang, black compliments yellow~
Do you think is this any better?  
stonener
*quick fix*
See hear in a round daiza, stone was oiled yesterday, today almost gone
Last edited by stonener on Sat Oct 26, 2013 7:05 am; edited 1 time in total (Reason for editing : -)

---
Permissions in this forum:
You
cannot
reply to topics in this forum