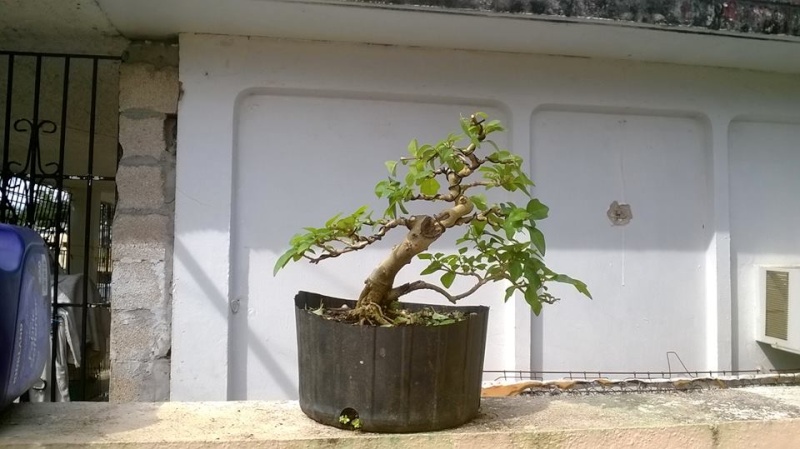 I got this Gmelina im working on. Im thinking about removing that little trunk or maybe let it grow to thicken a little bit more.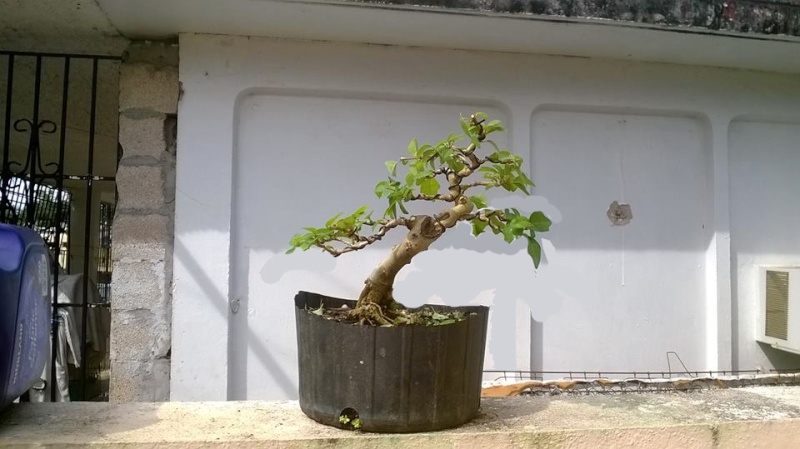 this is a virtual I made of how it will look after some styling without the little trunk.
what do you guys think? Does that extra trunk make it a different tree or I need to remove it to improve the design?

Plecostomus

Member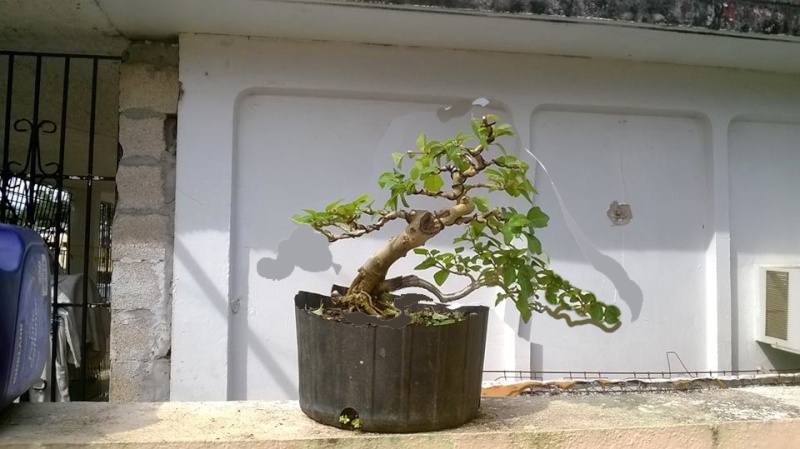 this is the plan if I keep the trunk.

Plecostomus

Member





I would keep it.
Makes the tree more interesting.
Plecostomus,

I am no expert, and these are just suggestions.

The Gmelina. grows too fast to need wiring, just grow and clip.

Did you thin the shrub out to show ?
If not you have a soil problem, as the Gmelina is extremely leaf dense, and will produce shoots on a daily basis, if you are growing it in that amount of soil.

Becareful, the mature wood will rot easily, so unless you are developing a design using a hollow trunked shrub, cut early on in the training and fill the old holes.

Gmelinas, may work better with domes, and so the triangle makes a good beginning.
Please continue to show as you train.
Thank you for showing.
Khaimraj

Khaimraj Seepersad

Member





Thanks khaimraj. I wish I can have a gmelina like yours some day! I had thinned out the tree just for the pictures,it is growing very healthy and fast. I know you are right about the wiring,I will grow it clip and grow after removing this wire.



greetings from Puerto Rico






Plecostomus

Member





Plecostomus,

the answers you might be looking for is in the shape of the Mango trees.

Try to see the Gmelina, as a leafy bonsai.
I only defoliated because the leaves were yellowing and old. The bare bones, are the servants of the leaves.

You have a great trunk there and the Gmelina, builds with age a thick beautiful, flaking trunk and great surface roots.
So you have three factors to look at, density of leaf [ domes ], thick flakes on the fat trunk and radial roots.
The occasional view of a branch within a dome or negative space helps with the beauty.

If you can I suggest you grow between 10 to 20 more plants. They make great mame', and don't take up much space.

The only pest for me is the leaf cutting ants, the leaves at any age are sweet. No other diseases or other.
Best to you and please keep on showing.
Later.
Khaimraj

Mame' for me is under 3" [ 7.5 cm ]

Khaimraj Seepersad

Member






---
Permissions in this forum:
You
cannot
reply to topics in this forum