bonsai monkey

Member





I like No. 2 a lot. But I'd put it in a bigger pot -- at least for now. You want the root base and the canopy to expand a bit, and they won't do that in that tiny pot.

For the first one, I'd like it if yo let some branches form a bit lower on the trunk. As is, I think it's too tall and thin. Nice pot!

Do you know what variety these are?
_________________
Jim Lewis - lewisjk@windstream.net - Western NC - People, when Columbus discovered this country, it was plumb full of nuts and berries. And I'm right here to tell you the berries are just about all gone. Uncle Dave Macon, old-time country musician

JimLewis

Member





Thanx for your kind words re No.2 It's in such a small pot as I've shown it a couple of times but it will be potted-up as soon as safe to do so.
No.1 seems unwilling to sprout lower branches, hence the lowering of braches where I can. Any ideas Jim??
Here's a few more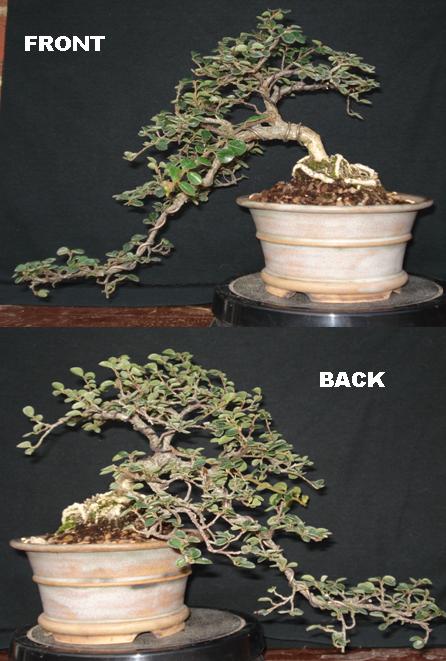 The "Sherwood" Tree
Originally belonged to my father -in-Law and I know it's history dating back at least 40 years!!
No "radical" styling under pains of death from the wife.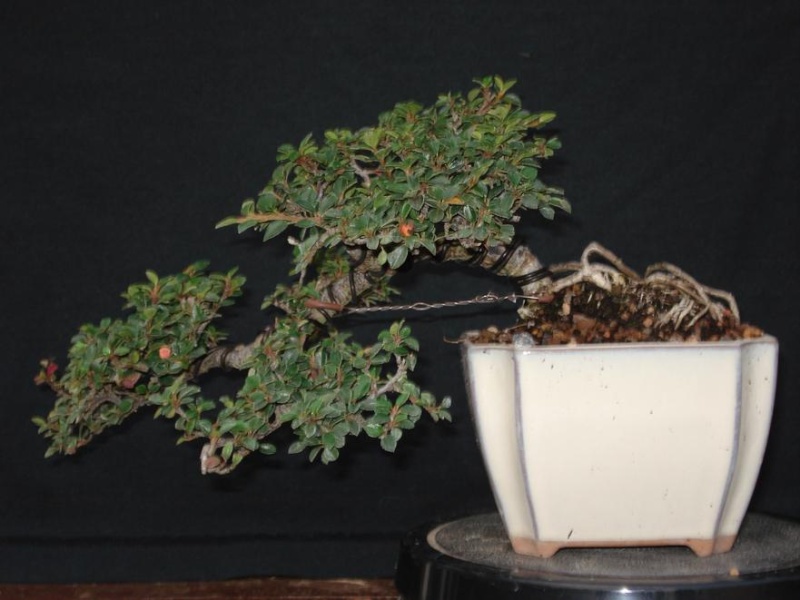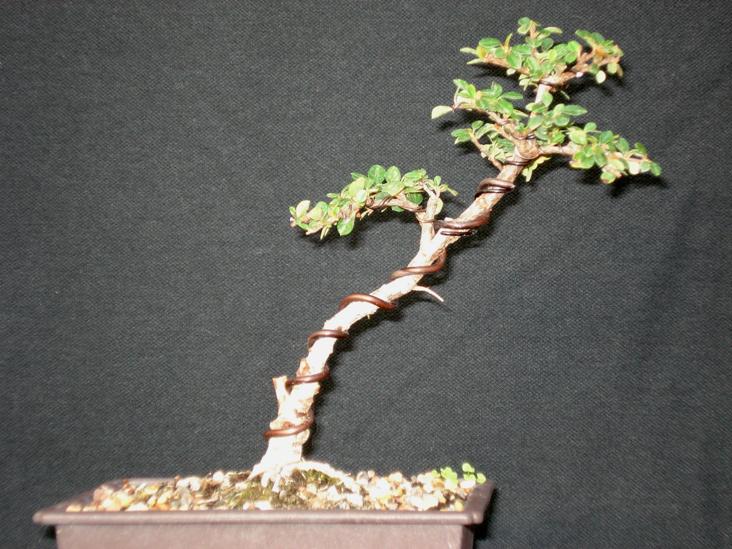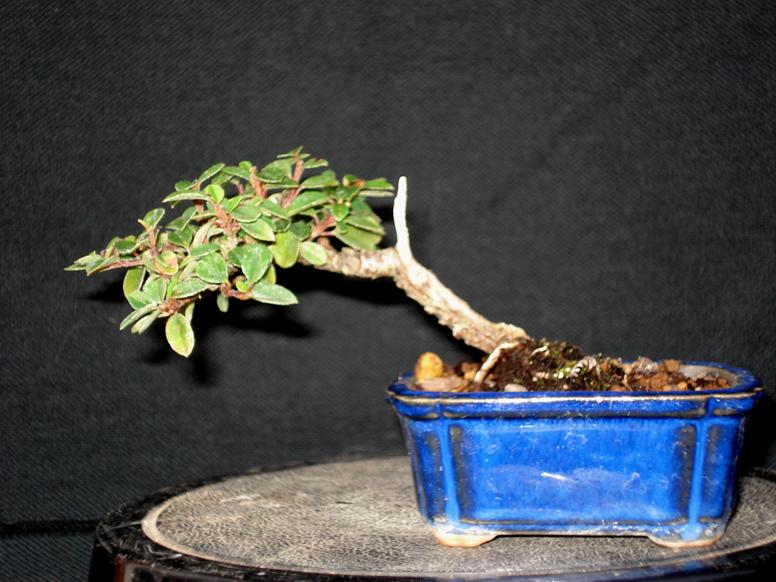 This one is a wee beauty as it only stands 1.5" above the rim of the pot.
A bit more filling out and styling and then I'll need a nice pot!!

bonsai monkey

Member





Hi Jim,

I think that all of my Cotoneaster varieties are horizontalis, except No1 & "The Sherwood", as they all seem to have the same growing & flowering habits. No1 has a pale yellow underbelly to the leaf and "The Sherwood" could be adpressus as the growth is a lot different, being less herringbone, with more creeping branches and longer nodes between leaves.

Mind you, I could be wrong (and usually are!!!)

bonsai monkey

Member





bonsai monkey wrote:Mind you, I could be wrong (and usually are!!!)
I thought you were from Kent, not Devon or Somerset!
I like the Sherwood very much and don't think it needs very much more done to it. Would look good somewhere at the BSA show in February.
btw - just PMed you about the pic.
_________________
"Espouse elucidation"
_____________________________________
my website

fiona

Member





I'm glad you like it Fi.
I'll tell Sally tonite, she'll be stoked


bonsai monkey

Member





I dont know how thick the trunk is in the first pic? If it wont bud back you could wire it heavily, maybe raffia and bend the tree to reduce the height. I love the Sherwood tree as well.
I like the first cascade a lot. Not so fond of the next one though. It seems to fork at the end of the tail and I never trust anything with a forked tail. Maybe if one of them were to vanish?

I think will has a good idea about bending the trunk of the first one. Have you tried nicking the bark to make it bud?
_________________
Jim Lewis - lewisjk@windstream.net - Western NC - People, when Columbus discovered this country, it was plumb full of nuts and berries. And I'm right here to tell you the berries are just about all gone. Uncle Dave Macon, old-time country musician

JimLewis

Member






---
Permissions in this forum:
You
cannot
reply to topics in this forum