Hello all,
On Leo Schordje's advice, I collected some Dalbergia latifolia, East Indian Rosewood, from root suckers off a wind-thrown tree.  The plant pictured is  less than a year old.  The base is about as thick as my index finger.  It's growing with a lot of natural zig and zag, and some swelling at the base, which looks promising.   Poking around online, I've found only D. armata, monkey-rope, used as bonsai in South Africa, but the two species seem quite different. Any IBC members have experience with this species?  Any suggestions, beyond letting it grow out (which I certainly will be doing)?  Thanks!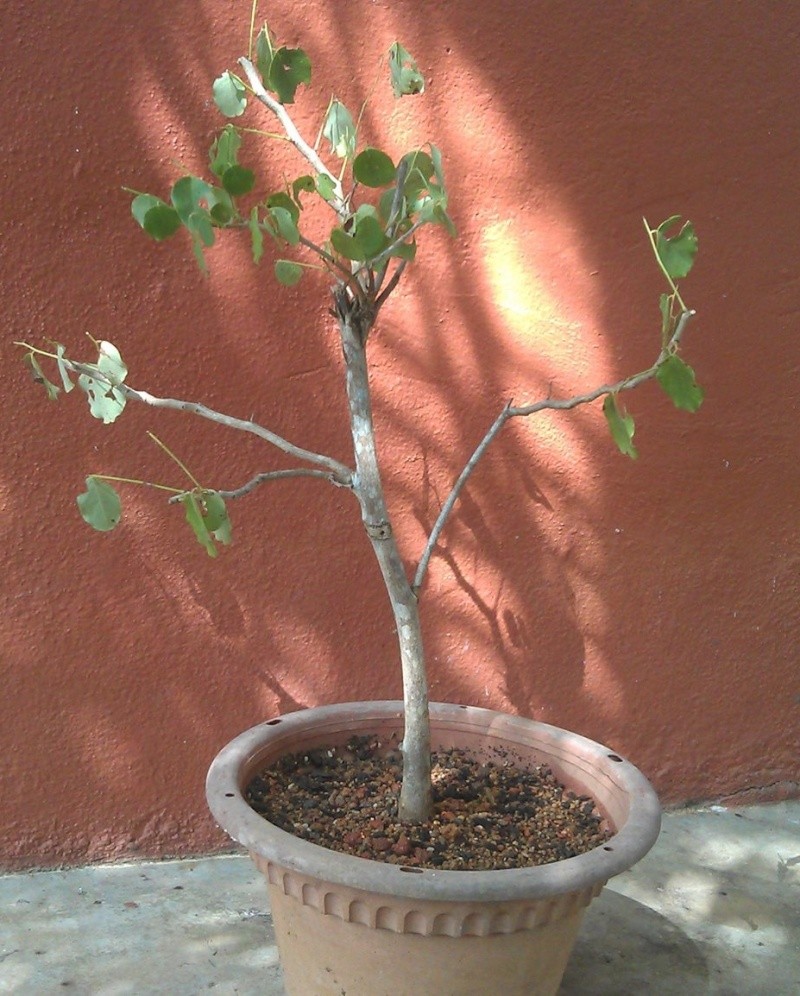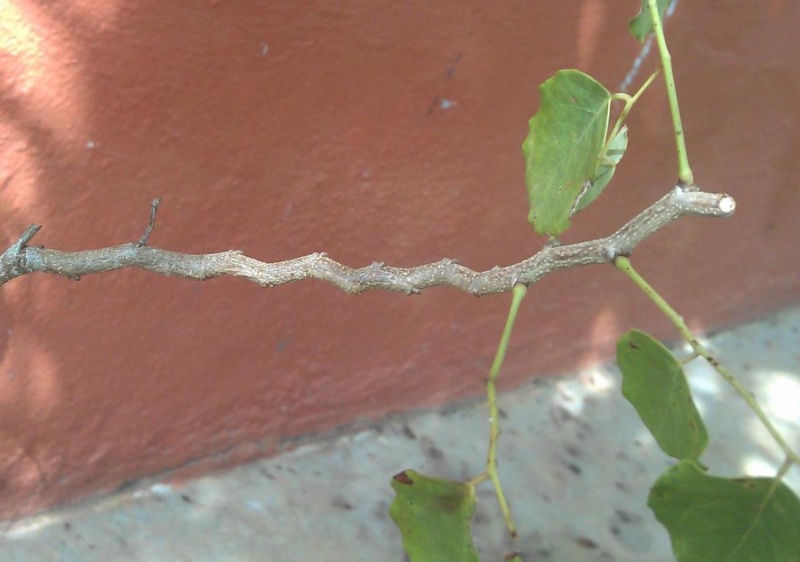 bingregory

Member





I like the zig zag of the stems, looks like it will have potential. Looking at the way the green new twigs join the older wood, reminds me of Redbud, which is a Legume. Don't know if keeping an eye out for bonsai techniques for trees in the Legumeaceae would be helpful.

I have no experience personally with growing Dalbergia, as my climate is way too cold and dry for it to survive. I could grow it indoors, but most tropical trees grown here, will grow well for 2 to 3 months in summer, and while they may survive, they tend to be slow growing or even dormant during the remaining 9 months of the year. This means what growth you might see in one year, would take me 4 years to get. For me, Ficus is a slow grower. (I know, turn the heat up in winter and they will grow, but I prefer to keep my cool growing orchids on the cool side).

You are on the right track, let it grow out, then chop it back hard, cut off anything that grows straight, keep the crooked stuff. In a time, (not sure how quick, as I'm not familiar with actually growing Dalbergia) you should have a nice tree. I know to get timber for furniture or musical instruments Dalbergia require decades if not hundreds of years to fully size up and form the beautiful hardwood. They are not as slow as Ebony, which lays down only an inch of black heartwood every century.

Don't be afraid to try your local species, if you are able to get out into the forests to find them. Be sure to start enough different trees so that when you have the urge to work on trees, you have one that needs work. Most of us keep 25 to 75 younger trees, (or more) as young trees there is a lot of cut once, let it grow a year or two. Older more developed trees require more time to keep them detailed and in good condition. Once your collection matures, you will only need 10 to 25 trees to have something that needs doing almost every day.

What species trees have finer branching and twigging that you can find in Mulu Hills National Park? Those would be ones to try, as they are perfectly adapted to your climate.

Leo Schordje

Member





Thanks for the encouragement and thoughtful comments.
Be sure to start enough different trees so that when you have the urge to work on trees, you have one that needs work.
I'm really starting to see the wisdom of this - the urge to twiddle with trees that ought to be left alone is uncontrollable. I'll have to plant some more stuff!
Re Dalbergia, in case anyone comes across this thread in future, my stem cuttings were a total failure. Old wood, semihardwood, sections, tips: nothing struck. Maybe it's possible with better technique, but I won't be trying stem cuttings again myself. FWIW, D. sissoo is apparently a more closely related species to D. latifolia, and is said to sprout well from seeds soaked in water for 48 hours before sowing. I'll probably try that next.

bingregory

Member





I checked Wikipedia, Dalbergia is in the Fabaceae family, which makes it somewhat related to Redbuds, Cercis, Robinia, and Acacia. The Dalbergia are in their own sub-family, but the above genera have been used as bonsai fairly often. Cercis has larger leaves similar in appearance to Dalbergia, so definitely read information on that species for styling techniques and tips on getting leaf size down. Also the same soaking seeds in water techniques used for Acacia, Robinia and other Fabaceae should work for Dalbergia seed. The technique is to start with hot water, here authors are vague as to how hot, maybe 50 C or 110 F would be what I would guess. Some seem to say start out with boiling water, but to me, that seems too hot. Put the seed in a glass of this hot water, let it set for 24 to 48 hours, letting it cool, apply no heat after you put the seeds in the water. So essentially, when you make tea, pour a glass of hot water for the seed before adding the tea, drop in the seed, let it cool to room temperature and leave soak overnight, to a couple days.
Dalbergia sissoo sounds like an adaptable species to try, Wikipedia says it will tolerate a dry season, which bodes well for survival if watering gets neglected.

  Any of the Dalbergia with fragrant flowers would be nice, also the climbing, liana species of Dalbergia could work. Don't get discouraged with this project.
But do look around for other species of trees or shrubs with smaller leaves. I don't know how close to the coast you are, but there are species of Premna, Pemphis, Bluebell (don't remember genus name), Ixora, Wrightia and others that could also be used for bonsai in your area. And definitely look for some of your local Vireya rhododendrons. Some of the Vireya unique to the slopes of Mount Kinabalu have small leaves. Are there any Vireya in the Mulu Hills? I would expect there to be a few, but I have never been to Sarawak. I did visit KL once, and one night in the Genting Highlands, but that was many years ago. (Durian was one very memorable treat, I actually could see how one could learn to love it, flavors of pineapple, honey and garlic, just ignore the smell.)
Use the search function of this forum (top tool bar) and select advanced search, search by author, and look for posts by Robert Stevens, Jun, and Budi Sulistyo. Robert Stevens is from Indonesia, Budi is based out of Jakarta, Indonesia, & Jun is in the Philippines, they all use species that are more similar to the species you will find locally. They may be different species but you likely can find local species in the same genus as the species they use. Also note some of the authors who post in their threads. Many are working with Southeast Asian species of tree. It is usually easiest to work with species native to your area, or from similar climates.

Leo Schordje

Member





Oh you've been to KL? Business or pleasure? I visited Mulu National Park way back in 2004 when I was still pretty new to the area.  We couldn't ascent to the Pinnacles due to weather. It was rugged!  The trailhead for the majority of the park is only accessible by longboat up a fast, rocky river.  You jump out on the riverbank and that's the start of the trail.  You have to arrange for longboat pickup at the end of your hike the same way.  My photos from the trip are not particularly good - the forest floor is so dark you need a flash in the middle of day - but they are here:
Mulu 2004
.  I didn't notice any Rhodies at the time btw and I haven't seen them in nurseries around town.  I'll keep an eye out in future.

bingregory

Member





It was 1996, and I tagged along with a small group of Tai Chi practitioners, on their way to a gathering in KL. It was 5 days in Singapore and 5 days travelling the Malaysian Peninsula. Ate fresh Durian, watch it get cut open, experienced the fragrances, while at a Tong, in Johore.

(Tong was the word our hosts used, it was a building with offices, Tai Chi workout space, and a small Buddhist temple, all on various floors of a building in an urban setting. It was clearly a different use of the word than what is heard in US action movies)

Visited an orchid grower near Lumlit. Spent 1 night on Pankor Island. (couldn't afford 2 nights). It was a whirl wind tour, no time to get out into the forests, but it was really fun, and interesting.  Saw a lot of the peninsula, but only a very small part of Malaysia. The food in the night markets was great. Ba Ku Te, was a favorite. I did find a Malaysian restaurant in Chicago, and still occasionally go there to eat.

I will never forget our luncheon with a group of oil palm workers, who were one of the hosting Tai Chi clubs. Got silly drinking Coconut Palm Blossom Wine, an incredible frothy drink, that was foaming and fermenting right there in the pitcher on the table. We had various dishes, mostly caught, or grown and harvested that morning. The freshest of fresh fish, butterfish that were only an hour out of the water, absolutely delicious. One treat was monitor lizard soup, quite tasty, a lot like eating alligator. My drinking buddy was a guy my age who spoke only the local dialect, (Pahang? might not have spelling right) didn't have anyone in the group who spoke english and that dialect to translate. Had to go from Malaysian to Chinese to a different translator who took the Chinese to English. Needless to say, lots of laughing, smiles, nods, and toasts. The two of us downed a fair amount of the coconut blossom wine, had a great time. Taste was like a frothy, pina colada. Not bad really. Next time I see a coconut tree in flower I will have to consider making it. They cut the flower off, hang a bucket on the cut stem on the tree, collect the sap that drips. They bleed profusely, not hard to get a gallon or more of sap. Add yeast (or let wild yeast go to work) and let ferment 24 hours. Done. You guys in Florida should try it.

In those days I was more into growing orchids, and did visit 2 commercial growers and 3 private collections as I traveled. No bonsai sights back then.

Ah fond memories.

Leo Schordje

Member






---
Permissions in this forum:
You
cannot
reply to topics in this forum