Hello,
This is my first post, so if you have any comments on the post itself (i.e. structure, grammar, spelling, etc.) feel free to criticize it.
I joined this forum about a month ago and I have done a fair amount of reading and was considering buying a bonsai soon... then fate happened. If you have been watching the news you may have seen that the front range in Colorado has been getting a ton of rain causing flooding. I was at a friends house checking out an overflowing creek when he pointed out a tree that had been nearly uprooted. It had been between two rocks and the runoff from the heavy rain had washed away the soil between them, leaving the tree lying on the ground. I figured I could try to save it and at the same time get a chance to turn it into a bonsai.
I believe that it to be an Engelmann Spruce from what I read in one source "The Native Trees of Colorado" by S. K. Wier hosted at:
http://www.westernexplorers.us/ColoradoTrees.html
I am not sure if this will make a good tree for bonsai since I have never heard of anyone using them, but my knowledge is limited.
Below are the pictures I took right after potting it. You may be able to see the black tape on some of the branches; this was to try and fix those that had been damaged during its uprooting by the heavy water flow. I constructed the box out of free scrap wood I was able to find on Craigslist. The box is rather large, roughly 3' long, 15" wide, and 10" deep, this is because I wanted to maintain the roots as much as possible. My soil mix is a mostly bark (around 3 parts), since that was cheap and I had a lot of space to fill; then equal parts (around 1 part each) pre-made bonsai mix (containing soil and gravel), from a local nursery; expanded shale, a recommendation from an employee at that nursery; and some potting soil I had laying around because I didn't want the mix to be contain too much bark. my first question is if this sounds like an okay soil mix and pot size?
view (from what seems like) the front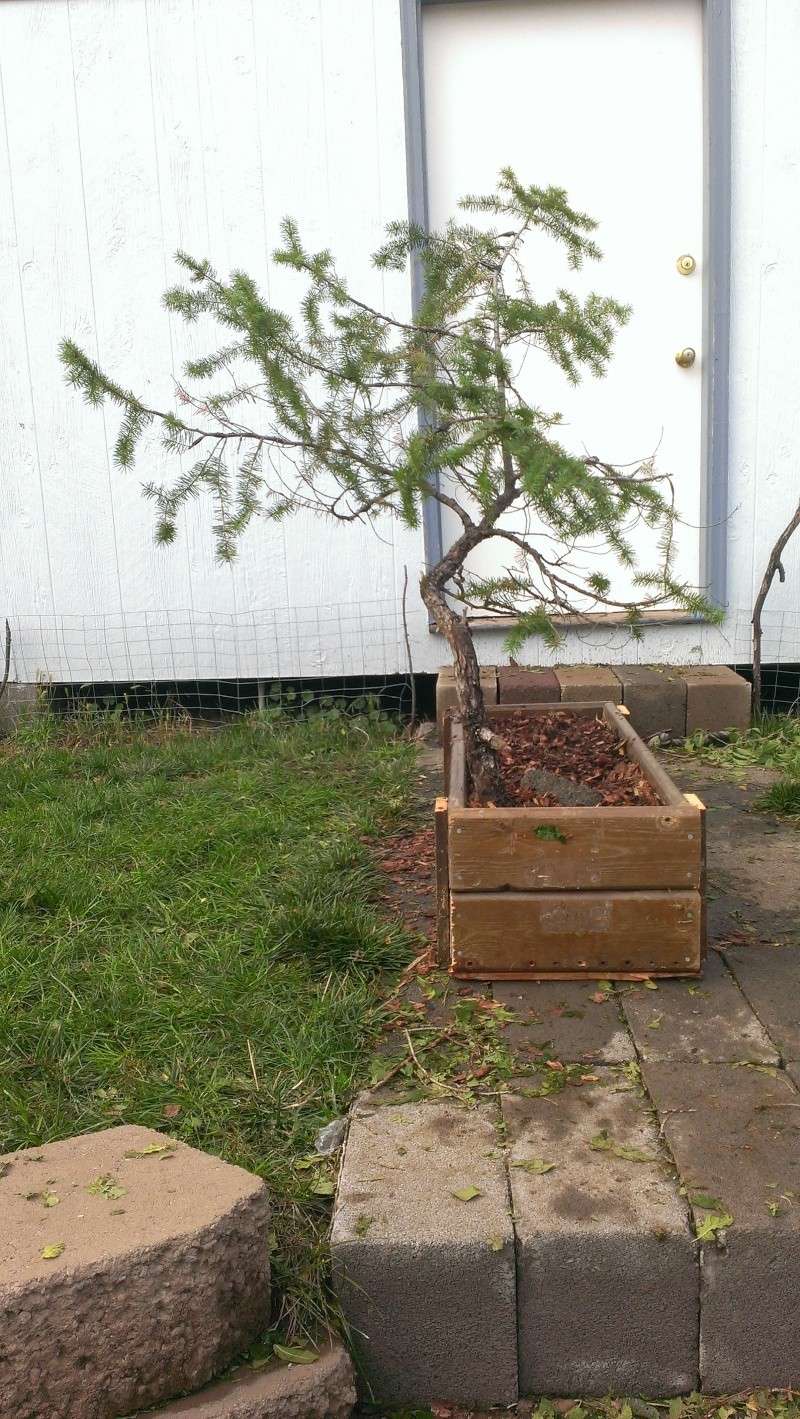 view of side 1
view from the back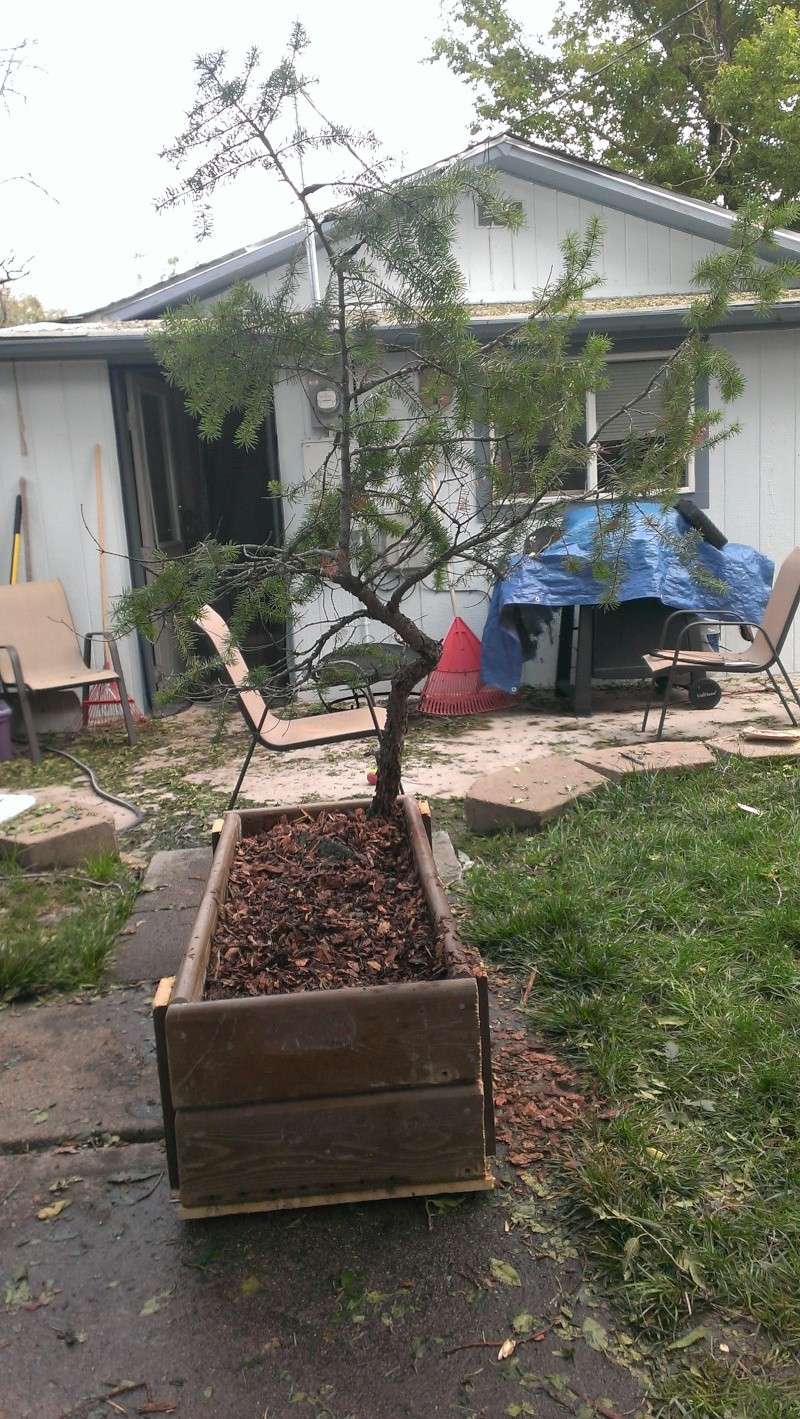 view of side 2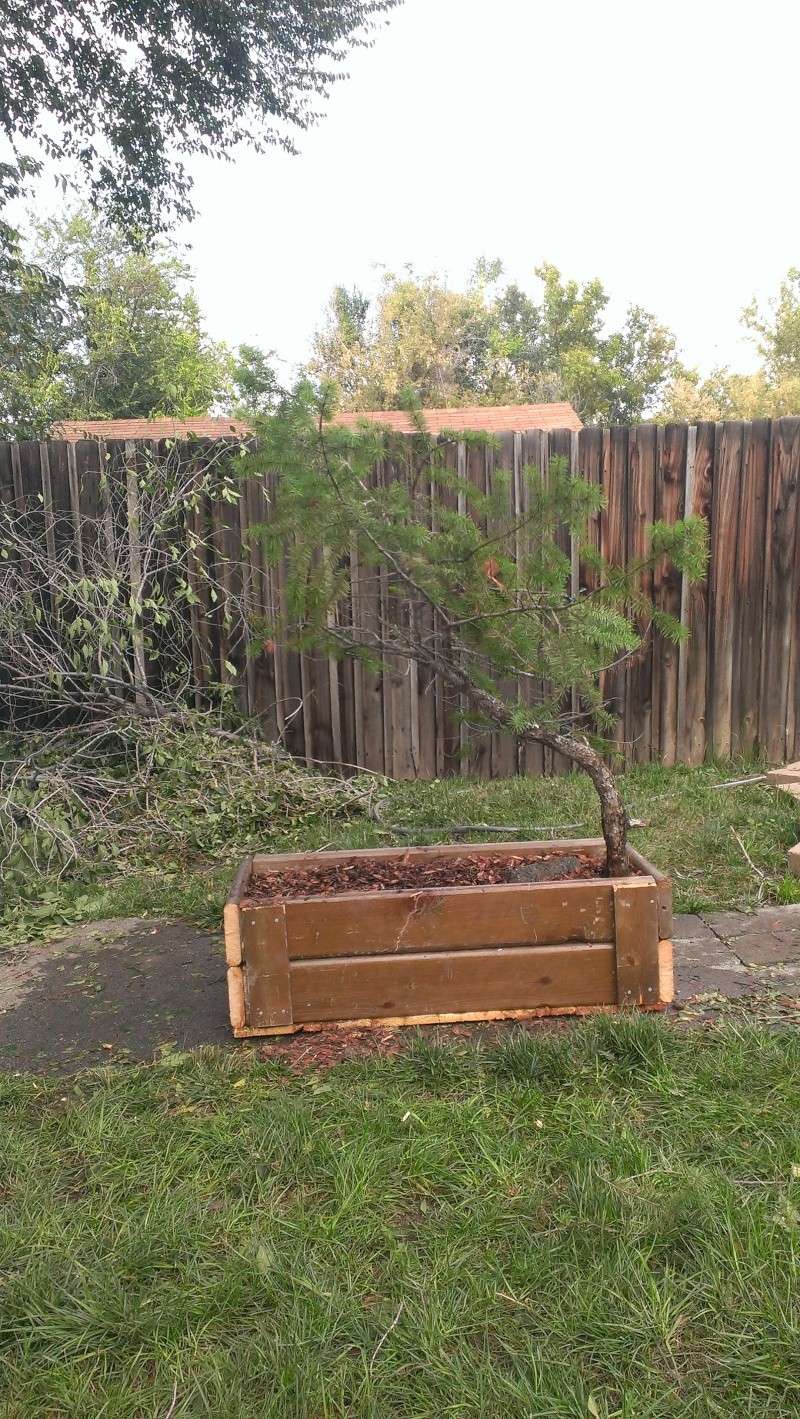 I am not sure what I should do next, I figure I will let its roots grow and take hold before I attempt any kind of pruning or anything. I have considered bending it towards the back to what seems like its natural position. Although I am not sure what its natural position was since it was lying down when I found it. Any sort of advice or recommendations to other posts that may help, would be greatly appreciated.
Thanks,
Colorado Native
For collected material, it is often recommended to wait until the second spring before any sort if styling. I have an eastern hemlock collected in early summer that I am biding my time with hoping that it will reward me with some growth this spring, but even when it does I plan on waiting another year for it to gain strength before styling. What sort of soil did ou plant it in?

MrFancyPlants

Member





The soil was just what I had lying around from ordinary gardening, Miracle-Grow (about 1 part). The Bonsai mix i bought looked darker and had some in it gravel, it did not have an ingredients list on the package it simply said "bonsai soil mix" (about 1 part). I also put in some expanded shale that was about pebble sized (about 1 part). the total mix i used was mostly western bark, if that means anything to you, (about 2-3 parts). Thanks for the reply and I hope answered your question.

---
Permissions in this forum:
You
cannot
reply to topics in this forum