Hi, I have a few question on silver maples as bonsai. First of all I have 2 trees both grow from seed this year 2013, I want to know how deep of a pot I would need and how wide as well. I also want the main trunk to end and split into 3 or 4 on one of these how would I do this and when. I want it to be 4 feet tall. On the other I'm going to experiment a little and it will be 3 feet tall but the main trunk will look like drooping kind of like the dwarfed maples.
Plant it in the garden for 4 years. Then come back with these questions. In order to facilitate a nice nebari, plant it on top of a tile placed 2 inched seed in the soil.

leatherback

Member





I prefer to grow maples for a couple of years in shallow pots to develop the surface roots before planting them in the ground to fatten. Silver maple will grow quite fast so you can develop them fairly quickly. I would plant a bunch of seed in a seed flat this year (I use boxes that are about 2" (5 cm) deep with hardware cloth bottoms) and let them grow. The shallow pot with an open bottom will encourage horizontal roots. If any of them are really strong next year you can cut out the top in early July so they develop a little branching. In the spring of 2015 repot the seedlings into individual shallow pots. I use the plastic saucers designed to be placed under other pots with 1" (2.5 cm) holes melted in the bottom for drainage. The 6-8" (15 - 20 cm) size works well for maples of this size. Let them grow for a season and in the spring of 2017 cut them off short to get the low branches that you want for the multitrunk trees. Remember to wire the base of the new branches so they have a pleasing angle to the trunk and don't stick straight out. Plant them in the garden in the spring of 2018 over a tile as previously suggested to fatten up. The work in a pot up front will result in a much better nebari.

Another approach, particularly with the seedlings that do not have a good root spread to start is to plant the seedlings very close together with the roots they have pointing out. Groups of 3 or 5 would work well. I use grafting tape to bind the trunks together - they will fuse after a couple of years. I use the same shallow pot trick here, but since there are multiple seedlings and can often use a slightly smaller pot. The downside of this is that the leaves on seedlings may differ so you may end up with a clump that has different leaves on the different trunks. Cuttings avoid this issue.

I have found that the ticket to a good nebari in maples is to wash out the roots and cut back the strong ones everytime you repot. Yes it sets back the growth a bit, but roots become better balanced.
Last edited by Marty Weiser on Wed Aug 07, 2013 6:31 pm; edited 1 time in total (Reason for editing : Added a couple of minor points)
Hat off to those who can write so much about silver maple.

I've never ever seen one trained as a fairly decent bonsai, so keep us updated.

Bon courage.

AlainK

Member





I was writing about maple seedlings in general. I don't have any silver maples and agree they are not the best possible bonsai material, but if that is what the original poster has and wants to make into larger bonsai trees then having some additional techniques available may help him/her.
After I posted I decided to take some pictures of the things I mentioned. The first is one of the boxes with 1/4" (6 mm)  hardware cloth screen. I generally use larger ones for starting seeds.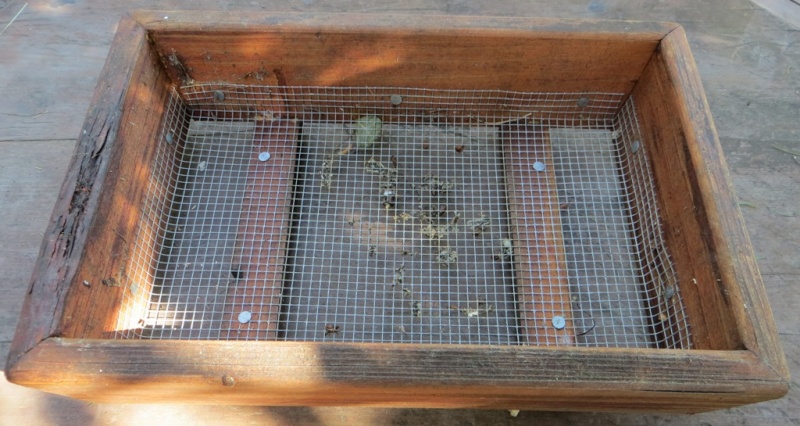 The second is a pair of the saucers I use. I melt the holes by heating a piece of copper tube with a propane torch until it has a nice red glow and then pushing it into the bottom of the saucer with a sacrificial board below. I do it all outdoors and stay up wind since the saucers are PVC and the fumes are not good for you. Maples seem to do very well in these.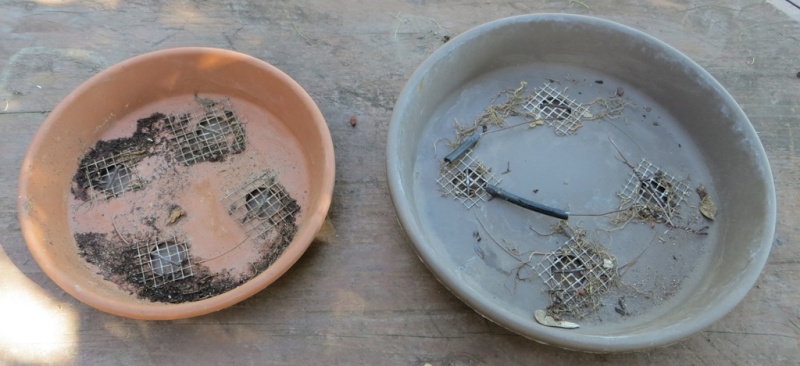 The third is a group of Japanese Maple seedlings that were potted together this spring. It looks like the grafting tape fell off, but it has done its job and kept them together while they stabilized in the pot. They should start to fuse together at the base in a couple of years.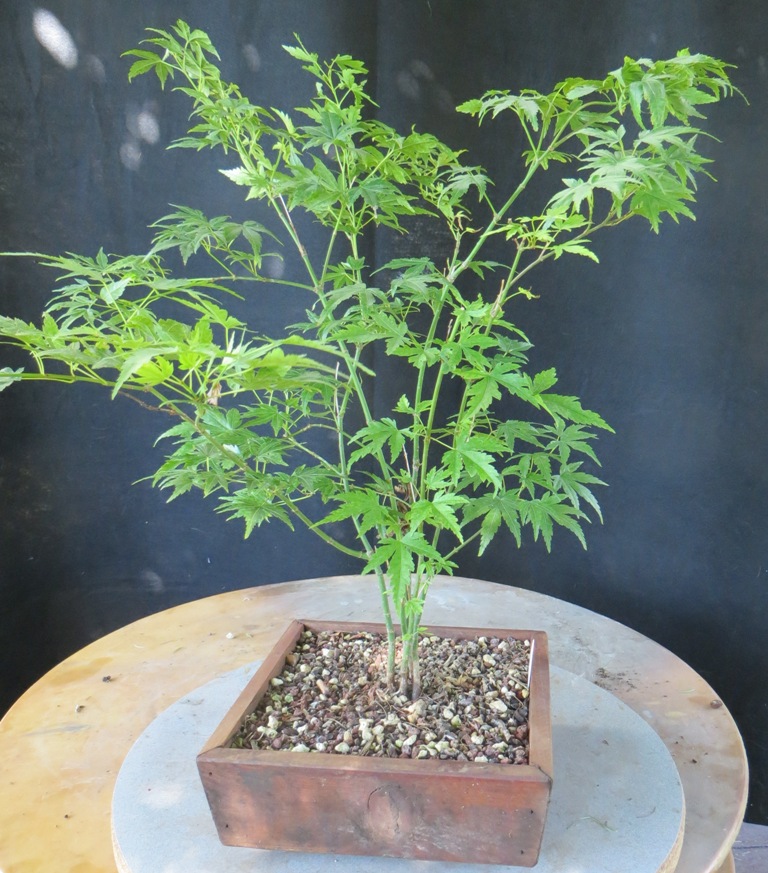 Me again, yes I like the setting of maples you have I'm getting five soon my girl wants one and one I'm going to do a single truck with, never really thought to put the three together like you did! they will fuse together planted like that? How do I post pics? Where I live there's a huge selection of silver maple these I planted around 70 seeds and I kept about four . If I could post a pic, I would like you to see they are very healthy growers. I have a five year old japanese red maple it's in very good shape. Thank you for your help those were very helpful tips bud!
Silver maples are NOT ideal for bonsai. The leaves are too large, reduce only moderately well, and dangle on rather long petioles.

I posted the link for picture tutorial here in an earlier message. (Hint" It's in the Tutorials" section.) I suggest you head off to a bookstore and library and choose a book or two about bonsai and do some reading.
_________________
Jim Lewis - lewisjk@windstream.net - Western NC - People, when Columbus discovered this country, it was plumb full of nuts and berries. And I'm right here to tell you the berries are just about all gone. Uncle Dave Macon, old-time country musician

JimLewis

Member






---
Permissions in this forum:
You
cannot
reply to topics in this forum