Hi,
I recently picked up two Mugo's in rough shape. I'm new to bonsai and still have difficulty envisioning how I want my bonsai to look based on the material I'm presented with. Especially with material like this. I was hoping to get some feedback as to styling choices for this particular material, how many trunks to keep, etc.
Thanks in advance for any advice.
Jay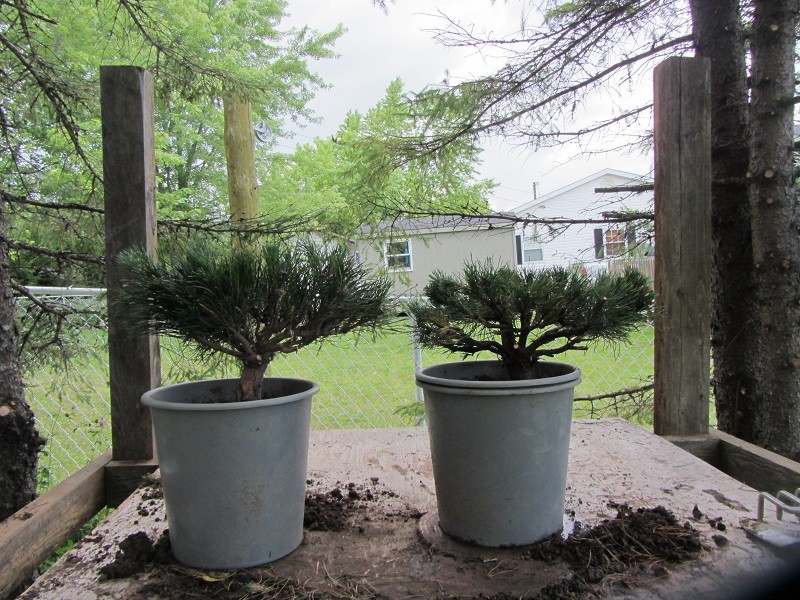 As far as I can see each tree only has one trunk, so that's an easy solution.
Don't be in a rush to "do something." These trees undoubtedly will survive as is for as long as you need them to. This isn't really the time of year to do much with them, anyway.
Study these trees. Peer inside. They're small, so options are going to be limited, but you don't need to decide one ne now -- in fact, until you've read up a bit on bonsai pines and have studied a few dozen photos of nice pine bonsai (or, better yet, seen them in person) it probably is best that you do nothing for now.
I didn't look to see where you live (if you put it into our profile) but try to find a nearby bonsai club and join. You might find one here:
http://absbonsai.org/bonsai-club-directory/usa
_________________
Jim Lewis - lewisjk@windstream.net - Western NC - People, when Columbus discovered this country, it was plumb full of nuts and berries. And I'm right here to tell you the berries are just about all gone. Uncle Dave Macon, old-time country musician

JimLewis

Member





Hey Jay,
There is a poster on another forum (Bonsai Nut), Vance Wood that is very knowledgeable about Mugos. He could give you good advice. He may look in on this forum also.
Tona


Tona

Member





Unfortunately where I live in Canada there are no clubs, but I will surely continue to gather as much information as possible about Mugo's before diving in too quickly (us beginner's never have enough patience

.
I have seen a few posts on here by Vance as I knew his name from doing prior research on Mugo's. Perhaps I'll also try Bonsai Nut as well.
Thanks,
Jay

---
Permissions in this forum:
You
cannot
reply to topics in this forum