hi ibc its been awhile i've had this san jose for some years now. this is that tree that i know everyone has one that you work on then it sits on the bench for awhile your forget to work it cause your busy and when you do finally get to work on it it is over grown and when done working on it you like the way it looks and you ask yourself why don't i pay more attention to this tree huh....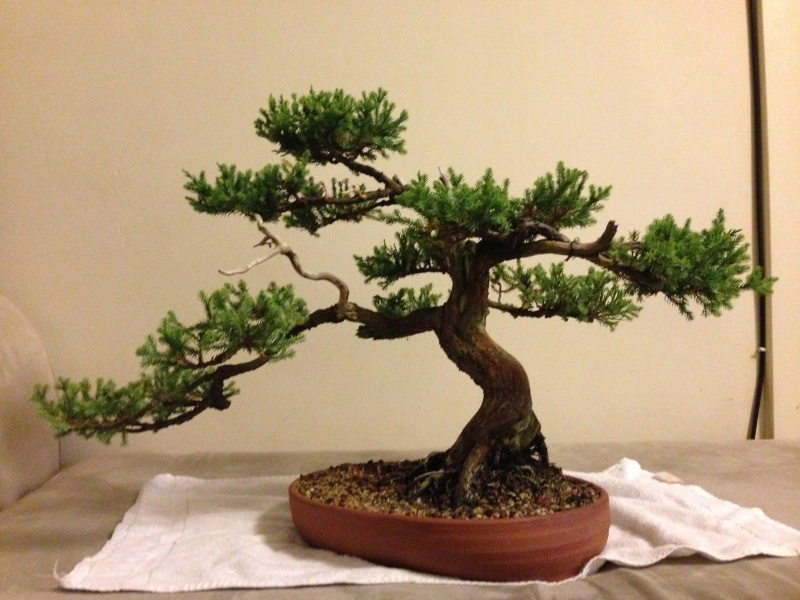 Great trunk Andre. I would move the foliage closer to accentuate that trunk.
Tona

Tona

Member





_________________
Jim Lewis - lewisjk@windstream.net - Western NC - People, when Columbus discovered this country, it was plumb full of nuts and berries. And I'm right here to tell you the berries are just about all gone. Uncle Dave Macon, old-time country musician

JimLewis

Member





i worked this tree with nick lenz a couple of time he said it reminds him of trees you would see in the grand canyon. but i would actually like to graft other foliage on to the tree but to be honest i'm considering selling this tree to make some room on the benches
This tree looks really good.  It's got a great trunk and you've done some nice work on branch placement.  I hear you though, about that foliage.  San Jose's lend themselves well to more naturalistic styles, if you keep the original foliage and develop the tree with that.
I really love these things because they build trunk wood pretty fast, and are almost 'bomb-proof' when pushed hard in styling work or kept in less than optimal, horticultural conditions.  But, those well groomed, perfectly symmetrical, 'Shimpaku Poodle Pads' just ain't gonna happen with an all-original, scrappy ol' San Jose' juniper as bonsai material to work with, I'm afraid.  

Last edited by Auballagh on Mon Jul 22, 2013 2:21 am; edited 1 time in total (Reason for editing : Typos and grammar.)

Auballagh

Member






---
Permissions in this forum:
You
cannot
reply to topics in this forum