Hi everyone
new topic because new way of seeing for me!
Feelings, Emotions or Memories remembered by viewing this stone.
OK then hope were on the same page?
when I stare at this figure stone, see the profile of my Grandmother!
I remember as a child her returning home after praying in church early each morning before I left for school.
She was a widow, always dressed in a long dark house coat type dress, black shoes and stockings, wearing a long scarf.
Thing I remember the most was she would make the sign of the cross with spit! on my forehead!!! We were practicing Catholics!
Got to accompany her to church on Saturday Mornings after I finger tested all the chickens for eggs?
She was full of practical life wisdom! could cook everything or clean anything and make it look good or taste great!
She was a Sunday school teacher till the day she passed away. Most of my friends called her "Sister Pain", because!
she would not spare the rod nor spoil the child! she grew everything! even  her own brand of switches, which I was sent for many times.  
ok the feelings remembered are;
love,
protected,
understood,
fear
comforted,
respect
admiration
sorrow
nurtured
joy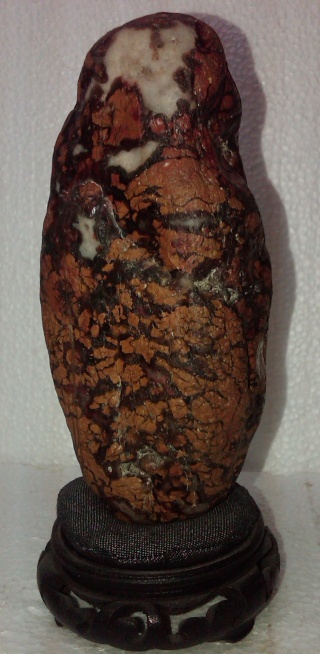 Grandma wearing her fancy white wrap-around, going to church, draping down her back, head scarf facing to the right...
Last edited by stonener on Sat Jul 20, 2013 6:10 am; edited 1 time in total (Reason for editing : -)
Wow beautiful texture lots of meaning..thanks for sharing Stonener
Regards,
Ogie

ogie

Member





Thanks Ogie for your response!...

This stone has a baby powder smooth skin,
almost feelings like glass, it's so smooth...

If not careful will easily slip from your hands.
I am told by my friend Ken that it is made of vulcanized jade?...

deep inside of stone is pure white, outside only has been naturally stained,
and river polished over tens of thousands of years?...

stonener
*MEISEKI*

---
Permissions in this forum:
You
cannot
reply to topics in this forum