Hi.  My name is Melissa and I have become fascinated by bonsai in the past year.  I live in the mid-atlantic state of Delaware USA and work primarily as a stone sculptor.  I have read almost everything I can on-line and have condensed this information into a sort of self-training class for myself.  I have read everything that the search function brings up for this forum and many other topics that have caught my interest.  I am
very
impressed by everyone here- the tone and qualities of the responses are outstanding.  What a knowledge base you all create!
I should probably state right away that I mostly want my bonsai to look like trees.  I love the tradition of bonsai, but am in no way wedded to any "rules".  I hope this doesn't bother anyone.  I have seen posts where replies seem fairly accepting.  
I acquired this tamarind yesterday.  I adore this type of plant and also have a "texas ebony" that is nyctinastic.  Current nursery pot size is 9.5 in., Height is approx 23 inches and trunk is 1.5 in. above nebari.  This tamarind is already a friend of mine and also my most ambitious project to date.  As a consequence, I really don't want to mess her up.  So... any help with the below questions would be greatly appreciated.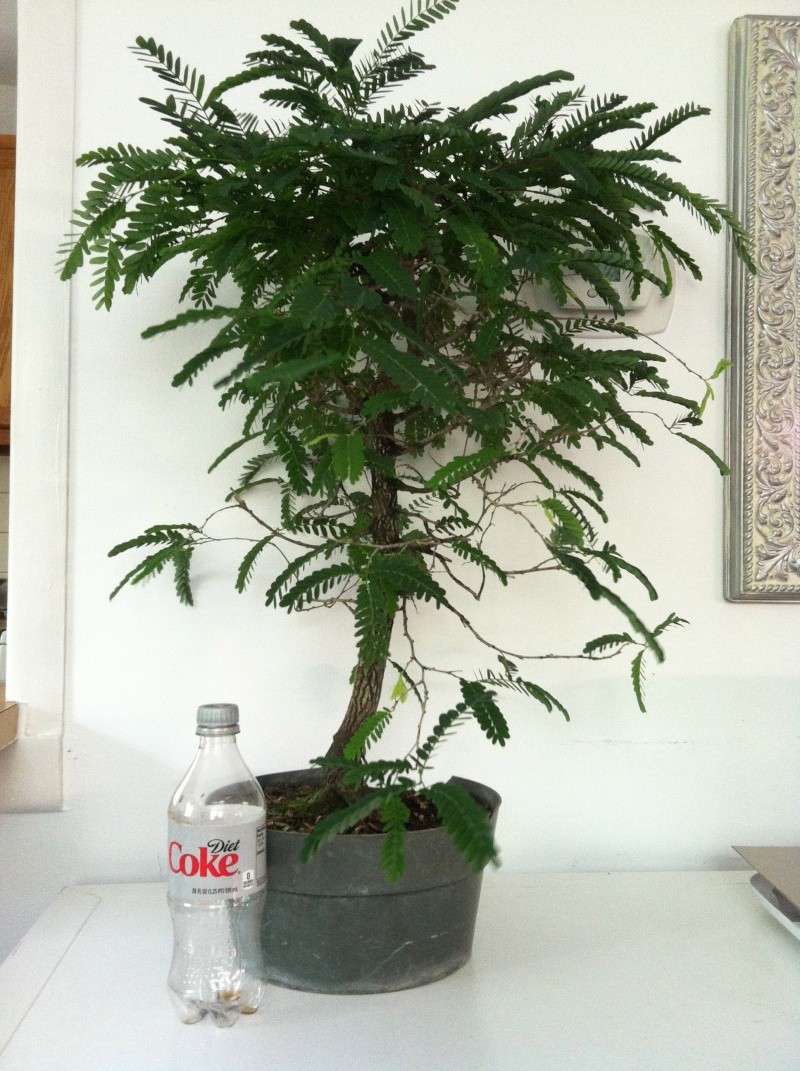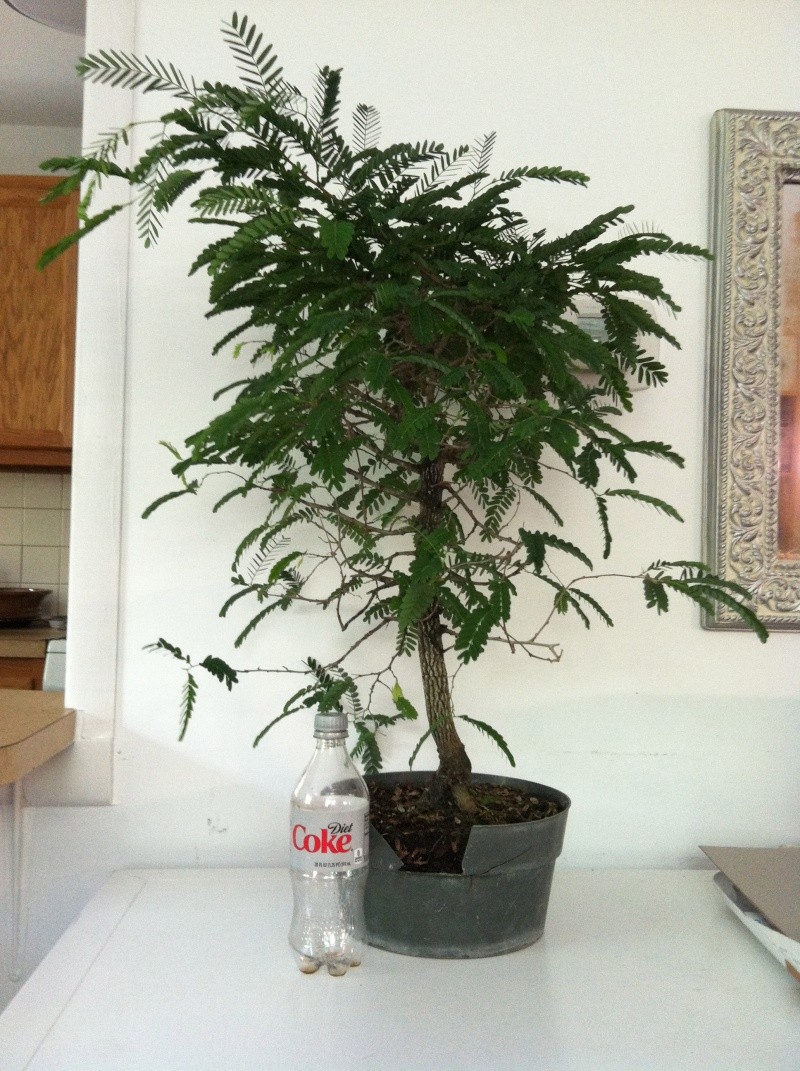 I love her current slight movement in the curve and would like to keep her as an informal upright type style. The lower branches are all very long and thin.  What to do with them?
She actually has a decent tapering top branch, considering her formerly lopped-off state. I have tried to show this in the photos attached.  It curves, however, and there is a second upright branch coming off the curve which is straighter but not as strong. Can I keep both or do I have to choose?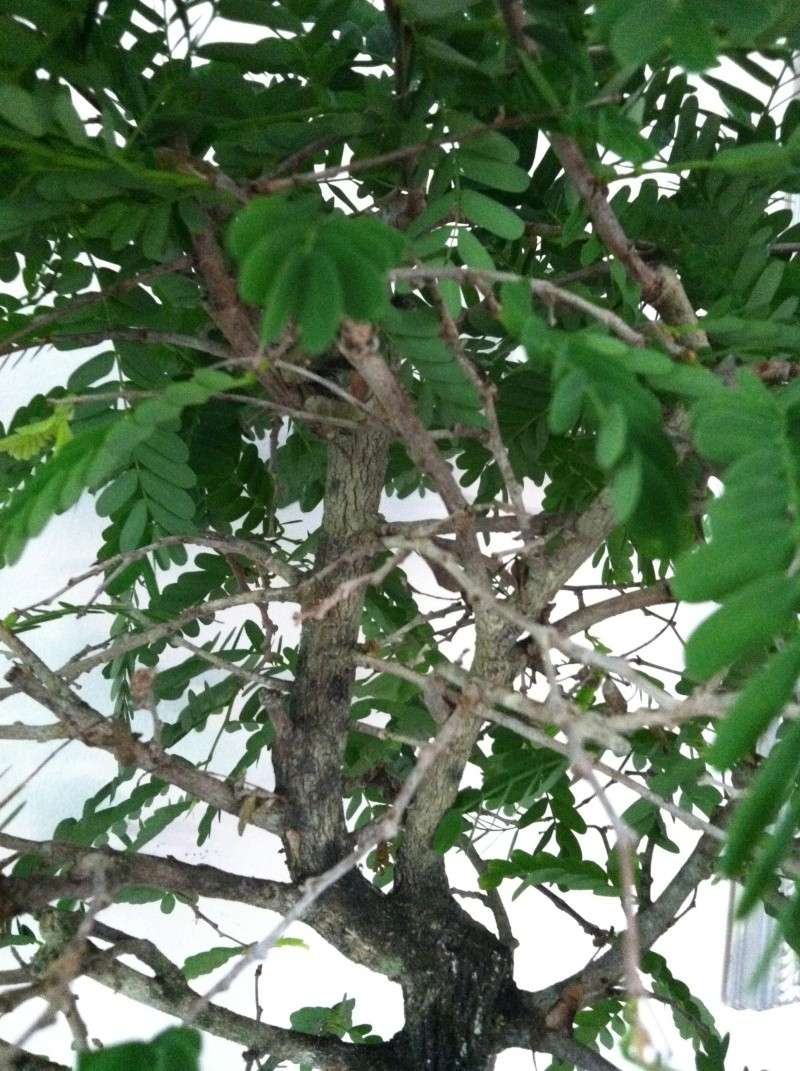 She has a funny "hump" at her base.  I do not know what I will find under the soil as far as nebari.  Should I just try to hide the "hump" under the soil or is it better to show whatever primary roots I may find?
How far back can I trim the low and medium branches to try to improve them?
I keep my plants in an indoor grow-light greenhouse because I have no access to the out of doors.  Anything special for her in this regard?
This is a lot of questions, I know, and any help y'all can give will be wonderful.  Thank you!
Last edited by treeasart on Sun Jul 14, 2013 6:21 pm; edited 1 time in total (Reason for editing : accidental repetition)
Welcome to IBC.

Q1. Long and thin lower branches- Control the growth of the top branch and let the lower branches grow without disturbing them.
Q2. Two branches (trunk) apex- Cut the bigger one and use the slimmer one as the new apex. but also cut it a bit shorter.
Q3. Hump at base- You can either hide it partially by elevating the soil/moss in that area. or, create a new nebari in the area by wounding it and cover it with moss and soil.
Q4. Cutting branches- If it grows fast in your zone you can cut it back very short, if not use wiring technique.
Q5. Keeping it indoors- Tamarind is tropical tree, but, this I did not expect, I have a tamarind forest in my shop inside mall (without airconditioned) living in a partial natural light for more than six months now, the growth is quite slow compared to full sun while it is in my outdoor garden. But take note, we are living in a humid climate.

have fun!

regards,
jun:) 

Hi, Jun. Thank you so much for your reply. From reading other topics in the forums I know that you are a very respected and knowledgeable expert, so I will take your suggestions very much into account. Thank you again, and take care.
Melissa

---
Permissions in this forum:
You
cannot
reply to topics in this forum