In 1899 the Japanese government passed an act labeling the Ainu as former aborigines, with the idea they would assimilate—this resulted in the land the Ainu people lived on being taken by the Japanese government, and was from then on under Japanese control . Also at this time, the Ainu were granted automatic Japanese citizenship, effectively denying them the status of an indigenous group.
When I was statoned in japan with the Armed forces of the United States, I visited a villiage and purchased this
mask carved by the Ainu people. This was on the northern most island of Hokkaido in the japanese chain. This area is quite rugged with lots of winter snow and wild animals like bears and foxes. So different then honshu with it's population density.
I was reminded recently of their situation during a july 4th barrage of fireworks purchased locally at an indian reservation where federal and local fireworks regulations do not apply to our indigenous people, considered a separate sovern nation.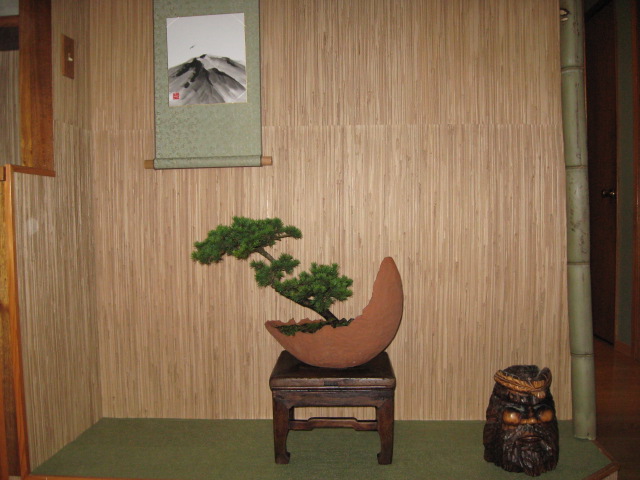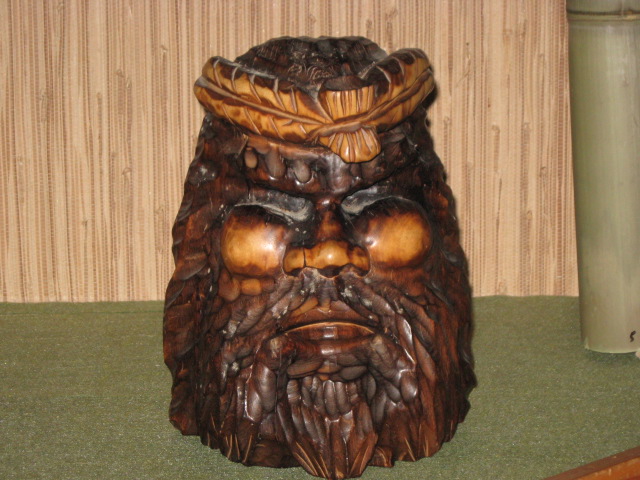 dick benbow

Member





Hi Dick

A wonderful mask....but you display is strange , objects is placed in a line, when a triangle is considered the right way to display.....are you doing this, to have an reaction from other readers?

Kind regards Yvonne
I think you do focus more on the mask having it displayed this way.


dick benbow

Member





dick benbow wrote:I think you do focus more on the mask having it displayed this way.
If this is the case, would I have placed the mask on the stand, insteadt of the bonsai....maybe just display the scroll, and mask on the stand, nothing more, can be a strong display...as this is not a suiseki- or bonsaidisplay, but something else......
Kind regards Yvonne
always appreciate your input THANK-YOU

dick benbow

Member





I like all the elements, BUT 1. I would put the mask on the left scroll in the middle and tree on the right. and BUT 2. the space is too small for me-this very solid(I would describe it as "heavy- or massive" 3 point display needs a lot more space-the "moon" pot is just too heavy for my eyes. kora
Yo Dick!
I too would need a little more space and also to trade places...

IMHO Put Okimono head centered on top shelf to the far left? 2nd level...

Move the Bonsai all the way to the right end and just a little forward...

Center in display chop mark on scroll and move it up as high as possible...

Offered as an expert on nothing! only happy friendly suggestions!
stonener
*revisit*

---
Permissions in this forum:
You
cannot
reply to topics in this forum