Hey guys, I've been working on a few small projects and figured I would try posting them here for community input to see whether I could strike up some ideas for improvement or help spark ideas for others.  If you're not already aware, I'm a bit of a newby in both the horticultural and bonsai worlds, so I'm bound to be making some mistakes.  I'm also limited on the amount of space I can dedicate to the hobby as there is a great likelihood that I will have a reasonably mobile future(college student), so for the sake of conversation assume that I'm talking about tree sizes between mame and slightly larger than shohin.  Many of these projects are also meant to be (very)long term or learning tools.
My most recent project is a miniature greenhouse made with a cheese puff container(about 1ft diameter), aquarium gravel, small pot, soil, and water.  I punched 3 small holes near the top rim of the container to allow for thermal and gas exchange then planted a few Ficus benjamina seeds which will probably end as houseplants given to friends if they actually germinate.  Any comments or ideas on what is right/wrong or could be improved?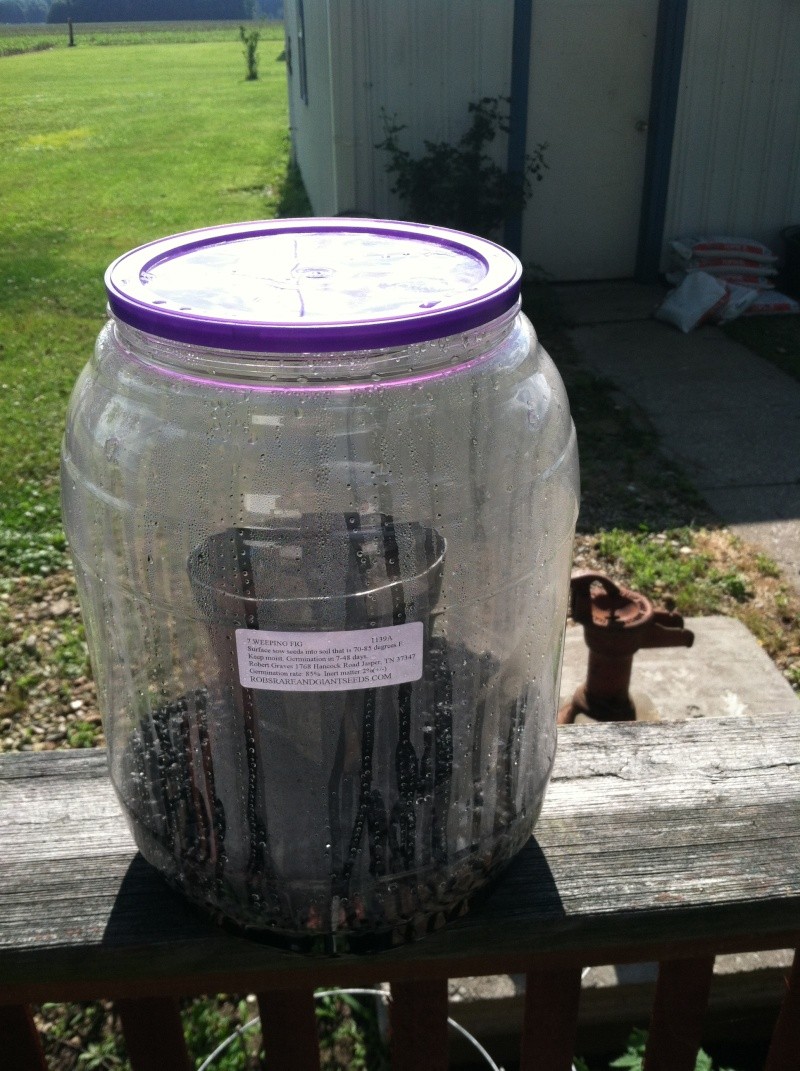 I've also read that many ficus species react favorably to increased temperature and humidity and actually tend to develop a greater number of aerial roots when exposed to high humidity. Could this greenhouse be used to improve the living conditions of my trees when they are wintered indoors or possibly promote the growth of aerial roots?
Last edited by Ashiod on Fri Jun 28, 2013 11:00 am; edited 4 times in total

Ashiod

Member





My second project involves a Ficus benjamina which I received via snail mail a few days ago(hence the stressed look).  From everything I've seen, Ficus b. fuses to other trees or itself very well.  The top portion of the trunk of this tree was cut, but there is a limb growing vertical that I intend to use as a new trunk.  Would it be possible to wire this together so that the limb fuses to and eventually grows over the remaining stub of the original trunk?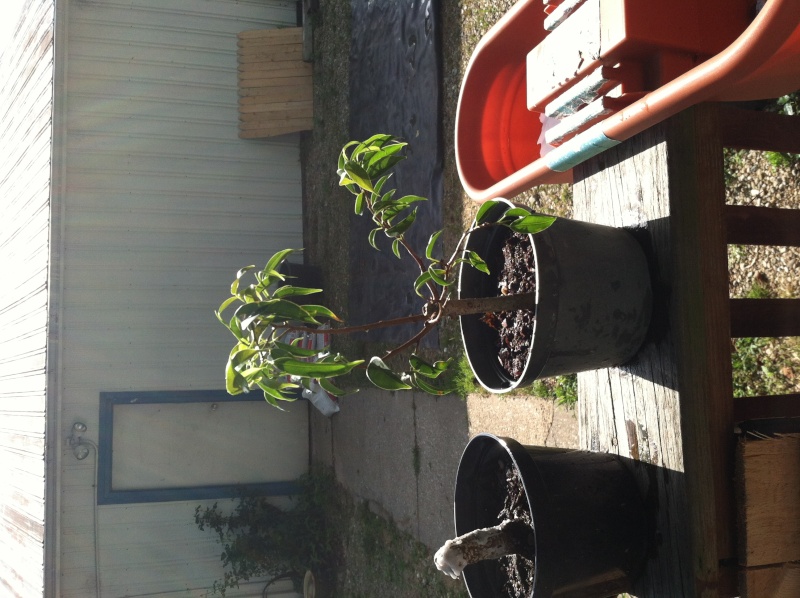 For those wondering about the wax covered stump, it's a portion of the particularly ugly(s shaped, wire scars, pruning scars, etc.) Ficus microcarpa that I procured last year. I decided to try dividing it into sections with sharp cutters to root the portions of the tree which looked decent. The stump is actually the rooted portion of the tree, and I used the wax to help prevent loss of moisture after cutting the tree. In retrospect, it may have been a bit of an extreme action...

Ashiod

Member





My final project involves the upper portions of the wax covered microcarpa stump. After cutting away the large, ugly s shaped bit which held the majority of the wire scars and knots I decided to make an attempt at rooting the upper portion of the tree along with several small hardwood cuttings. The larger portion is potted in a mixture of large organic particles(~20%), crushed marble(~70%), and aquarium gravel(~10%) which I found drains fairly freely while maintaining moisture in a dry house during winter. The small cuttings got plain top soil because it was readily accessible/convenient. The pots were then placed into a plastic bag and deposited on our deck where they get indirect sunlight as well as occasional direct sunlight filtered heavily by a giant maple. All cuttings received a dusting of rooting hormone. Any suggestions or ideas on how I could improve upon this setup or issues that may come up with these cuttings or my rooted, waxed stump? All of these trees will be placed in a decent bonsai soil mix once I'm satisfied that they'll survive.

Ashiod

Member





I apologize for the sideways orientation of the photos. For some reason, I can't get my photobucket links to work, and the built in hosting system seems to like the pictures sideways

 .

Ashiod

Member





It looks like a couple fun projects. Here is mine for reference:
http://ibonsaiclub.forumotion.com/t12302-indoor-tropical-led-experiment
A couple pointers off the bat. One get a cheap temp/ humidity measuring device. I think you'll find that the jar outside is getting way too hot. During the summer, just being outside is ideal for ficus. I put mine back outside as soon as the nightime lows get above 60f with no greenhouse like contraption. You can grow tropicals like ficus indoors year round with the right light and attention, but the inevitable pest invasion can be frustrating.
Good luck. I wish I had started a project like that back in college.

MrFancyPlants

Member





If you are using an I phone, make sure the camera is in the upper left when you take the photo and it will default to right side up.

MrFancyPlants

Member





I actually like both methods you guys used for your indoor growing. I think the pvc enclosures may be a bit overkill for my needs, but I may consider using a fish tank with a substrate heating method(heating pad or such) if the jugs don't work out. As for humidity and temperature monitoring, I actually have a digital temperature probe and hygrometers that I plan to use if I can find them. I'll probably be able to provide supplemental uv light by setting them alongside my lizards terrarium(she's ancient) which is already near a south facing window.

Ashiod

Member






---
Permissions in this forum:
You
cannot
reply to topics in this forum