Hello My Friends - Members IBC Forum ,
   You please tell me that ... the landscape - stone belove is displayed  Doha - Ishi  ( in Suiseki - Japanese ) ???
  Thanks for your comments .
  Sincerely ,
  Hưng - Trần .
1.                     
2.             
I see both examples as plateau stones


dick benbow

Member





Hello Dick Benbow ,
_ Plateau and mountain on examples ? Is that Doha - Ishi ?
Thanks your indication .
Sincerely ,
Hưng - Trần .
"Stone terrace" "Stone terrace" (or "ladder"), called Dan-seki in Japanese (dan = platform, terrace, seki = stone), are those stones that suggest a few steps, plateaus or terraces next to a hill, which rises from a cliff."Preferably, these stones must have at least two other steps of different lengths, flat and level, more or less parallel and be separated between them as masverticalmente possible, differentiating clearly each of the terraces or plateaus, reducing its length below upwards."Hillside stones "Furthermore,"hillside rocks", called Doha-ishi or Doha-seki in Japanese (do = way, plain, etc., has = contrast, in this case mentioned there is between the plain andthe mountain, i.e. hills, slopes, etc., ishi or seki = stone), they possess a flat and open space that occupies as part of the stone (2/3) and suggesting a set of shapes and lines that resemble a large plateau"Highlands or field with small hills, slopes that rise gently (with a certain angle) to a distant, soft and rounded, mountain located in one of loslados of the stone and that occupies less than 1/3 of the stone.
Hi Hung Tran...  Please consider the following in addition to Rolbonsa's definition of
doha-ishi
&
dan-seki
forms of suiseki.  A widely shared description comes from an article by Frank English (see his illustrations on the noted website)...
Frank English,

http://www.srmgs.org/suiseki.php

wrote:

Plateau Stones--DOHA ISHI

A level plain parallel to the base leads to a peak at one end, approximately 1/4 the stone's overall length.

Plateau joins the peak along an open-face diagonal as viewed from the front.

Some Doha, instead of level plains, feature low-lying foothills rising toward a distant peak.

River-Terrace/Step-Stones--DAN SEKI

Two or more ( more is better) flat parallel levels, including the top as one of these levels.

Levels vary in size and in height of vertical rise.

Top level has approximately 1/4 of the total area covered.
Importantly,
dan-seki
must have a flat crown atop other steps.  I like Rolbonsa's consideration of this flat area as "less than 1/3" of the stone's entire footprint.  Frank English suggests a precise ("1/4 of the total area...") mark which is fine for visualizing an ideal, but a stone nearer 1/3 than 1/4 is arguably just as ideal-- an ideal which fades as the top approaches either 1/8 or 1/2 of the total area.  Of course, neither of your stones are
dan-seki
in form.
The
doha-ishi
(literally, "slope stone" but also applied to "plateau stone" form) is most commonly recognized as the plateau form with a level plain.  As Frank English's article notes, some
doha-ishi
"instead of level plains, feature low-lying foothills rising toward a distant peak."  Your first stone is a classic plateau-style
doha-ishi
in form.  
Your second stone does not have an entirely flat plateau; therefore, it is not as classic (as your first stone) as a "plateau form."  If the undulating, shallow-crest foothills of the second stone were on a modestly rising hill in front of the a slightly or considerably off-center, separate & principal peak, then this stone would be close to one classic ideal of a "slope stone."  Other slope stones have a smooth slightly rising slope rising to the major peak.  As
doha-ishi
, both "plateau stones" and "slope stones" represent the considerably distant approach to a peak, and your second stone conveys the distance well as a hybrid form combining both plateau & slope attributes of
doha-ishi
.
Hope that helps...

Chris Cochrane

Member





My Friend Hung
Please see( aisekikai.com )news letter for May.
This was the topic for stone of the month.
discussion has many of the answers you look for.
see pictures which help understanding very much.

one thing I can add is that the Classic Doha stone
has the Mountain feature on the left side, is best.
Why? This is a Suiseki rule, taken from tea ceremony,
because the right hand washes the left hand first.
stonener
*if we choose to learn*


Hello Dick Benbow ,
Rolbonsa ,
Chris Cochrane ,
Stonener ,
and all Friends - Members IBC Forum ,
I thank so many of your instructions ... And I have learned to understand more of these articles and pictures that you showed me .
Sincerely ,
Hưng - Trần .
Hi Joseph/'stonener'...  Please share your source for preferring a
doha
with its peak on the left side. Does this mean the "left side" when facing the stone or the left side of a stone which is facing outward?  I've several "plateau" (as well as "terrace/step") stones with peaks on the left side (when facing the stone) by chance (rather than choice) of purchase and collection.  
At first blush, the location of the peak determines the visual flow of the stone, which can be toward the left or right depending upon use.  I would prefer to have stones with visual flow to the right as well as left-- both are essential for exhibition display & intimate display, for me.  
On the other hand, I greatly respect the discipline of tea ceremony which requires serious students to accept ritual performance.  The display school of
Keido
(for arranging bonsai, suiseki or kusamono in
tokonoma
) also requires this discipline of ritual performance.  Through accepting disciplined movement until it becomes habitual, the student pays
very close attention
to small things and (through mindfulness) becomes more open to appreciate experience of an atmosphere that unfolds separate from the ritual or the objects within it.  While it sounds paradoxical to become more open to experience by focusing on minute details until they become habitual, I recommend the leap-of-faith in attempting it through a knowledgeable teacher.  When/if you have that "ah-ha" experience, it will serve you for a lifetime.  
An "ah-ha" experience (in
Keido
, in tea et al.) leaves its subject longing to return to that perfected moment.  It remains somewhat beyond grasp though the longing-itself feeds inspiration, hope and a more authentic existence.
As Joseph notes,
chanoyu
(Japanese whipped-tea ceremony) requires rigid discipline. A wonderful article called the "The left hand of darkness?" is accessible
HERE
.  Be sure to read the comments which include the description of an Urasenke tea room designed for
gyakugatte
, which literally means "opposite sides."  For tea, it is a ceremony where guests are seated to the left of the host instead of to the right. The ceremony is not done opposite in
gyakugatte
-- you do not use the left hand for things normally done with the right hand et al..  Still,
there can be allowances
as a left-handed enthusiast notes in the comments.  
Tea ceremony is said to stagnate when focus on utensils is so obsessive as to drown individual expression.  Early proponents of sencha steeped-tea complained of
chanoyu
(whipped tea ceremony) becoming "utensil tea"-- wrongly focused on the decadent value of objects and their owners (valuing knowledge and possession over spiritual purity).  They were baffled at serious tea enthusiasts spending more effort at collecting valuable Chinese & Korean as well as Japanese utensils owned by previous enthusiasts than effort was spent on the appreciation of a simple yet noble ceremony.
Respecting both Joseph & his teachers, I accept his assertion & hope to learn more.  My gut says that a stone with visual flow to the right should not be ignored or dismissed in the least.  Without more better understanding, my illusion is that such stones are required for elegant display.

Chris Cochrane

Member





Konnichiwa Chris!
I do not wish to ignore any teaching nor dismiss any stones.
but simply to a wealthy exchange of knowledge as we are.
Answers you seek for the most part can be found in Newsletters
for May & June see    
    aisekikai.com
Exact Teachings of Sensei  Juneu Kim, Quoted.
written requests for details can be sent to:
    koreanviewingstones.com  
Yes Chris left hand side of "DOHA-ISHI"
as you face the stone 11.5 X 7.5 X 4"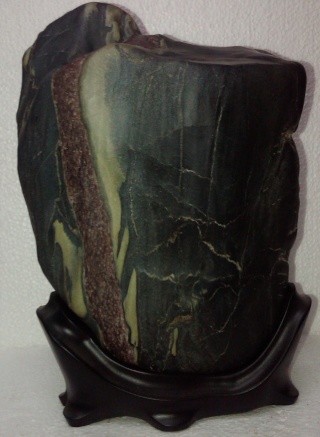 all three categories talked about in this topic
My Friend Hung
Thank You for asking and opening the door!
for all of us who really hunger to learning!
I too prefer having stones with their flows to both sides...either left or right, as they are useful in displays with f.eks. bonsai....
I find it easy to look at a doha with the mountain in the left side, as this make me stay in the clockvise way, people are " tuned in ", by nature.
A stone with the mountain in the right side, will demand more from me, and letting the stone ask for more attention, witch I also like.

Kind regards Yvonne

---
Permissions in this forum:
You
cannot
reply to topics in this forum