"For a species that can grow up to 380′, Coast redwoods can make surprisingly compelling bonsai. They typically feature massive trunks with lots of deadwood. I've always thought of this as a result more of a general bonsai aesthetic than a representation of how the trees typically grow – tall and thin in this case. But like other species that make good collected bonsai, redwood can show a lot of character in the trunk."—Jonas Dupuich, 2010
This is my coastal redwood bonsai. I've been working with it as a bonsai for almost exactly one year. In that time, I've carved the deadwood in the trunk using carving tools, rotary tools and a torch, for removing fibers that stick up, as well as to singe the wood.
I more or less allowed the crown to grow as it wanted, shaping and wiring it periodically to the rounded form you see here.
There is no tree like this in nature. It is a constructed tree, based on a bonsai aesthetic of extremely thick trunks, carved deadwood, and the appearance of age using carved deadwood and falling branches.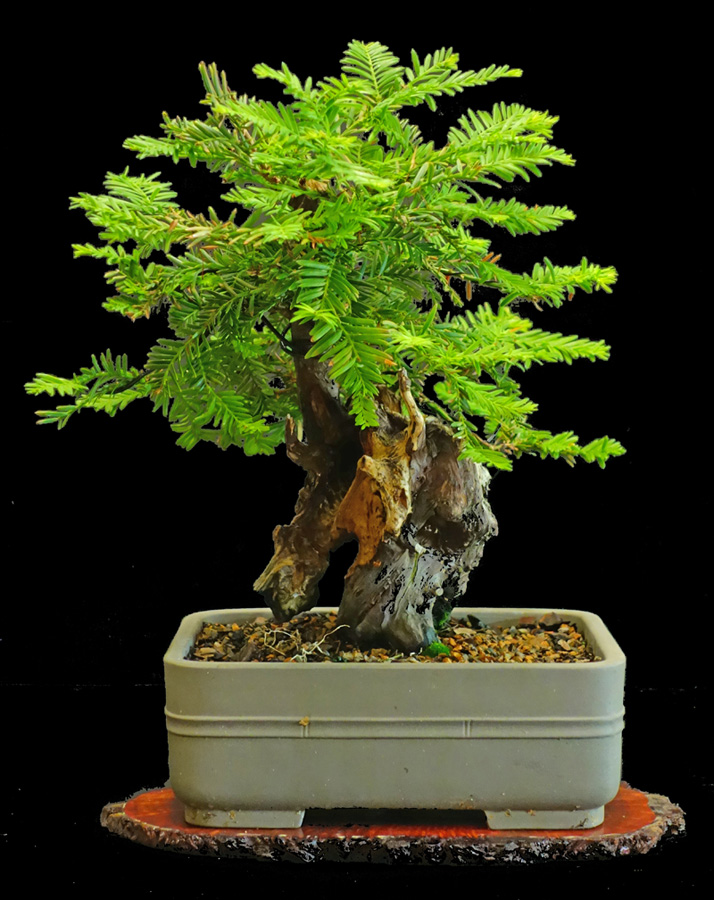 I like it a lot.  However; if it were mine I would be trying to expose some branching and reducing the size of the foliage.

Vance Wood

Member






Vance Wood

Member





You sure made a difference with the trim !!!  I like it a lot..  good job..  take care  john
Thanks, Vance and myogijohn.

---
Permissions in this forum:
You
cannot
reply to topics in this forum