This weekend our local bonsai society hosted its 40th Upstate New York Bonsai Exhibition. During the same time my annual Spring Open House and Sale was held in my garden. The studio tokonoma alcove is changed often and I designed a special display to welcome guests for the weekend.
I've been setting up and refining several displays in preparation for my 50th Anniversary Bonsai Exhibit at the International Bonsai Colloquium in June. Twenty five of the finest bonsai I've been working on will each be displayed in distinctive compositions. So, I used the weekend to experiment with several displays in our club's show and the one the studio tokonoma alcove.
Main bonsai: Golden full-moon Japanese maple, Acer japonicum 'Aureum' ('Kinkaure')
Scroll: Hand painted by Seiji Morimae
Accessory: Metal hut incense burner
This quiet display is my taste and will probably be included in the special exhibit. I also set up a few more in our club's show, some worked and some will be further refined so visitors can enjoy and appreciate the full beauty of my bonsai.
Bill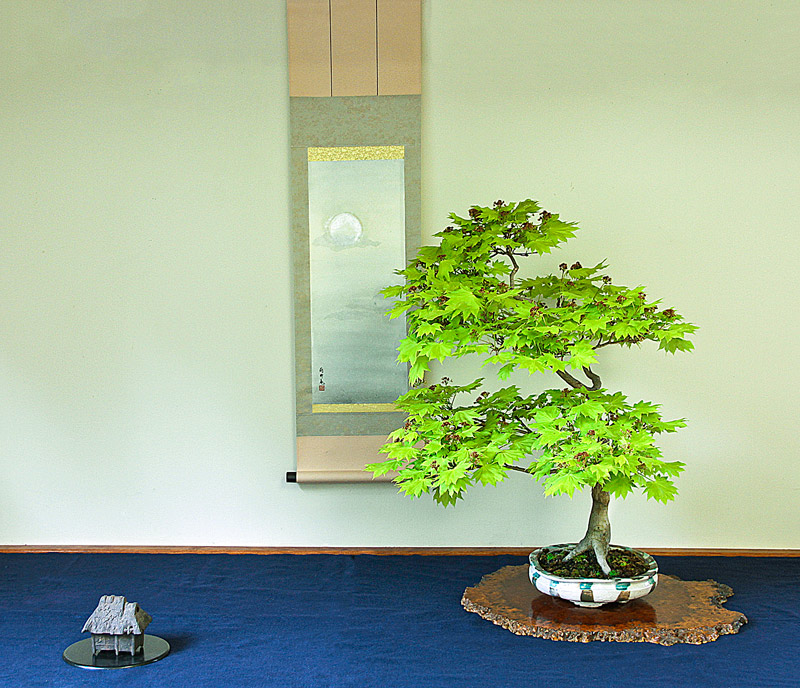 William N. Valavanis

Member





Beautiful display Bill.
Thanks for posting.
Tona

Tona

Member





The best part (for me) about that Full Moon are the flowers. Seeing them hanging there invited me in for a closer look. The 'dime tour' of Bills library blew my doors off too.

It was a great weekend all around.
-Jay

drgonzo

Member





Bill,
A very nice display! Not too subtle with the silver and golden full moons, but lovely!
Morimae paints? No kidding!? I gots to get me one of those. Maybe this July ;-)!!
Ryan
Http://JapaneseBonsaiPots.net/
I really like this tree, Bill. Golden full moon maples have become a must-have tree for me.

---
Permissions in this forum:
You
cannot
reply to topics in this forum