Hi All,
I have two Crabapples with, I think, two different leaf problems.
With the first, the leaves go kind of reddish pink and blotchey.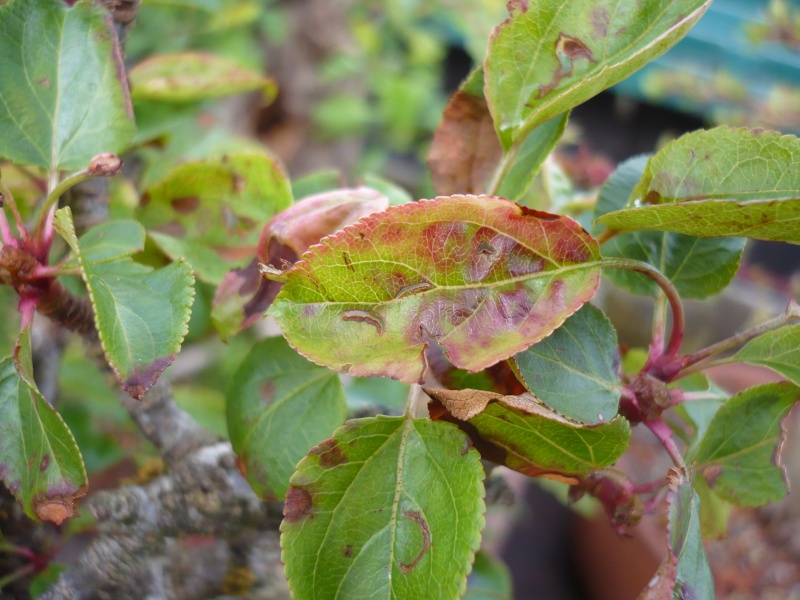 jason.p

Member





And the second, which I am having trouble uploading a pic of, is a brown dead area spreading outwards from the centre of the leaf. I'll either post a pic, or launch my laptop out of the window.

Cheers
jason

jason.p

Member





Apples are susceptible to numerous fungal & bacterial diseases, especially in rainy spring weather. Make sure your trees get maximum sunlight & air circulation. Spray regularly with a fungicide listed for fruit trees. Unless you have too much work invested, older disease-prone cultivars should be replaced with resistant varieties.
Iris

bonsaisr

Member





Thanks Iris,

I've given it a spray and will keep doing so throughout the season. I think the two problems were just different stages of the same disease.
The trees are just small collected stock but its never good to lose anything if it can be prevented.

Regards
Jason

jason.p

Member





Turns out it was Scab. Apparently removing all leaf litter and spraying with systemic fungicide will sort it out.

Cheers.

jason.p

Member





---
Permissions in this forum:
You
cannot
reply to topics in this forum