First tree
This Crategus Monogyna was dug up in january 2007, and placed in pot, it is in now...It can easily go dawn in a lower pot now, I just dont have a pot now.
It was cut, as it is now, and had only very few twigs on the lower part....A tractor had made an ugly flaw on it front of the trunk, so I decided to hollow the tree, it will be worked on a little by little.
I have my plans with this tree, and love to work on it.
Kind regards Yvonne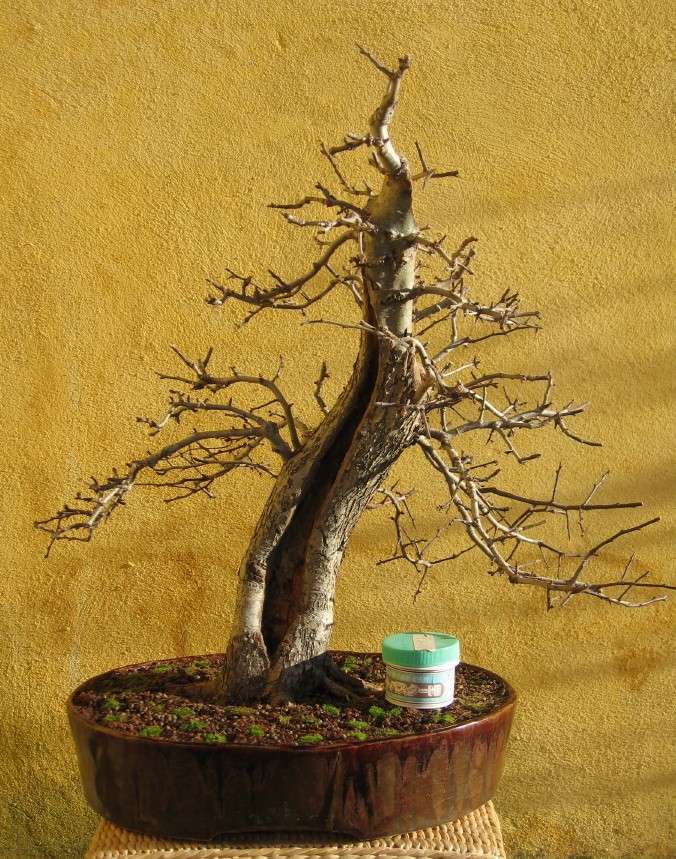 Second tree
This Crategus Monogyna was also dug up on the same day. It was placed in a deeper pot, but last year, it came down in this shallow pot, next winter can I remove the last fat root, and just wait for the new neabary to grow fatter....the top will be grown up, and cut back many times, and it will end up, with being placed in the side of the tree, insteadt of comming from the back.
Kind regards Yvonne...I forgott to say, the other tree had a cluster of flowers on a low branch last year

posts moved from another thread at Yvonne's request.
_________________
"Espouse elucidation"
_____________________________________
my website

fiona

Member





Many thanks Fiona.

Kind regards Yvonne
Nice trees bud I think personalty that they are stilled like a evergreen.
The branches especially in the top of the tree shut grow up in mine opinion.
Nothing you can't fix later I think.
I like your work on the first one.

Thanks for posting,
Cees.

Cees

Member





Hi Cees
I am happy you see it too

...the trees have later been up in other topics, as I knew I was on a wrong path, I have restyled the trunks compleetely....they are now very much shorter, and is being "hopefully" grown, as hawthorns are growing, ..or at least like the way a broadleafed tree will grow up and form a crown.
Kind regards Yvonne
Good luck with the trees.
Show some pictures from the development if you can, this is one of my favorit species.

Cees.

Cees

Member






as soon as they show some of the things, I like to happen.
Kind regards Yvonne

---
Permissions in this forum:
You
cannot
reply to topics in this forum