I need some advice from someone experienced with yew bonsai.
I am developing 2 taxus bonsai, each about 30 years old (one is T. baccata and the other T. x media, which is a cross of baccata and cuspidata).
In February, I pinched each back hard and have been awarded with extensive new growth. The new foliage is lush, but loose and elongate.
I know that I need to pinch back again (often) in an effort to develop tight foliage pads.
However, does that entail pinching off ALL of the new growth, or just pinching back the growing tips, leaving most of the young needles?
Thank you.
when it comes to yews how much to pinch depends on your current state of development are you refining a picture would help.
I hope these images come across. The T. baccata is about 16 inches tall. The T. cuspidata is about 32 inches tall by 28 inches wide.
Thanks you for any advice.

Addendum: Clearly the images I attempted to post did not come across. My IT helper could not figure out how to post on this site.
Any directions would be appreciated.
Last edited by katydad3 on Tue May 14, 2013 11:22 pm; edited 1 time in total (Reason for editing : failure of images to transfer)
well here is how i pinched the edge of the pad but i am still allowing the growth on the top to still grow but will be pinched later
heres the tree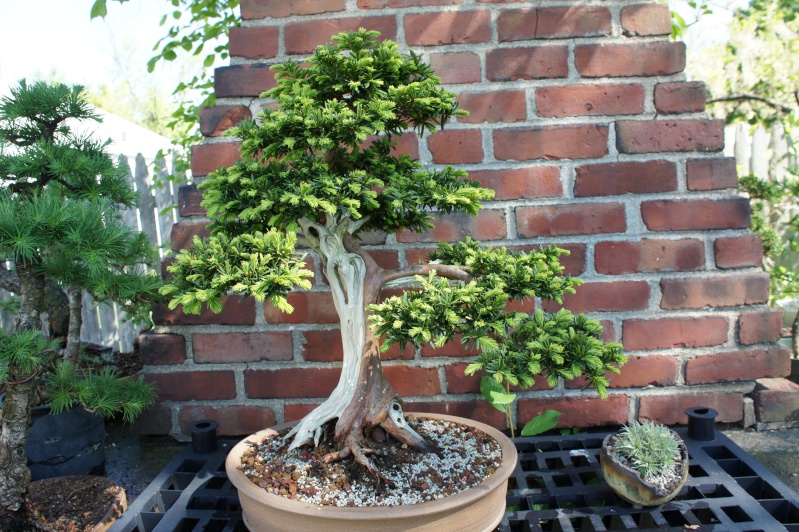 the new growth at edge of pad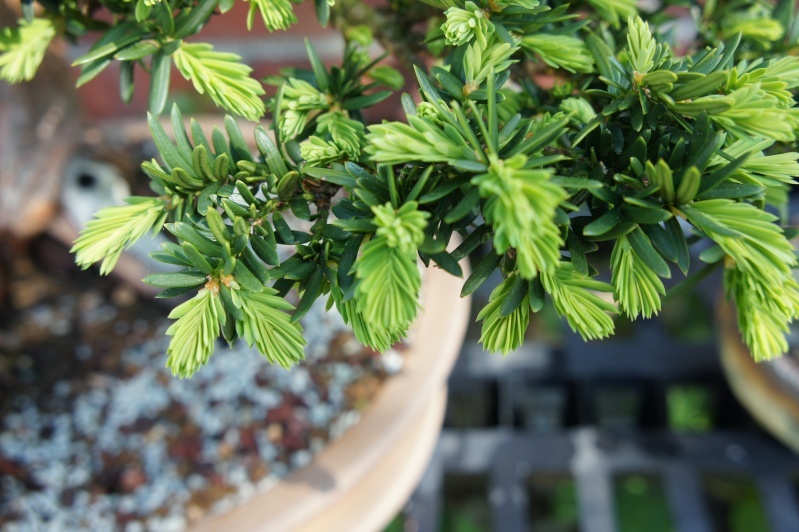 here how much i take off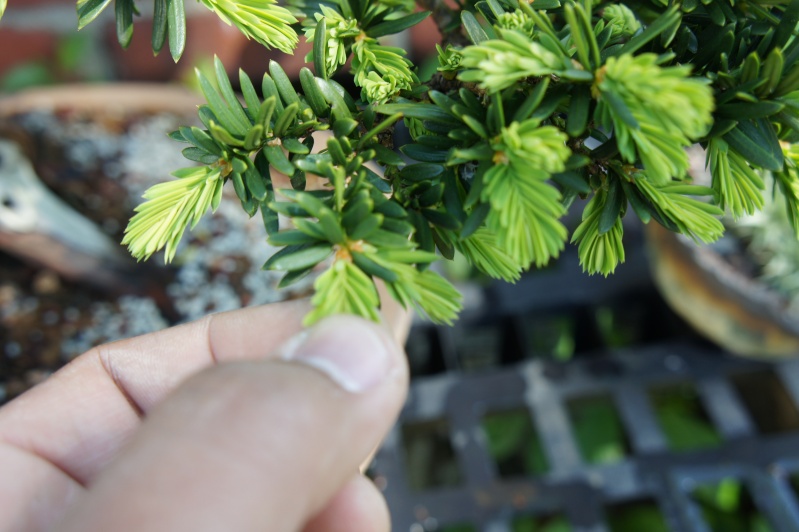 heres whats left
i do this on all pad that are the right size if they need to grow out i will not pinch anything and for posting pictures you have to use the host image then copy and paste the hosted image in the insert image
Thank you. My new foliage looks just like your pictures. My question now is:
To create tighter pads, do I pinch off ALL of the new foliage, or just the growing tips?

(by the way, we did try to post photos precisely as you advised. It didn't work and my IT helper couldn't figure
out why. Thanks anyhow.)
that question is kind of a hard one as there is more than one way to get the same result. but to get dense tight pads i would pinch most but not all of the new growth and time.time to fill in
Thank you. That is helpful.
Hello Katydad,
Taxus produces male and female shoots,
the female stay short, make flowers and fruit and have no buds on the end.
For ramification and branch building use only the male shoots.
When the new growth starts hardening, (the fresh green shows darker lines), you can cut shoots.
Taxus activates two times in a growing season new growth, this means good watering
(locally for me this is march-may and july-august)
For back budding, pull old needles in the direction of the growth and leave 25% of the new needles on the end,
on the places where needles are pulled, new shoots will appear with shorter needles.
Cutting back (or repotting) should be done before midsummer.
Wiring of a branch with some good bending will provoke back budding as well.
Taxus loves sun, but do not let the soil surface dry out because of the fine surface roots (use fine grain and moss).
New shoots are delicate, better wait a bit with wiring.
Sunip

Last edited by sunip on Sat May 18, 2013 8:48 am; edited 1 time in total
katydad3 wrote: It didn't work and my IT helper couldn't figure out why.
Hi katydad3. SOrry to hear you're having difficulty with posting pics. Has your IT helper read the posting images tutorial? If he/she has, PM me with details of what system you are using and what methods you have used so far and we'll try to work out what the problem is. If he/she hasn't, you can find it by clicking
HERE
Last edited by fiona on Thu May 16, 2013 2:01 pm; edited 1 time in total
_________________
"Espouse elucidation"
_____________________________________
my website

fiona

Member





Thanks to everyone for your generous help.

---
Permissions in this forum:
You
cannot
reply to topics in this forum