Beni Chidori Japanese maple,
Acer palmatum
'Beni Chidori,' is a cultivar commonly trained for bonsai in Japan because of the intense red spring coloring of the new growth, delicate twigs, small foliage and ability to withstand pruning and container cultivation.
My multiple trunk specimen was originally started by air layering from a large garden tree. It was first established in a bonsai container for vigor. In 2009 after careful study one trunk was quite straight without movement, while the others had curved trunks and did not harmonize together. In April 2009, rather than pruning the straight trunk, it was air layered to create another bonsai. In July the rooted air layer was removed and planted directly into an oversized bonsai container for training.
A couple of weeks ago I figured out what to to with the multiple trunk Beni Chidori Japanese maple. Alone, it was not too refined and lacked the structure for my design concept for a refined bonsai. So it was planted on a curved rock where the stone was an integral part of the total bonsai form. Together both the multiple trunk tree and curved rock work together synergistically to create a pleasing bonsai form.
The straight trunk air layered section was beginning to develop into a bonsai form so it was transplanted into an appropriate bonsai container as well.
The early spring growth is an intense red and I got too busy transplanting and working on other trees and did not have time to photograph it at the appropriate time. Next season I'll try to photograph both bonsai at the correct time.
Bill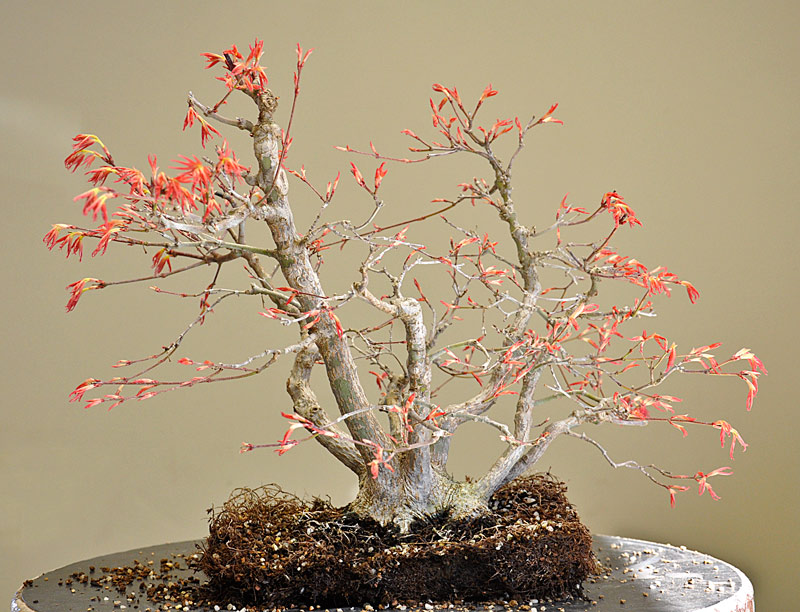 April 9, 2009 before air layering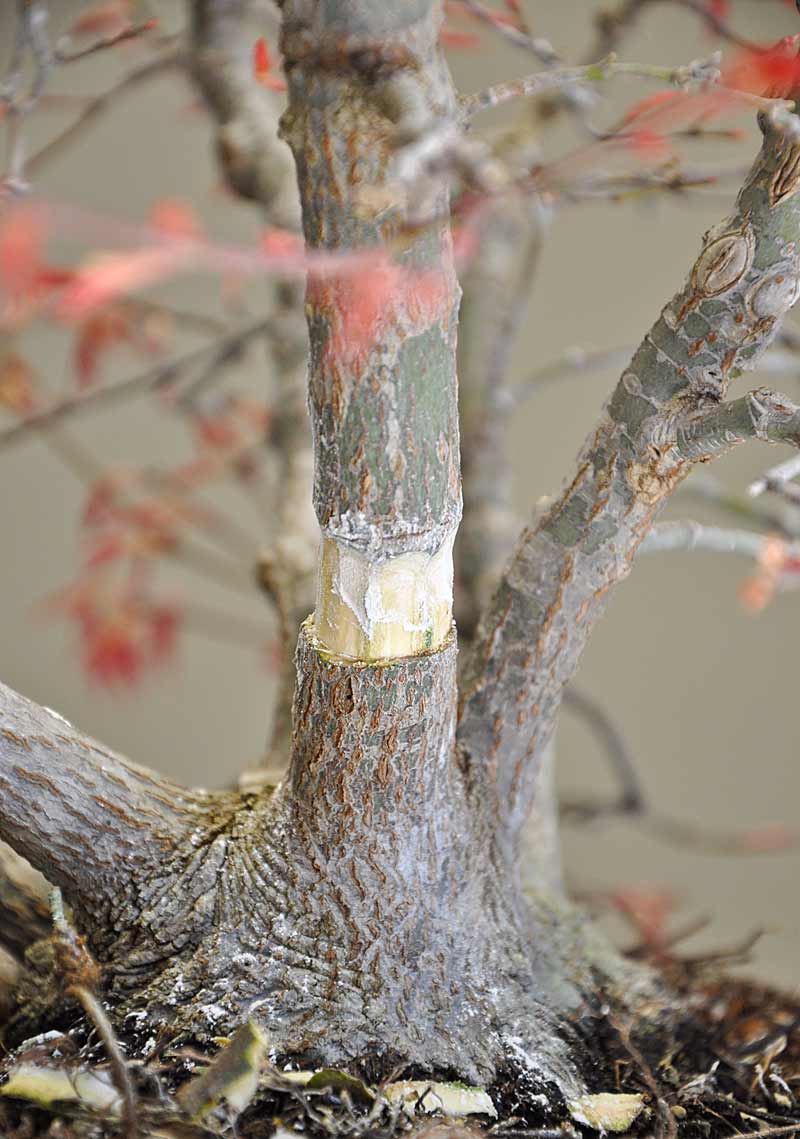 Straight trunk being air layered
July 21, 2009 well rooted before removal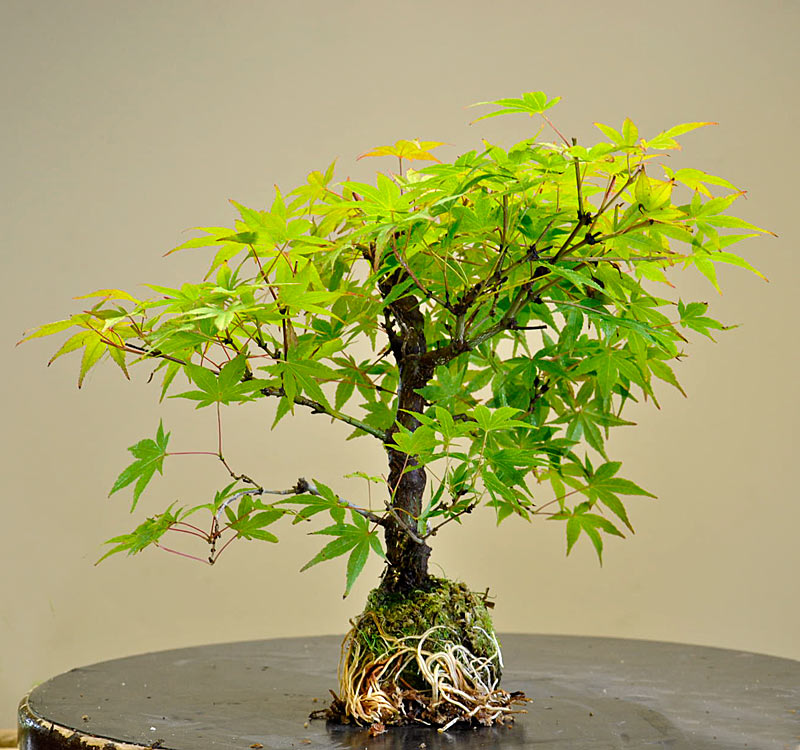 Removed
Initial potting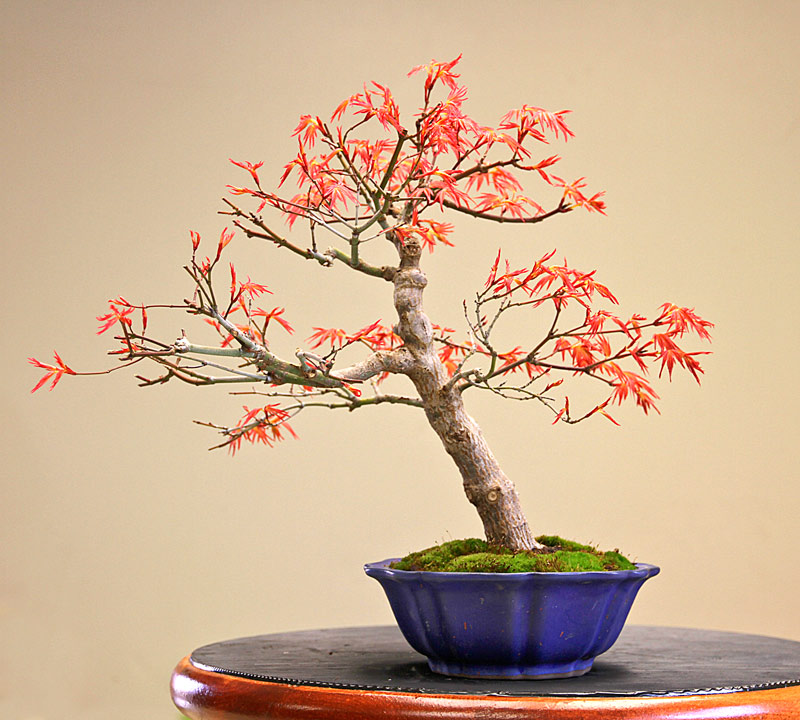 April 29, 2013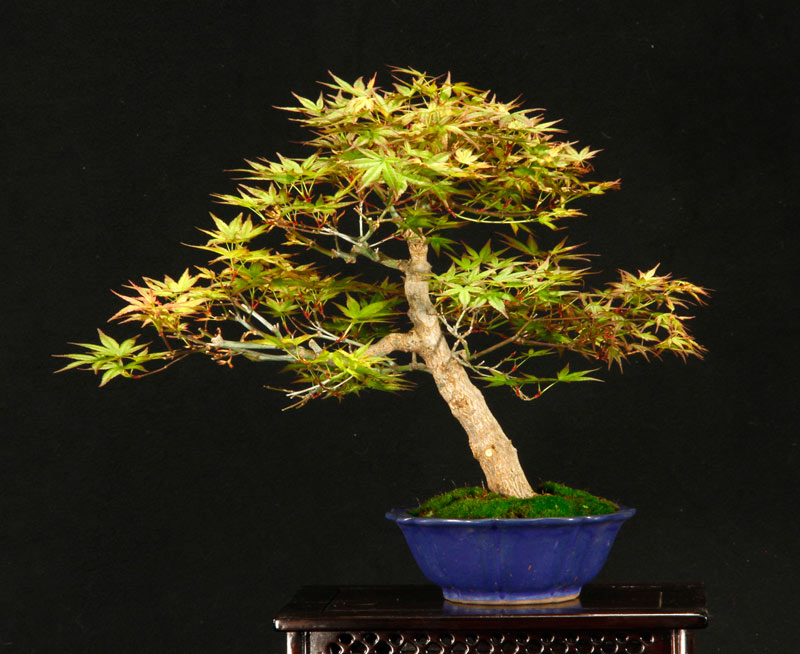 May 10, 2013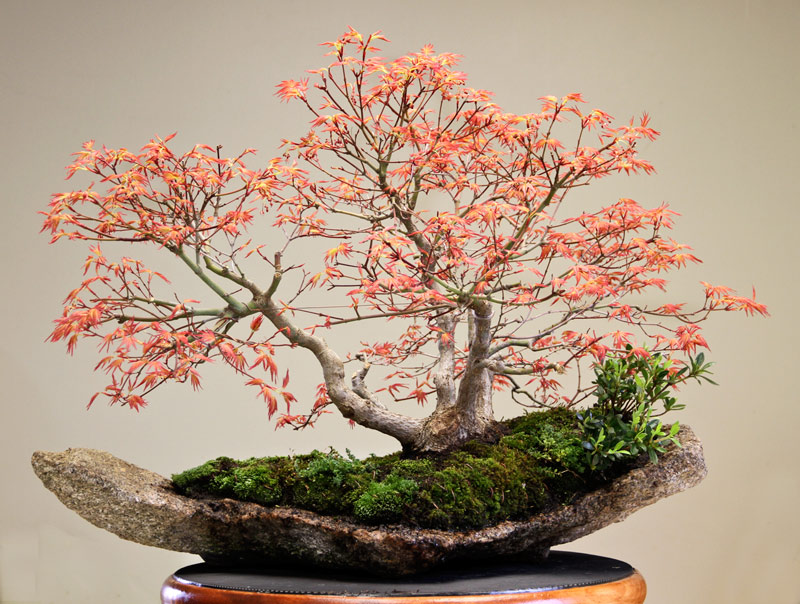 April 29, 2013 planted on curved rock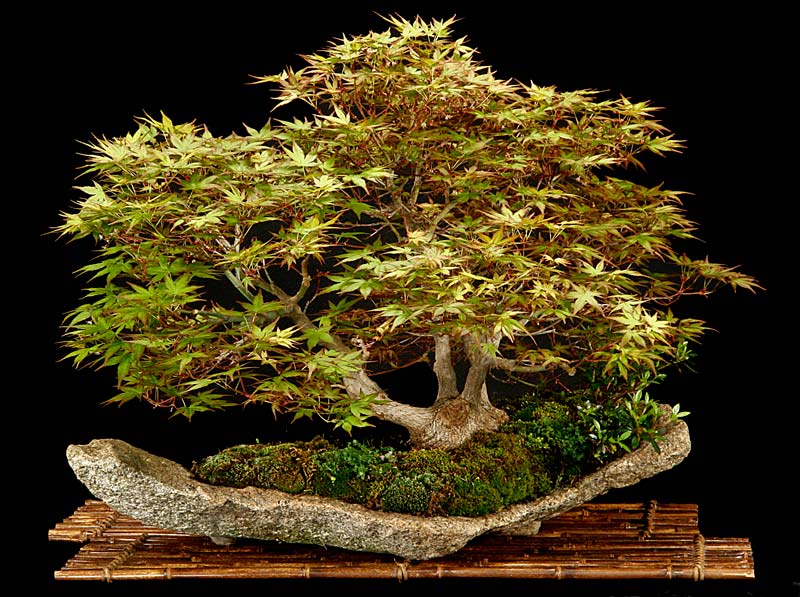 May 10, 2013

William N. Valavanis

Member





Very nice composition; tree and stone together ... it has a very natural feel to it. Is that a New York stone?
Todd

Todd Ellis

Member





The air layer is turning into quite a nice tree in his own right.

I look forward to seeing both next weekend.
-Jay

drgonzo

Member





Good job Bill! I really like what you've done here. I'm slowly trying to work on growing Japanese Maples here in Cape Town, but we have SO much wind and our winters are not that cold, so trees don't rest well. I'm envious!

Cheers,
Andrew
It's a great history and nice trees. The most I like topics like this!

AdamJonas

Member





I'm pleased some people like my new rock planting. I'm not certain where the rock came from, but probably New York State.
A different Trident maple rock planting was created by Yuji Yoshimura in the 1960-1970s and went eventually to one of his students who gave it to me a long time ago. I just allowed it to "mature" and finally because of lack of repotting the Trident maple forest began to lift itself off the rock.
Books, articles and authorities recommend to transplant deciduous species just before they leaf out. I forgot that lesson and commonly transplant deciduous species, especially maples, when in full leaf with no problems. So in May 2007 my two friends helped me remove the forest from the rock and we used a Sawzall to cut the solid root ball flat to replant in a shallow container. We never leaf cut the tree and it kept on growing.
Attached are a few older photos and one taken last autumn. This spring we transplanted it and it looks so much better than in the past.
Bill
PS: Yes, for those of you who like to count, there are FOUR trunks, and they do not bother me at all...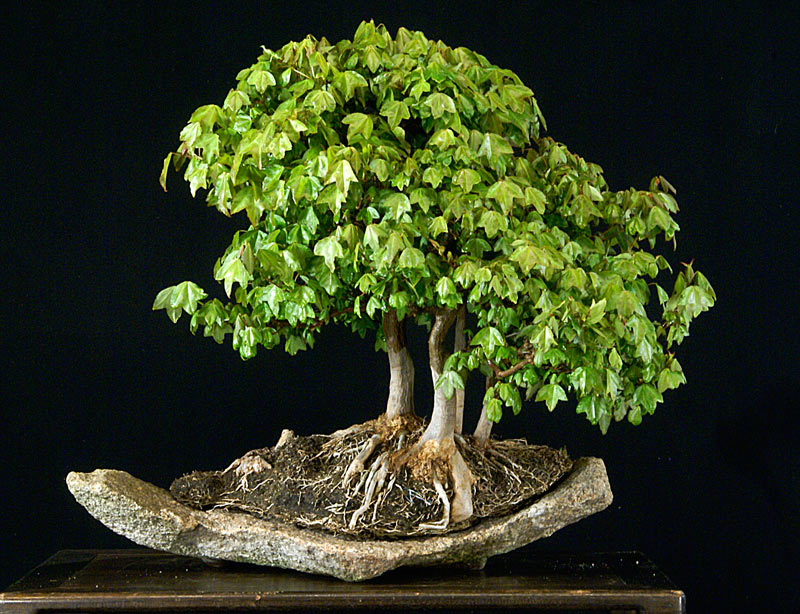 Original Trident maple on the same rock before removal in May 2007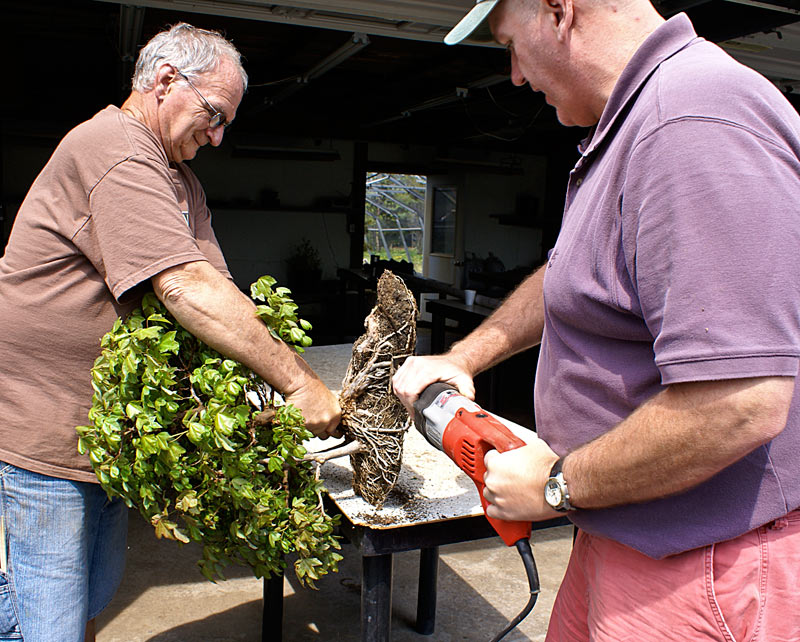 After lifting the forest off the rock we cut the root ball flat using a Sawzall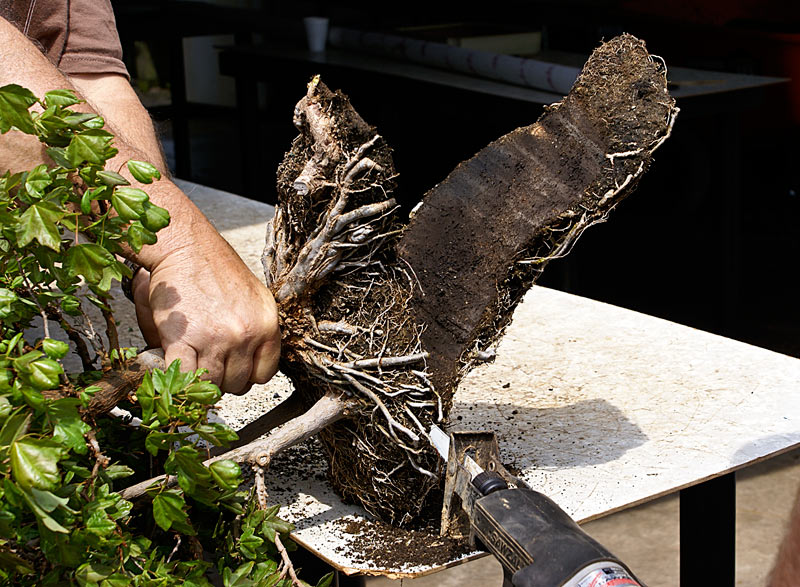 The root ball was kind of solid and we peeled away the lower section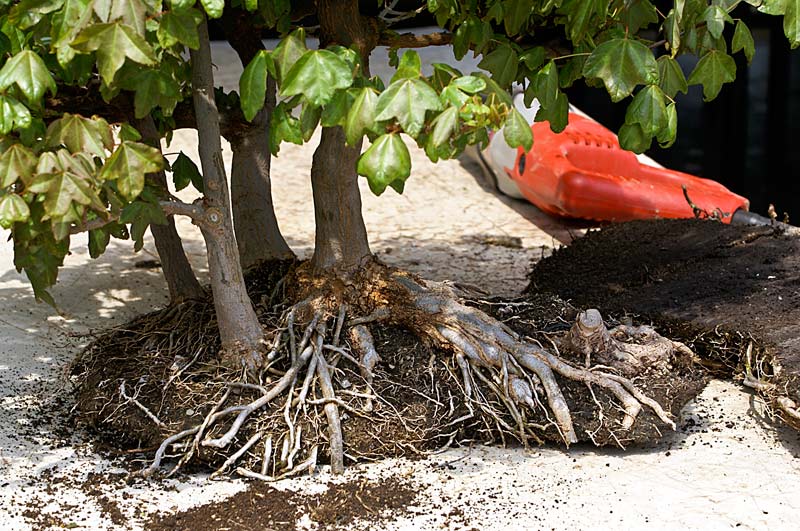 A few more horizontal cuts were made to make certain the trunks were vertical
After initial potting after removal from rock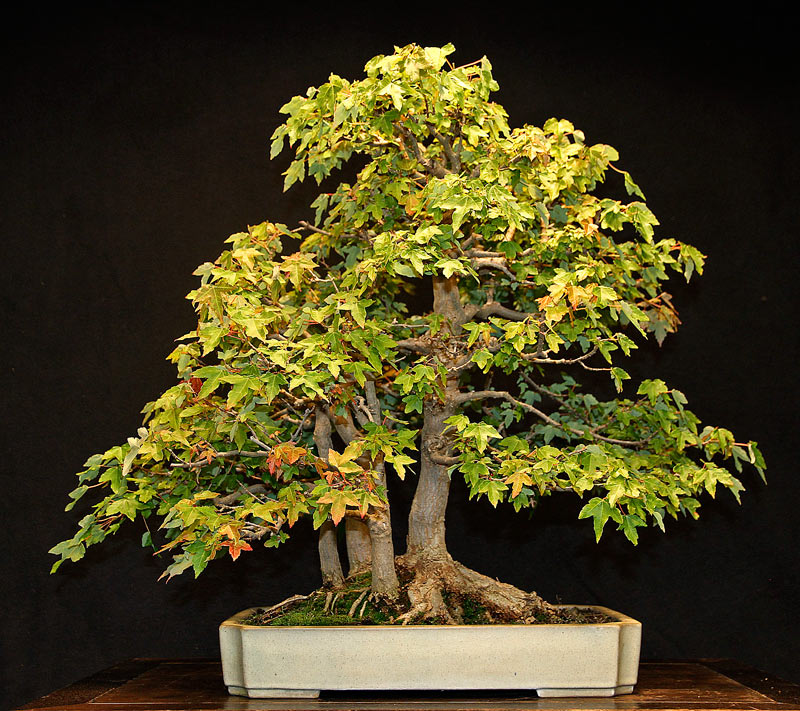 October 2012, looks much better now

William N. Valavanis

Member





All the way around, very nice trees, photos, and ideas, Bill.
I am really glad to hear an experienced grower say that he is not bothered by even numbers of trees in forests. I think a good forest bonsai should create that "I'm walking in a forest..." feeling, regardless of whether it has an even or odd number of trees.

Todd Ellis

Member





Thank you for taking the time to post this Bill. How long ago was the airlayer done?

Have a great weekend!!!
Sam

Sam Ogranaja

Member





William N. Valavanis wrote:

PS: Yes, for those of you who like to count, there are FOUR trunks, and they do not bother me at all...


Oh heck . . .

. . I missed THAT!! Now I can't like it any more Bill . . . . . sorry - The Rules forbid me! All hail The Rules! You'll need to throw it out now Bill . . . before it infects your other pure trees . . . . . we have a good dump just round the corner from my house. Mail it to me and I'll dispose of the vile object for you. You can think of the postage costs as a minor sacrifice to The Rules.
I love it Bill! very nice composition...is Doug missing a finger???

If you are lucky, maybe the same folks bent on the rules will pop in and lecture you on a 4 tree groups like they did me!!
Quality work as always!!
John

---
Permissions in this forum:
You
cannot
reply to topics in this forum