Minnesotans love their rocks but few understand the art of suiseki. The Minnesota Bonsai Society held it's yearly judged show this past weekend at the State Fair Horticultural building. Almost 2 million people were at the record breaking fair this year which kept our club very busy explaining such things as: the difference between "years old" and "years trained". It seems very important to the public to know the age of each bonsai

Our club has, over the years, shown very fine stones
but
as an accent for the bonsai. Several members have formed a loose-knit group of viewing stone hunters and the rivers running into Lake Superior have yielded a great source of worthy stones. Last year a member of our stone group showed the first formal stone display and this year it was my turn!
My objective was to create a formal display that would appeal to the casual public. The figure(rabbit) stone is Vancouver Island limestone, the accent plant to represent food for a rabbit, and the scroll with calligraphy (which I "think" says "Peter Rabbit") . During my shift at the exhibit I sat near my display and got a chance to see the public reaction to the lone stone display. Many asked about the absence of bonsai , several asked the age of the stone, but most of the people understood the hungry rabbit looking at the plant

Because there was no listing on the judging sheets for a suiseki display, I had asked for an informal critique by the judge , Rodney Clemons. He liked the display calling it "playful" and gave it an "Award of Merit".
The 2 photos I'm showing are [the display set up at my home] and [ at the fair]: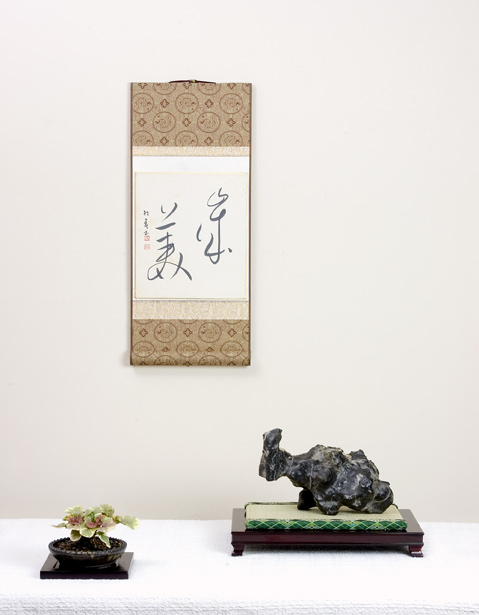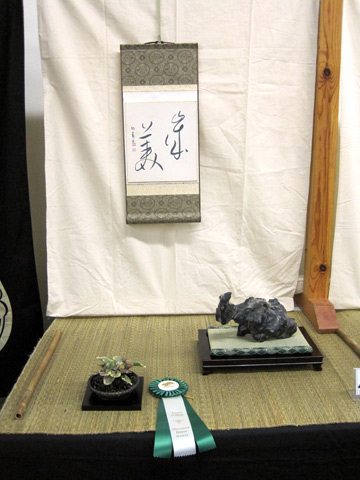 Just an added thought, if anyone can read the calligraphy on the scroll, I'd love a translation!

Norma

Member





The scroll reads...

TODAY'S SPECIAL!! Rabbit Stew

iasnore

Member





Hi Norma... The common kanji character for
usagi
("rabbit")-- see
Japanese rabbit
.
On your scroll, the character to the left could be the Chinese character
mei
"beautiful" which can be pronounced
bi
,
mi
or
utsuku(shii)
in Japanese. It often appears in compound words.

Chris Cochrane

Member






---
Permissions in this forum:
You
cannot
reply to topics in this forum