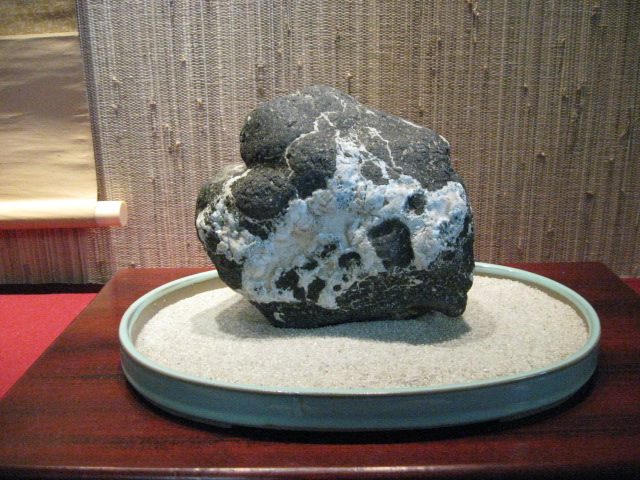 Last year I ran across this stone. It spoke to me so i brought it home. It's bottom was so uneven to make a daiza for, and i didn't want to have it cut, I stuck it outside to be continually exposed to the weather while i thought about it.
A few days ago I went thru those retained but not chosen and it seemed to literally jump out at me. So I found an apprpriate suiban and displayed it in my tokonoma. this was quite an "aha!" moment. many was the time I left things behind that I wish I'd have put on the bone pile.
Any stories you can share from similar experiences?

dick benbow

Member





Hey Dick!...Ya kinda the same story...

I also have piles in the yard, some get noticed right away!
others take time or by chance, maybe even luck?...

I collect by color, if it stands out underwater I take a chance,
haul it home and then later look at it some more.
Was going through a pile for donations to the Library stream bed,
and half buried, was this bloody "cow pie" looking stone....

After making three piles out of one, for shape, color and ware
I started loading rejects on to wheel barrel to take to my truck.
Picked up cow pie and tossed it in, but it landed other side up!
bingo there was the image that almost got away.
" x marks the spot", as in burried treasure map..

So then after bringing it into the kitchen for cleaning.
a day or two later while sitting in the sink,
I then saw something else, not seen before....

woop there it is. "old rugged cross" Jesus crucifixion site "Mount Calvary"...

Last edited by stonener on Wed Apr 24, 2013 9:09 am; edited 1 time in total (Reason for editing : +)
Dick! IMHO
A little food for thought?...

nice double mountain top,
relatively flat bottom
same suiban just add more sand.
stonener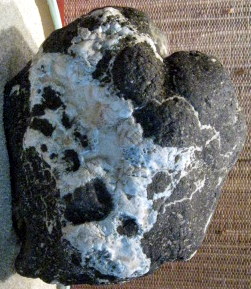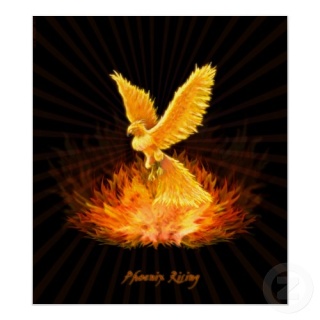 "Phoenix rising"
As always I appreciation your assistance and enthusiasm. Also I need to profusely thank-you as I got notification "I'm In" to Aiseki Kai, thanks to you!

dick benbow

Member





Dick I hope you find the news letter as inspirational as I do!
it can be a great resoure if you choose to take advantage of.
Ask Guy Jim colum your display questions, spacificly.
no better source on display in U S...

stonener
good to know, thank-you!


dick benbow

Member






---
Permissions in this forum:
You
cannot
reply to topics in this forum