This is a palmatum I have since a few years, I chopped it down this spring to try the "clip and grow" technique. It is very vigorous but I don't know if I should just let it grow wild or should I start doing anything about it
1. Picture 1 the red arrow: is it a potential future problem because it is forming a bump ? if yes what to do about it ?
2. Picture 1 green arrow: I guess this is higher than the other roots should i section it on next repot next spring ?
3. Picture 2: as you can see there are 2 potential leaders, should I chop lower to the red line ? I am looking for a mame or very small shohin size but wondering if I will have to layer eventually
Here are some pictures from last year before it was repotted to hel you better judge the nebari (or lack of)
I would appreciate any details/insights idea since this is my real first try to doing something with a tree so pour your hearts out
Hi Akhater
There is a problem with making shohin out of acers, when they are as young as this....The distance between the buds very easy become too long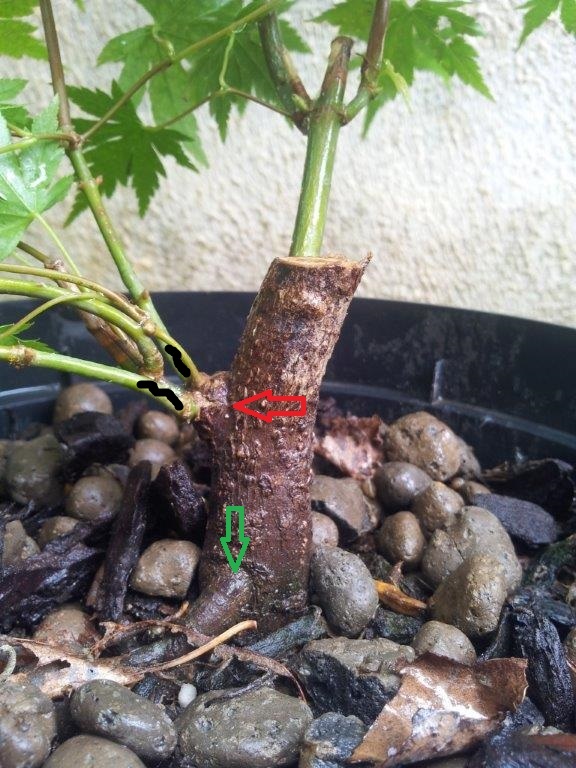 In this case would I only keep the branches marked with black for now, and remove the rest. Now will the branch in the front of the photo become a sacrificebranch on the backside of the tree...while the other can be prund as a branch.....but again, it is a bit to early for me to style the tree, and this branch must probably be renewed at least one time in the future.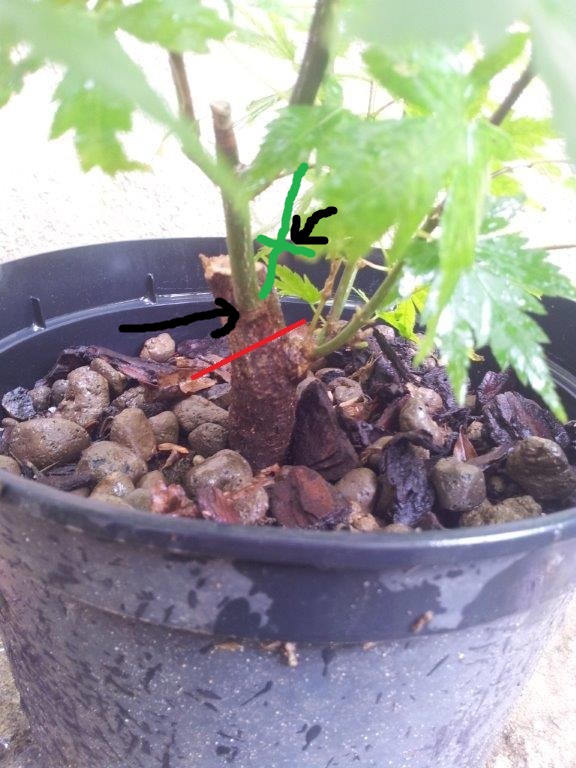 Leave the top of the tree to grow...but the distance of the buds to the maintrunk is too long, and the branch is useless....for now will the top grow fatter, and that is very nice.
Keep buds comming from the the spot ( lowest black arrow), and if a bud grow from the right side, is it a good idea to vire it up...(green line)..to become a future leader.
The black arrow to the left will become the second branch. Sparse watering give shorter internodes.
It is too late to repot now..but in the next spring, would I probably repot to a shohinpot, as it make it easier to keep the internodes short.
Let us see the tree again in 2 months, or if you want, before.
Kind regards Yvonne
Thanks Yvonne for the continuous support

I agree it is too early to speak about branches but what about the trunk ? should I decide from now what is the final form of the tree or I just let it grow for now paying attention to reverse tapper for example ?

If I understood correctly you are proposing to keep an eye on a future leader on the top of the tree meaning that the final tree will be much longer than the current chop right ? that's why I asked if i should chop it even further down to start with something smaller


Regards,
Hi Akhater

Just do as I have suggested, and show the tree in 2 months again...The taper and branches is already being worked on now, on this hope fully new shohin of yours.

Kind regards Yvonne......keep the roots in the shade, and water sparse
Hello again, I just did what you suggested Yvonne and here is the result
do let me know how I did

Thanks
Hi Akhater

It was not the thin low branch I would have kept...what to advise, was and is not easy, but I would probably take out the thin branch too now, and later keep buds on the thick branch, for new sidebranch.

Show the tree again, when new buds appear under, and by the side of the thick branch...remove all other buds from this area.

Kind regards Yvonne
Oh

I thought it was this one marked in black sorry

I guess it is not a big deal anyway
Sorry but I didn't understand what buds I should remove ?
No problem, it is not a big deal

and here it is without the thin branch
When looking at this photo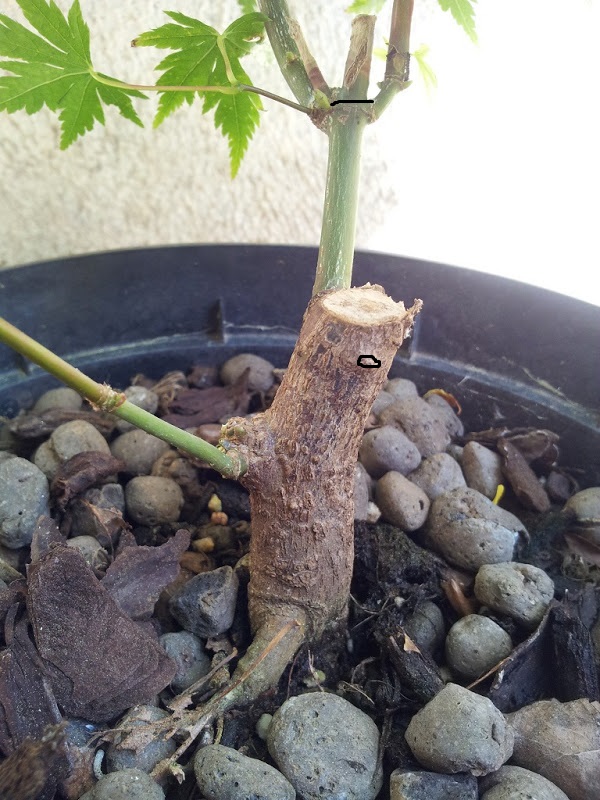 Do I think you should clean off the 2 stubs...cover the roots better, by adding some more finer grained soil to the surface. And let the tree become a bigger tree....also does it look like a bud is about to appear on the trunk...let it grow and see what you have in some years....A acer does not have the same growinghabit as a small ulmus...your tree will become better, if it is left to grow quit free for some years.
Kind regards Yvonne
so I should abandon the idea of a shohin tree on this one and start elms

well I guess I will let it grow for this season and we can discuss this again in a few months right ?

---
Permissions in this forum:
You
cannot
reply to topics in this forum