Hi All
Brought a tree about 2 months ago, when we first brought it we were told that it needed trimming, re-potting and that it need to be misted every morning. We were also told that we had to submerge the tree twice a week half the way up the trunk and to feed it once every 2 weeks. We followed the advice and the bonsai, which we believe to be a Chinese elm, started to lose its leaves. We returned with it to the garden center we brought it from and were told to water it once a week only but to continue with the misting. We did this and its now down to a few leaves left. All new growth has wilted and the leaves that fall of are a healthy green. There seems to be no evidence of bugs and we have continued with the once a week watering. The other bonsai that we have is in the same area as this one and is watered once a week and fed every 2 weeks and is fine and healthy. When we repotted the tree we followed the instructions on the Bonsai compost bag and put mesh and fine grit at the base. Please can any one help. I live in the channel islands and there is no specialist here that can help and the advice the garden center has given has not worked.
Thanks
Dk
p.s it won't allow me to upload a picture
What do you mean by "bonsai compost?" it sounds like your soil may be retaining too much moisture and not allowing air to get to the roots. Also, how much sun does it get? Chinese elms like a lot of sun.

PeacefulAres

Member





How close to the sea are you. Plants vary in their tolerance of sea air.

Billy M. Rhodes

Member





thanks for the replies. "bonsai compost" is bonsai soil, recommended by the same store that sold us the tree. It lives on a shelf in my stairway which gets full morning sun and shaded sun the rest of the day. I live on an island 9 miles by 5 so always surrounded by sea air but the tree is indoors. It's not near a heater, which we have had on lately as it's been super cold here, or on a window sill. When we re-potted the bonsai it did seem to perk up a little as I left it out of the soil for about an hour as the soil it was sitting in was sopping wet[img]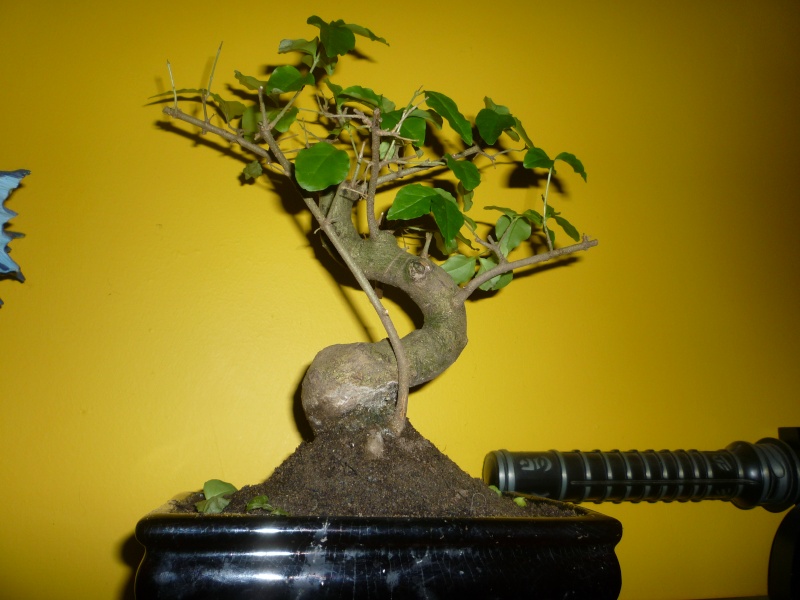 [/img]
I think what you have is a Chinese import known as Sageretia theezans take a look here for care information. Your climate may be inappropriate because of the salt air, some plants just can't take it. Your indoor location isn't helping, you might try getting the plant outdoors on the most leeward side of the house as soon as possible.
www.bonsaigardener.org
› Tree Types and General Care Guides
Guide to the care of CHINESE BIRD PLUM (Sageretia theezans) bonsai including tips, techniques, and advice.

Billy M. Rhodes

Member





Hi DK.

I'm very afraid you have been a victim of a combination of a poor plant and some very bad advice from your garden centre. Don't beat yourself up with a big stick if this tree dies - a large number of these suffer during the import process and are already over-stressed when they get to the garden centre. And unless you have someone at the centre with specialist bonsai knowledge then the poor care will be continued. That they sold you "bonsai compost" is evidence of lack of knowledge on their part as if you go round a bonsai show you will be hard put to find a tree planted in anything remotely resembling that stuff.

In general, most bonsai need to be outdoors for as long as you can. I, for example, keep my Chinese Elms outdoors all year round up here in Scotland.

What I'd do with your tree is stick it outdoors in a sheltered but light area as soon as you can. Don't overwater it (i.e. don't soak it but dont let it fully dry out) and I'd be tempted to give it a general light feed of something like Maxicrop once a week. Dont waste your money on the supposed "miracle cure" products like Superthrive - they are of debated effect and will cost you more than the tree does.

If you are interested in bonsai, have a look around the island to see what trees grow naturally and then use those for bonsai.

Good luck.
_________________
"Espouse elucidation"
_____________________________________
my website

fiona

Member






---
Permissions in this forum:
You
cannot
reply to topics in this forum