Thought that I'd share some pics of a ponderosa that recieved it's first styling this year. Plan on getting it into a pot early next year.
I'd be interested to hear suggestions on pots.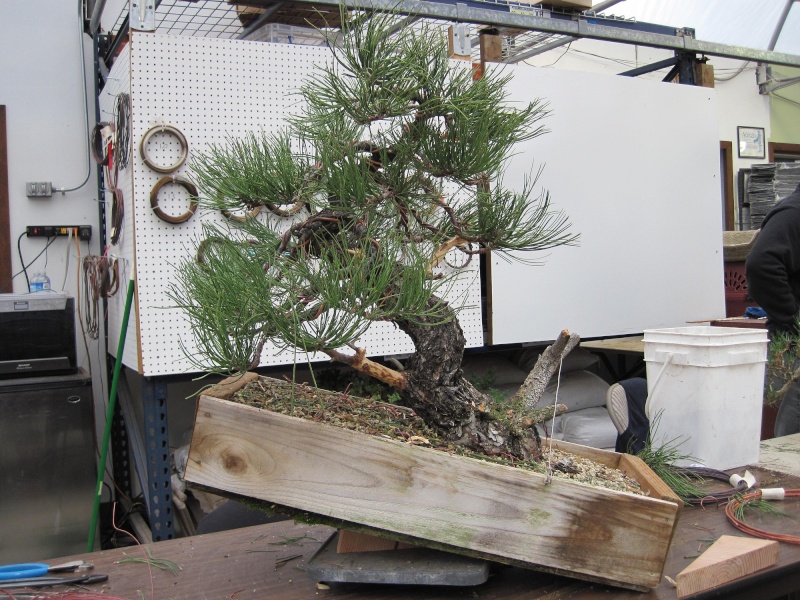 Ponderosa Pine Collected in Wyoming 2009
a pic of the tree before styling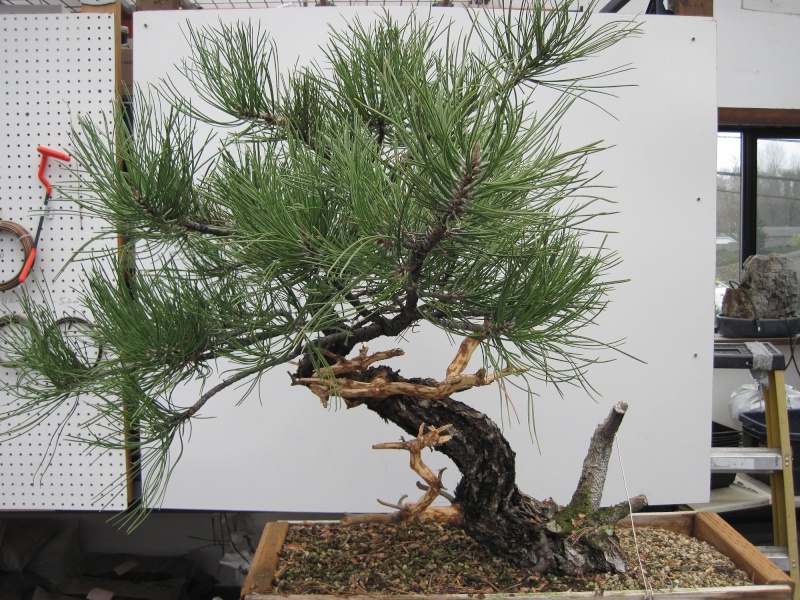 Thanks, Jason

Jason Eider

Member





jason thats a very nice tree is that a andy smith tree i like the movement in the trunk
Hi
Make photo with better background plz

My virtuals


Lukasz Czarnecki

Member





Thanks Art, Andre, the tree was collected by John Muth, owner of Bonsai NW.
Thank you very much Lukasz for the virts of the pots! very helpful to see an virt image. I hadn't really thought about a round pot, I like the last one, maybe oval? best.
I had been thinking rectangle to give masculine feel but the oval seems to compliment the tree well.
Thanks again, Jason


Jason Eider

Member





Jason: Have you pulled the tree from the box to see how the roots look ? As you know - a Ponderosa can often have some big roots that makes the pot selection difficult. It may take a few years to go from the box to a temporary pot and then the final pot. The virtual of the tree with the round pot with the raised nail head pattern looks great as a virtual - but think how much the roots would need to be reduced to get into that pot. I would pull the tree from the box this Spring and check out the roots - then put bag into the box and perhaps remove some of the native soil - not aggresively. The you will have a better idea. Good Luck...Tom
Hi Tom, thanks for the reply.
I anticipate not being able to get it into it's final sized container on the first repotting. Have dug around a bit, and there are a lot of roots working out the bottom of the box. Think I'm going to wait until next spring to actually pull it out of the box, don't want to disturb anymore this year as it's pushed alot of new growth already.
Thanks, Jason

Jason Eider

Member





That is a really nice Ponderosa Pine Jason! Nice find and first style.

Fore

Member





Thank you Fore. I have a study group w/ Ryan, so had some help. He's pretty good about not styling it for you though, making you set the branches and just helping out w/ techniques constructive critisism.

jason

Jason Eider

Member





---
Permissions in this forum:
You
cannot
reply to topics in this forum